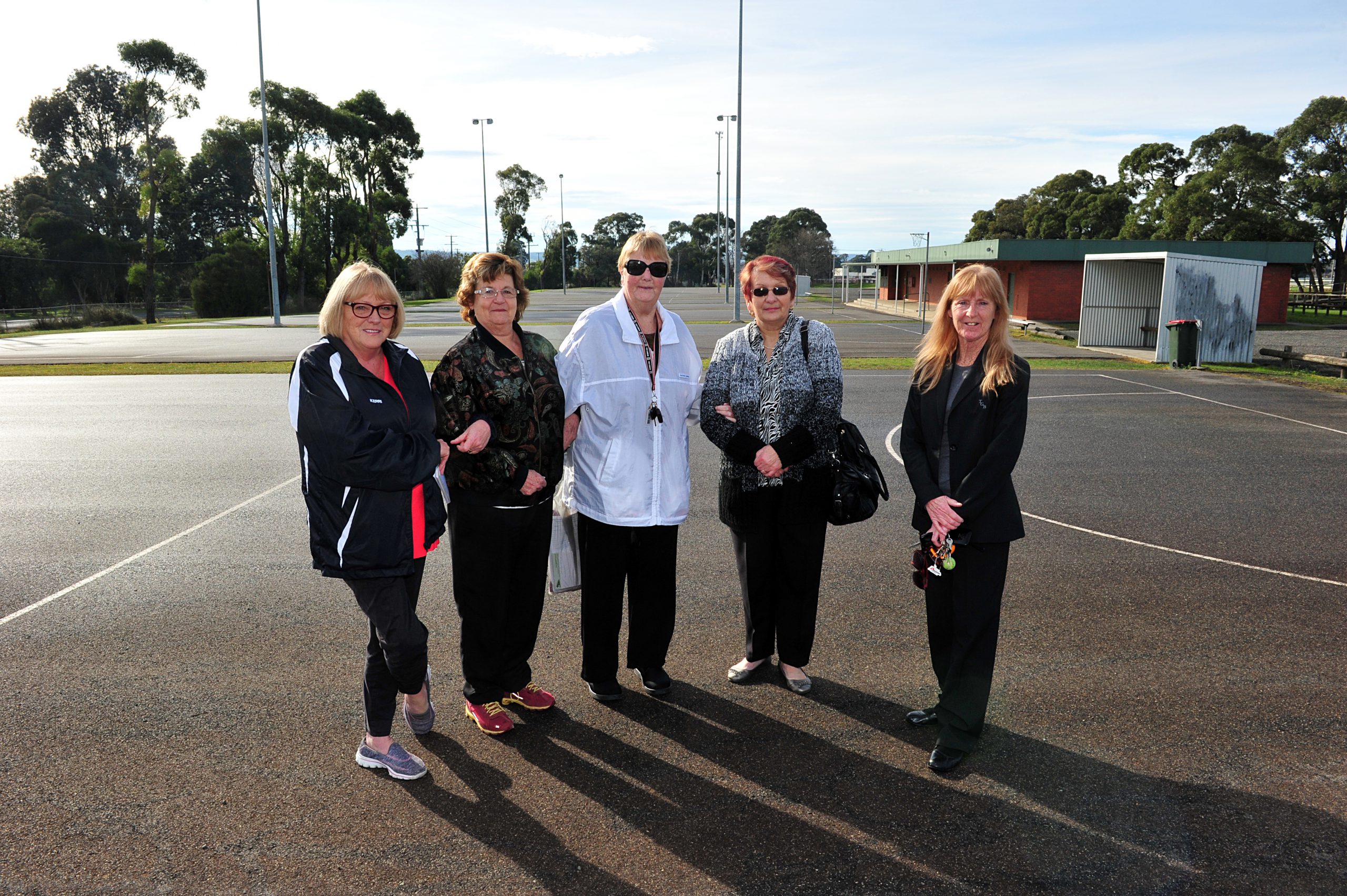 RELATED COVERAGE: Bright future for Moe Newborough sport
MOE Netball Association's Saviges Road facility of 35 years is set to be abandoned for a purpose-built, multisport complex at Monash Reserve.
As part of recommendations for the precinct outlined in Latrobe City Council's recently adopted Moe Newborough Outdoor Recreation Plan, MNA will join Newborough Tennis Club and Adrenalin Paintball Club at a shared redevelopment of the current NTC site.
The plan would see 10 new netball courts complete with lighting constructed, including a number with tennis markings, and a new pavilion to be shared between user groups in an estimated $1.6 million rebuild.
The current Moe Netball Association is almost unanimously behind the move, voting 11-2 in favour at a recent committee meeting, but a group of MNA life members have publicly opposed relocating.
Life and founding member of MNA Kerry McNamara, who travels from Geelong to umpire and coach masters teams in Moe, said the life members were "dead against" leaving, with a preference to see the existing site redeveloped.
"The life members are dead against the move, because the life members are the ones that put the years of hard work in to get the courts. Without our input there wouldn't have been any netball in Moe anyway," McNamara said.
"It took us 19 years to get here, then we got this great complex. Our pavilion is probably one of the best in Gippsland and still is.
"This has been netball's home for 35 years, and we'd like to see it be the netball home for another 35 years."
MNA's existing courts suffer from aged, dilapidated playing surfaces, non-compliant run-offs and a lack of car parking.
Redeveloping the existing site to conform with regulations would reduce the number of courts by up to two, while the council report suggested native vegetation was an impediment to any resurfacing.
McNamara admitted work needed to be done, but did not believe moving was the solution, with a preference to use an existing grant to install new lighting, and remove the Lions and Rotary sheds to improve parking.
"A lot of work needs to be done… but it's here (already) why go to something new when it's already here, it's been here 35 years and it's worked really well in those 35 years," she said.
"It's not completely broken, Traralgon have had their courts resurfaced, they weren't asked to move. Council facilitated them, why can't they facilitate us?"
Sharing the new facility, potential clashes in twilight usage, a less central location and shared storage space were chief among the group's grievances.
"The proposal at the moment is 10 netball courts and three tennis courts on the netball courts, that's going to cause problems in itself," McNamara said.
"The tennis club wants more courts and you can't blame them. They've got eight at the moment, why would they lose eight to gain three? It just hasn't been thought out very well at all."
Of four submissions to council directly relating to the move, two were in favour and two opposed the move.
MNA secretary Donna Krznaric said the move would be a step in the right direction for the association.
"The truth is nothing survives unless it grows, and we need to grow. Netball's changed from 20 to 30 years ago. People will travel a small distance to get to a better facility," Krznaric said.
"We need to be offering that better facility, and we need to be growing as an association.
"It's not a facility we're leaving or losing, it's going to be a bigger and better one."
Krznaric said the move had received large scale support from the club's members and local community, with a petition receiving 150 signatures in 45 minutes last fortnight, and an online version gaining 100 signatures.
She said the existing facility suffered from a lack of car parking, public transport access, safety concerns with children crossing Saviges Road, and was unable to attract large scale events in its current state.
"They can't solve our car parking issue (where we are). There's drainage issues, native vegetation issues, there's the ability to grow and expand," Krznaric said.
"We are moving into a sporting precinct which has got to be a good thing to attract larger events to Moe."
Krznaric said the club welcomed the idea of sharing the facility, and the committee believed the move was in the best interests of its primary user group, its children.
"What's wrong with being a Moe facility anyway? It should be a community facility, we want to get back into the community and get more kids playing netball," she said.
"We can't just be seen as this little group sitting down the back of Saviges Road not associating with anyone else. We are part of Moe."
Newborough Tennis Club was generally supportive of the proposed changes, but lodged a submission to request it retain its current allocation of tennis courts.
NTC's submission said all eight existing courts were used on a regular basis during tennis season and at least two were used for club activities year round, however the master plan recommended only three new courts include tennis markings.
A council officer's response said "a design for the construction of the multi-use courts will include engagement with the current users to determine the final layout of the permanently marked courts".
The current MNA site is slated to be converted to car parking, including markings for horse floats.
The move is largely contingent on attracting state and federal government funding, and is slated as a 'medium term' priority in the 10-year plan.