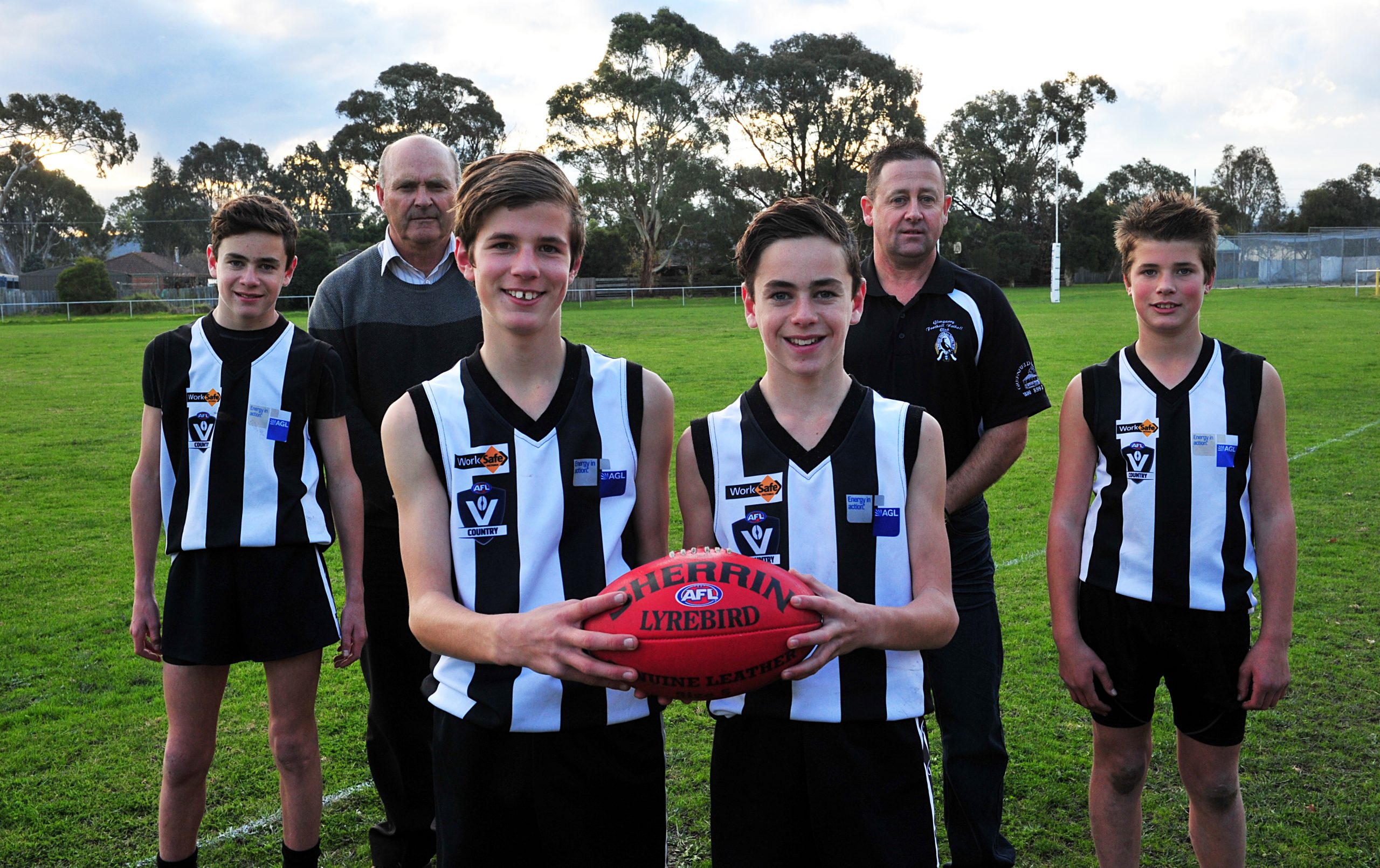 FOOTBALL

Traralgon and District Junior Football League

GLENGARRY Junior Football Club has come a long way since 1955, when founder Oswald Martin would transport young Magpies to their matches across Gippsland in his utility truck.

Decades on the pioneer will be formally acknowledged as a posthumous life member when the foundation Traralgon and District Junior Football League club celebrates its 60th season on 11 July.
The milestone comes as a watershed moment for the presidents both past and present, who know just how close Glengarry JFC came to extinction in the late-noughties.
When Eric Duve moved to the area and brought his son to the club in 2007, the Pies had barely any meat to their committee.
The annual meeting was attended by three people, with no executive positions allocated among the dwindling volunteer base.
Duve assumed the role of president and set about lifting the club out of the abyss, taking on an under 10 coaching role as well.
He set about recruiting volunteers and within 12 months had 11 on the committee, which grew to 16 the following year after Duve enlisted community support to fund and build light towers to extend junior training time in the winter.
Under his watch and that of current president Graeme Morley, the improvements have continued to pile up.
The club now boasts a scoreboard, coaches boxes, clubrooms, fencing and lights, where once there was just a paddock and some posts.
It has 87 registered players this season, comprising a team in each TFJDL junior age group.
For Duve, seeing the club turn 60 is a gratifying experience.
"We're happy (to see the milestone reached). It's not just Glengarry kids that the club services, there's also Toongabbie, Cowwarr, Rosedale," Duve said.
"It's really important for the area we were able to develop this and it's just hard work from the general committee like Graeme and the people who put their hand up."
Morley said keeping the club afloat had been a huge boon for the town, and hoped to grow it further in the future.
"We got very close to not being able to survive. Through people like Eric and ourselves we've been able to improve the club and get it to where it is now, to the point of still having four teams in the TDJFL when a lot of clubs can only field three," he said.
"The important thing for us is we've been able to provide a facility for our kids to be able to nurture our kids and (allow them to) play football, and get them to a point of being able to play here and not (have to) take them to Traralgon, then hopefully they can transition on to the senior club.
"(Our goal is) really to grow our facility. Our view and our vision is if our facilities are second to none that's going to attract kids to our club."
The club's rich history has seen many players transition to higher honours, both locally and in Melbourne.
One of its finest exports was Calvin Templeton, who played for Footscray and North Melbourne after graduating from Glengarry and went on to win a Brownlow medal.
Templeton still holds an incredible record of 50 matches in the under 14 age group, which he played in from the age of nine with no under 10 or 12s sides at the club at the time.
AFL Gippsland region manager Travis Switzer said the Magpies offered an important point of difference for the TDJFL competition, and commended its longevity.
"I played footy in the TDJFL and it used to really break up the monotony coming out to Glengarry… you used to play all your junior footy in Traralgon," he said.
"The kids still really enjoy coming out here to play.
"Sixty years is a great achievement for a community club like this, it's a real credit to people like Graeme, Eric and Michelle (Roberts) and the volunteers that have kept this club going… hopefully there's another 60 years ahead."
Glengarry will celebrate its 60th anniversary with milestone matches on 11 July, followed by a dinner at Traralgon Vineyard with special guest AFL star Nathan Burke in attendance.
Open to past players and life members, the RSVP cutoff is 6 July.
For more information and to RSVP phone Michelle Roberts on 0417 749 741 or Anoesjka Connolly on 0414 881 341.