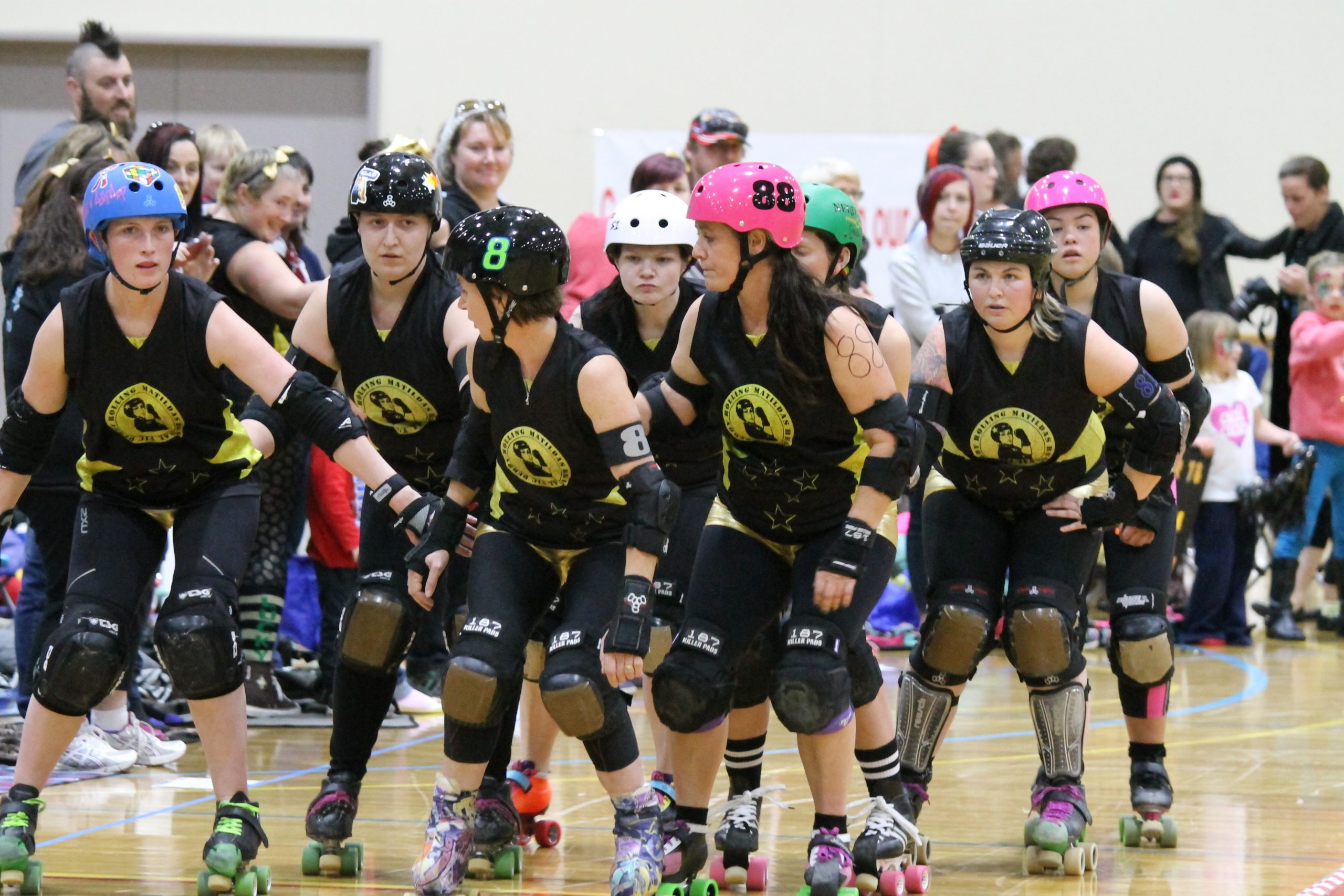 THE glitz, glam and jam of roller derby will soon complete its resurrection at Stadium 34, Moe, with Latrobe City Megahertz on the verge of fielding its first fully fledged team in three years.

And this time it will include men.
The traditionally female-only sport has recently opened its doors to both genders, with Megahertz planning to debut a mixed team in next year's state competition.
With four bout-ready skaters waiting in the wings and another three now completing their final tests – the culmination of a 12-month training process – Megahertz is finally ready to reform its flagship team.
Club members currently compete alongside three other regional centres – Sale City Rollers, Wheat City Derby Angels and Mildura Roller Derby League – as a Team Regional Victoria entity, but the reclamation of the Megahertz moniker has been a long-held ambition.
"That's absolutely huge for us, for our skaters to have the opportunity to compete in a group like every other team in Australia," Latrobe City Roller Derby president Caitlin Grigsby said.
Established some four years ago, Megahertz built a strong senior skater base of about half a dozen until a gradual exodus reduced the club to a spectral entity.
Combined with waning numbers, membership and sponsor support, things looked grim for a time.
That was until Grigsby and her not-for-profit organisation Blue Stockings partner, Sarah Elston, joined the fray.
Their expertise built upon the base the foundation members had fought to establish, helping revitalise the association.
"We changed the whole model of how we operate. We built a strategic plan, a sponsorship package, a budget, all of those things they'd worked hard to try and build but probably just (didn't have the expertise)," Grigsby said.
"These guys that were there before us did a magnificent job but it's not like netball and football where the structures and resources are there, we had to go out and find them."
A year and a half later and the club is once again on solid ground.
It has 30-odd skaters on the books, with several achieving bout level competition status, and competes fortnightly, with its most recent match against Wangaratta in the Statewide Stampede this month.
LCRD also recently received a $3000 State Government Vichealth active club grant, allowing it to purchase new uniforms, equipment to cater for newcomers and improve its safety measures.
Grigsby said the growth of the club was astounding.
"We've gone from not having enough people to field a team to being part of two teams," she said.
"Our skaters are up there, they're holding their own, we're not getting throttled in any manner whatsoever.
"Our league level is very good, I'm very proud of them."
ROLLER derby has undergone a marked transformation as a sport since its 1940s origin in the United States.
The sport itself is full contact pandemonium, as teams of five speed around a circular track on roller skates while one 'jammer' from each team attempts to lap the opposition players.
While professional derby was initially popular, it soon delved into the world of sports entertainment, leaning heavily on its theatrics over its athleticism.
Much like the world of pro wrestling, pseudonyms, colourful attire and scripted bouts became the focus, and while those elements have endured they no longer dominate the sport.
"You're looking at the '70s when it (derby) was basically like the WWE, it was very theatrical, it was scripted," Grigsby said.
"It evolved into an athletic pursuit, still with some of the theatre to it with the glittery shorts and the makeup, now you find members are dropping the alter egos and the makeup and glittery pants, because they're in skins, it's an athletic sport, it's full contact."
Showmanship does however maintain pride of place. Names like Lawless n Disorder, Sk8r McGavin and TRV Wreck'dEm adorn the backs of shirts at LCRD, a time honoured tradition that provides more than just a menacing stage name.
"There's still a happy balance. We still have a legitimate jersey, our skins underneath, but we're all wearing our gold shorts (too)," Grigsby said.
Grigsby, who also goes by Expecta Beatdown on the rink, said bringing out the alter-ego was a liberating experience.
"I absolutely love owning that little persona because I'm a professional in my worklife, corporate… I do a legal HR role," she said.
"I put my skates on and I'm just going to hit someone, so it's very freeing.
"You're talking mums, nurses, teachers – we have literally every occupation possible (in our sport).
"We've got all kinds of people… so to have this alter-ego where you're not someone's mum, you're not someone's manager is really kind of cool."
ROLLER derby has long been a women's-only sport.
While the girls create a blur of colour around the rink, men have been consigned to the black and white stripes with a whistle in hand.
However the game has changed and men are slowly being welcomed into the fold.
Men's-only derby, dubbed 'merby' has cropped up, and mixed competition is becoming more common.
"I'd say one in every five leagues are either considering it or have adopted it. More established leagues like to keep it women-centric, but for a small regional league like us (LCRD) we'd be stupid not to open that opportunity up," Grigsby said.
"It still remains the world's fastest growing sport, and it still remains primarily female oriented, however we recognised men were only given opportunities to be referees or officials.
"We had these great guys coming through that wanted to participate, and they were perfectly safe and happy to do so."
Grigsby said the prospect of men and women colliding in full contact was mitigated by a long and involved qualification process to become a bout certified skater.
She said the year-long process, requiring proven proficiency in four separate disciplines, not only battle-hardened all participants for combat, but ensured their technique was conducive to safety.
"People are really scared off by this full contact nature of our sport (but) it takes a long time to get to that (point)," Grigsby said.
"By then you've got all those skills to be safe.
"I'm telling you right now there's plenty of women out there who smack you harder than our blokes."
The addition of men comes with fringe benefits, with many bringing over new skills from other sports.
"It opens up a whole new demographic of people with different skills, it's marvellous," Grigsby said.
"We've got tradies in our group now that we never had, and they might have come from rugby or hockey or running, and they just bring this whole other skill set – it's bettering all of us."
AUSTRALIA'S premier roller-derby roadshow is headed to the Latrobe Valley.

Derby Fest Home Grown, a roller derby bootcamp and expo, will showcase the sport in screaming colour on 26 and 27 September at Traralgon Sports Stadium.

The event will feature four Australian coaches, three tracks of classes, bouts for all skill levels, a junior and 'fresh meat' training program, seminars, skate classes and a series of exhibition bouts.

LCRD will launch it's mixed team at the expo, which Grigsby said was a huge boon for derby in the region.

Adding to the growth market, LCRD will host 'fresh meat' classes in August and November for prospective derby players to learn the sport.

For more information about LCRD and how to get involved, visit www.latrobecityrollerderby.com.au

For tickets to derby fest visit www.brownpapertickets.com/event/1586460