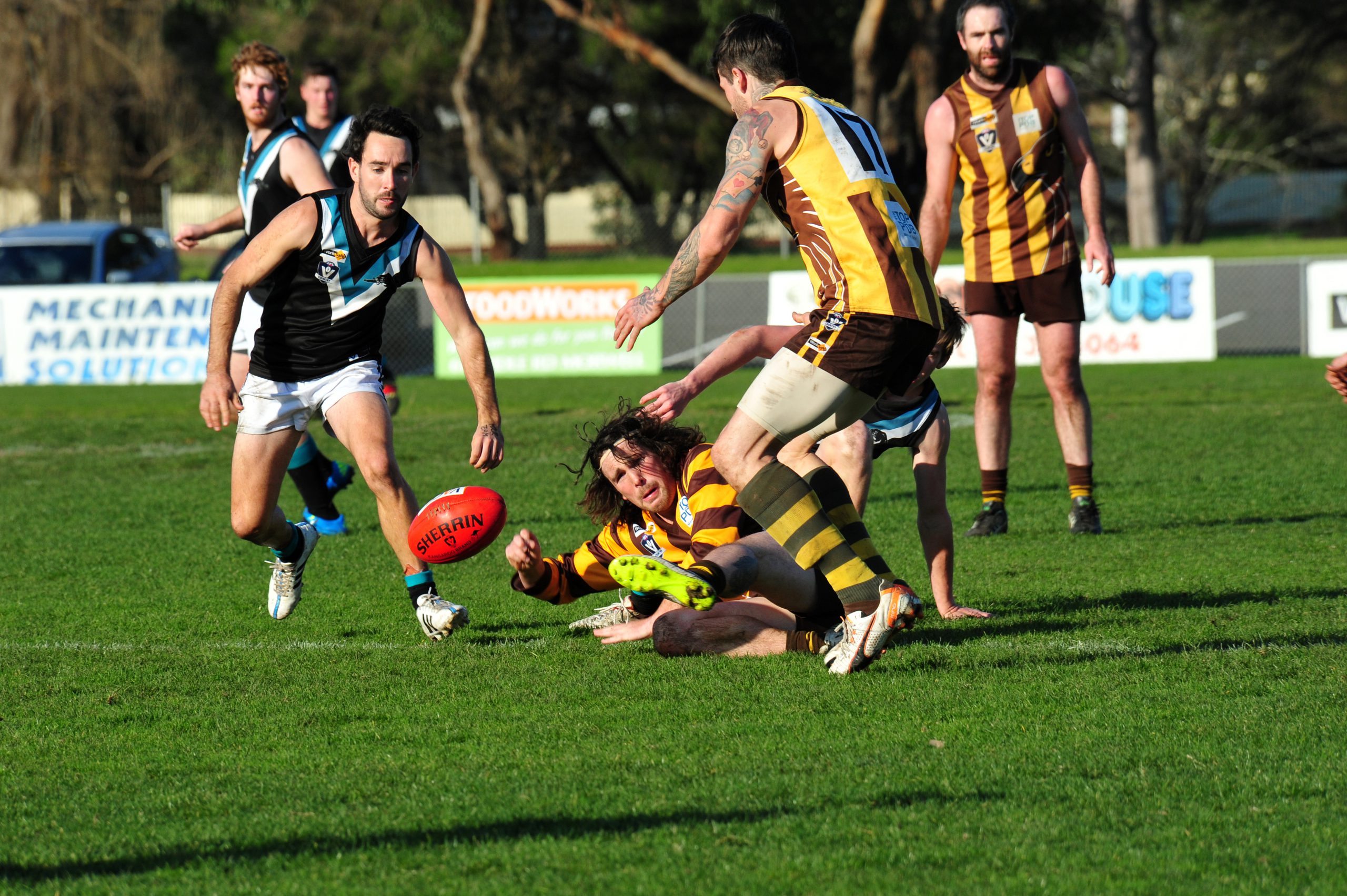 THORPDALE rose to the occasion in the AFL Victoria Country match of the round, holding off the reigning premier Mirboo North by four points to retain fifth of the Mid Gippsland football ladder.

Hosting the prime time match yesterday, the Blues summoned all their grit to claim a first victory over the Tigers since 1993.
In a tense match Thorpdale established an early lead and kept it until midway through to the last term when Mirboo North hit the front by three points, but Thorpdale rallied at the death.
Scores were low in good conditions and at the first break it was 1.2 (8) each.
By half-time Thorpdale had gained the upper hand led 2.5 (17) to 1.4 (10) after a scrappy half.
Thorpdale controlled the match for most of the third term until two minutes before the siren, when the Tigers came back with two goals after Thorpdale had blown their lead out to 23 points.
The final term was all pressure as Thorpdale tried to preserve its advantage, but Mirboo North would not give in and at the 11 minute mark hit the front by three points.
There were plenty of mistakes made by both sides but the huge crowd was urging the Blues on to cause an upset.
As a second draw for the season began to crystallise as a firm possibility, Shannon Pickering goaled to give the Blues a three-point lead.
In a hectic last few minutes Thorpdale managed to squeeze through 1.2 (8), with Tim Traill's major for the Tigers not enough to reel in the deficit.
Ilan Osman kicked two for Thorpdale in the 7.12 (54) to 7.8 (50) result to go equal top on the goal kicking list with Tim Aitken on 46.
Mirboo North dropped down to fourth position.
MORWELL East gave itself a sniff of fifth place with a 23-point win over Yarragon, moving within six of Thorpdale on 30.
The Hawks made it hard for themselves with early inaccuracy which could have seen them ahead at half-time.
They were down eight points but had two more scoring shots than the more accurate Yarragon.
The third quarter was the defining moment for the East, overturning a 14-point deficit to lead by six at three-quarter-time.
Forward Shaun Barnes was holding strong marks and Joey Whykes was battling in the packs and getting plenty of possession.
Morwell East's Dean Brooks was effective around the ground with Frankie Marks and Wes Amalos giving good assists.
Whykes and his headband came in for a lot of attention but he weathered the storm and finished with three goals, while Shaun Barnes also topped his day with three goals.
Yarragon let itself down with undisciplined play and too many kicks marked by Morwell East players.
Troy Lehman proved a busy player with four goals with Josh Bourke, ruckman Scott Wood, defender Tom Follett and Zac Regester all proving their worth as the Panthers went down 11.13 (79) to 8.8 (56).
YALLOURN-Yallourn North again made a threatening gesture ahead of finals with an 82-point crushing of Boolarra.
In glorious football weather the Bombers displayed superior skills and by the first break had 6.2 (38) to nil, setting the tone for the rest of the match.
Tom Hutton was a busy forward with a game high four, coach Adam Bailey added three and the rest were shared by seven other players as YYN ran out winners 18.12 (120) to 6.2 (38).
For Boolarra Kyle Sleep was voted as best and top scored with two goals, while Darryl Mayman, Andrew Thorpe and Ken Towt were in the best.
Dale Murphy, Barry Burnett, Bailey and Hutton were awarded the votes for the victors but many more deserved a tip of the cap.
NEWBOROUGH retained the Fanning/Byrne Cup after thumping Hill End by 92 points, in a game which proved a far cry from the four-point nailbiter last time out.
The Bulldogs needed to pick up percentage to retain their final four position and did just that in an 18.8 (126) to 5.4 (34) demolition.
Early inaccuracy could have seen Newborough in trouble against stronger opposition, but after a seven-goal second term it was all but over for Hill End, down 2.1 (13) to 9.13 (67).
Although behind Hill End was not without fight and outscored Newborough by a few points in the third term, stopping Newborough playing its natural game.
The rocks fell on the Hillmen in the last however, as Newborough stormed away with a further 8.2 (50) to 1.2 (8) to cap off an impressive performance.
The Bulldogs could have raffled the goals with 11 players all queuing up to score, but the best were Adam Kennedy and Anthony Battista with three each.
YINNAR gave warning to watch out in five weeks' time as they put Trafalgar to the sword 18.11 (119) to 8.8 (56).
With eyes on fifth, Trafalgar never lived up to its potential and must now win almost all its remaining matches for a chance to sneak into the finals frame.
Yinnar came under pressure at times but was never in any real trouble, keeping ahead by as much as 24 points at any one stage during the first three quarters.
The last term saw Yinnar push away and with forwards leading from everywhere the Magpies had a good avenue to goal, putting on an impressive 7.4 (46) to 1.0 (6) to finish well satisfied.
Sam Mills was Yinnar's pick of the forwards with four goals but he shared the rest with nine other team mates.