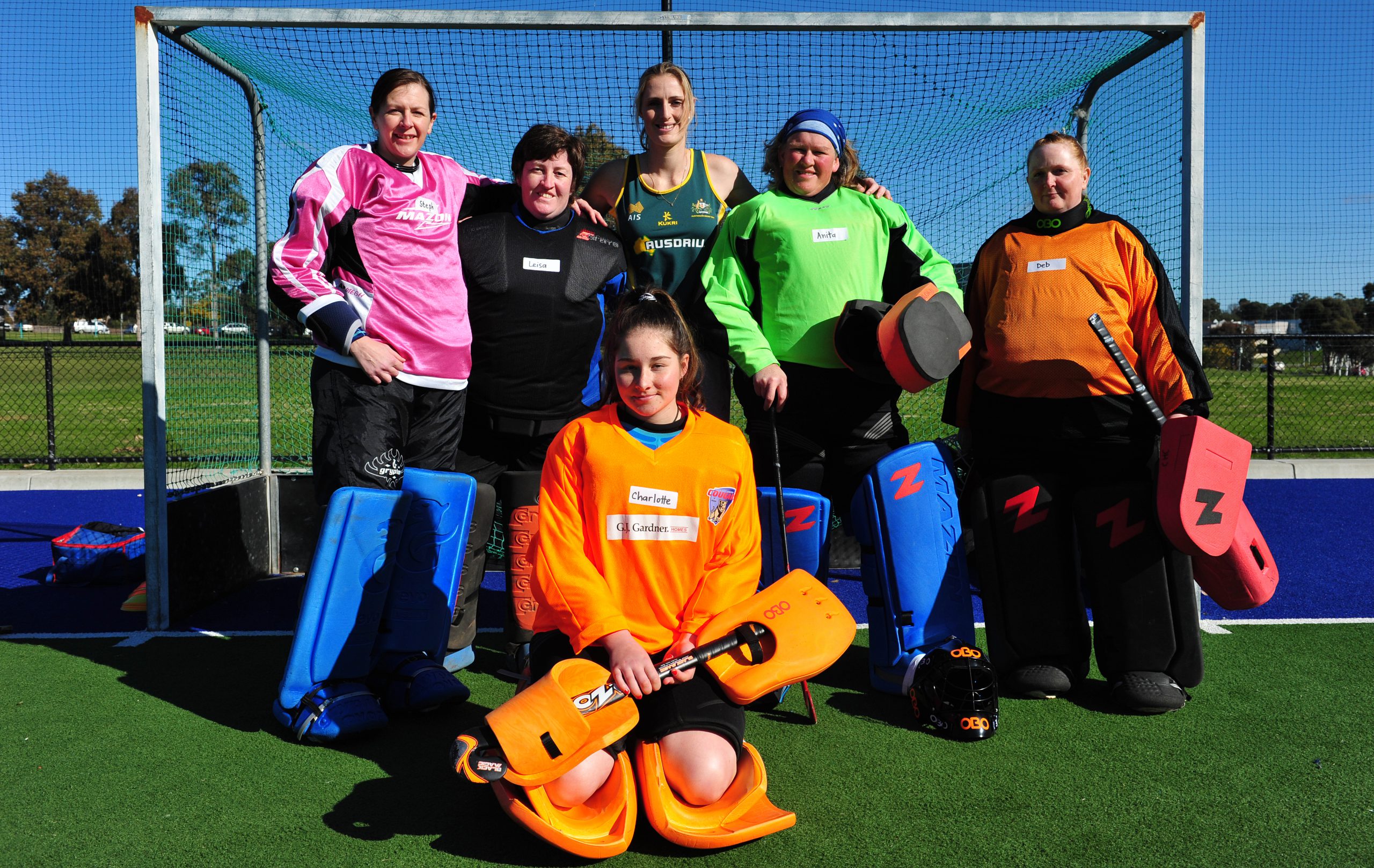 FRESH from a bronze medal and Olympic qualification at the World Hockey League in Belgium, Hockeyroos goal keeper Ashlee Wells returned to her former stomping ground at the weekend.

The Morwell local was confronted by a different scene to that of her formative years in the Latrobe Valley Hockey Association, with the synthetic at Churchill replacing the grass she learned her trade on, but it was a familiar reception for the hometown hero.
Wells, who was the starting goal keeper for Australia's bronze medal playoff victory over New Zealand, was back in town to host a series of clinics for local shot stoppers, some hoping to one day emulate the LVHA product's feats on the world stage.
For the familiar faces around the association, few would have expected Wells to achieve so much between the posts given her junior career.
"I didn't really like goal keeping on the grass, it's very different and you need a whole different set of skills, I played most of my juniors down here on the field then went to Melbourne to play on the turf," Wells said.
"For me it's very different because I didn't really play goal keeper down here, nobody really knows me as a goal keeper down here."
Despite her late start as a goalie, Wells rose through the ranks to achieve national representation.
Belgium's bronze medal match was in many ways a breakout moment for Wells, who has been duelling for the number one keeper slot with Rachael Lynch.
Wells was preferenced in that match, but said the rivalry with Lynch kept both on their toes.
"It's actually really confidence boosting for me to get that final in Belgium," Wells said.
"There's quite a gap between us and the other keepers coming up, so we do push each other and we're quite similar in our technique, so we can learn from each other as well.
"We're really good friends off the pitch and I think that really helps, we don't hold it against each other when we don't get picked… but we still take it to heart and we push each other."
Australia was shown up by world champion Holland in the semi-final, in which it was rolled 5-1.
Wells said the result came as a shock given the side's current skill, but that it would also serve to help prepare for the Olympics.
"It was actually quite a strange tournament for us; we're happy to get the third position and qualify for Rio… (but) we had a few off days, we weren't at our best," she said.
"We scraped through with third but we've got a lot of work to do and we need to clean a lot of things up. We thought we'd closed the gap on (world champion) Holland, but in our game it didn't show that.
"It was probably good it happened now because we've got plenty of time to go back and work on things."
While she admitted she did not get home as often as she'd like, Wells said it was a thrill to see the community still driving the LVHA.
However, she conceded it would be nice to attract new members to help grow the sport in Gippsland.
"I haven't seen hockey around here for so long, there's a lot of familiar faces still around which is great – you want to keep those people around – but it would be nice to get a few more fresh faces playing hockey around here," she said.
"It's great (the new Churchill facility), I love to see synthetic here and it's good we can probably draw a few people from further out… all we need now is a few shelters here and dugouts and it's going to be world class."