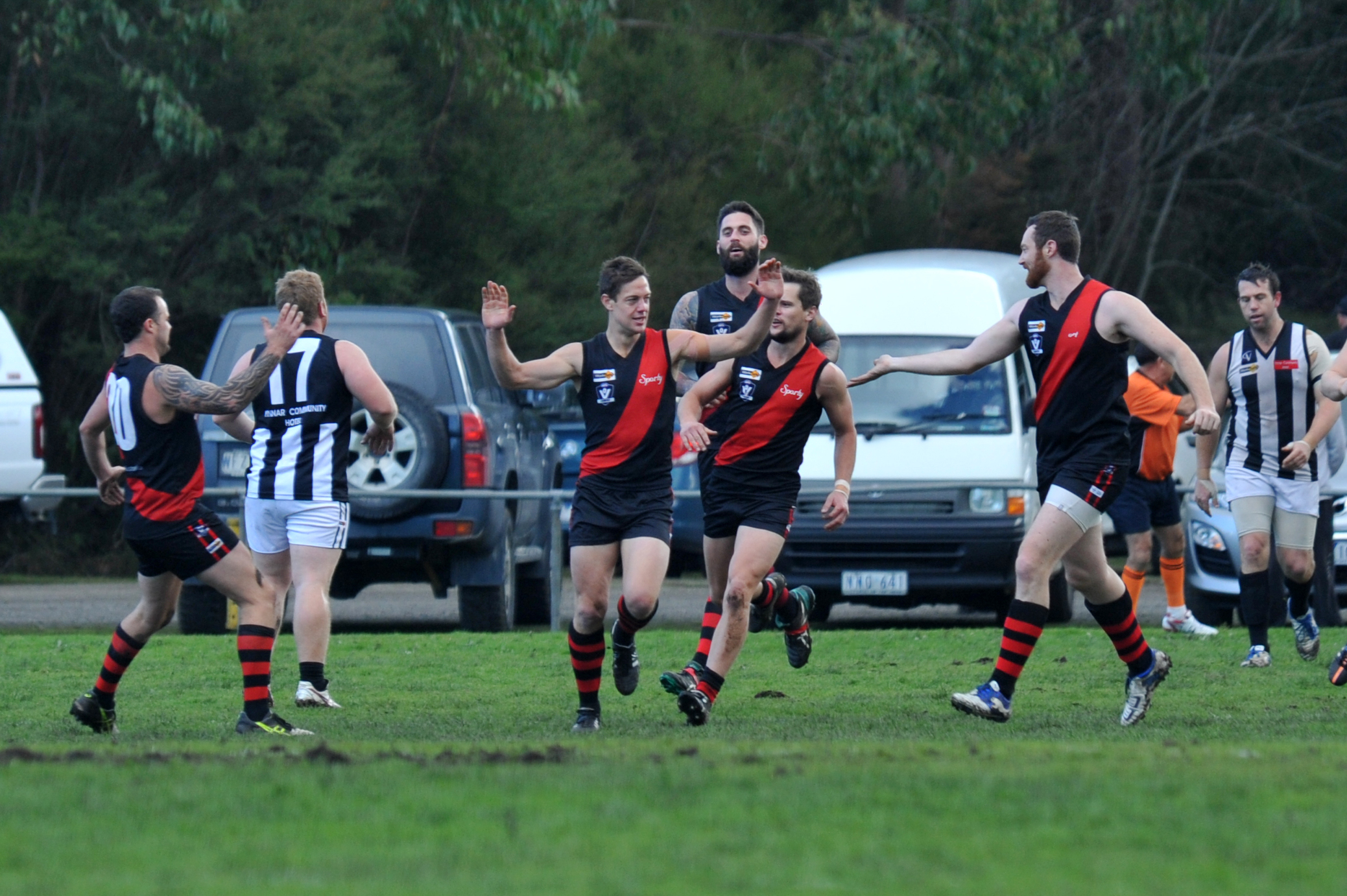 YALLOURN Yallourn North's bid to break a 21 year-old record will come under threat this weekend when the Mid Gippsland leader faces Newborough.

The Bombers are gunning for a 14th consecutive win, having equalled the 13-straight victories achieved by the 1994 YYN side, but face a tough opponent in the third-placed Dogs.
Victory here would be another step toward a long-awaited milestone, as the Bombers continue to chase their first premiership since 1996. Newborough knows what finals are all about having failed in the last three grannies.
With four rounds to play the Dogs will be scratching for every last point to secure a favourable ladder position.
Saturday's match will be a big test for both and with a trophy up for grabs – awarded across both football and netball results – there will be added incentive.
Last Time: YYN 17.5 (107) d Newborough 7.7 (49)
MORE silverware is up for grabs when Trafalgar and Hill End contest the Balfour trophy, currently held by the Bloods.
This could be a last-gasp chance for Hill End to break their duck, having gone without a win so far, while Trafalgar look likely to finish sixth unless Thorpdale lose a few leading up to finals.
Should Trafalgar miss out on the post-season it would be the first time since 2004.
Trafalgar has history over Hill End, winning the last 22 in a row and, having suffered 15-straight defeats this season, Hill End will be keen to break both trends.
Last Time: Trafalgar 15.13 (103) d Hill End 4.4 (28)
THE taste of defeat is lingering for Mirboo North, after figuring in three close games in as many weeks.
A one-point win over Newborough was followed by a one-point loss to YYN and last weekend the premier endured a four-point loss to Thorpdale.
Nerves may be frayed a little after the close results but they should bounce back and record a solid win over Morwell East.
Mirboo North slipped down to fourth but with a possible two or three wins before the finals it could sneak into third.
The Hawks will be a tough opponent and have recorded many good victories over Mirboo North, though it looks a bridge too far this week.
Last Time: Mirboo North 17.18 (120) d Morwell East 7.3 (45)
YINNAR is sitting nicely in second and should continue to do so after meeting Yarragon, which missed out badly against Morwell East last round.
The Panthers squandered the lead then gave away multiple 50 metre penalties which resulted in goals, something they cannot afford against a top notch side in Yinnar, which will punish them severely.
Yinnar has the potential to make the grand final, and while there are hurdles in the way, Yarragon will not likely prove to be one of them.
Last Time: Yinnar 19.11 (125) d Yarragon 10.4 (64)
AFTER a thrilling win over Mirboo North in last week's country match of the round, Thorpdale will be itching to record another over Boolarra to hold on to fifth position and a first finals berth since 2010.
The Blues have much to gain and should win over what has been a disappointing Boolarra side.
Trafalgar and Morwell East are putting pressure on Thorpdale to keep winning and are ready to pounce if the Blues falter.
Last time Thorpdale almost doubled Boolarra's score and will be smarting from that defeat.
Last Time: Thorpdale 16.11 (107) d Boolarra 8.10 (58)
With four weeks to go the permutations of the final five look interesting.
Ladder position will not only be determined by each team's own results but by how others perform.
YYN (1st-50pts) plays: Newborough (3rd-40pts), Hill End (10th-0pts), Thorpdale (5th-30pts) and Morwell East (7th-24 pts)
Yinnar (2nd-42pts) plays:Yarragon (8th-16pts), Mirboo North (4th-38pts), Boolarra (9th-16pts) and Newborough (3rd-40pts).
Newborough (3rd-40pts) plays: YYN (1st-50pts), Thorpdale (5th-30pts), Morwell East (7th-24pts) and Yinnar (2nd-42pts
Mirboo North (4th-38pts) plays: Morwell East (7th-24pts), Yinnar (2nd-42), Trafalgar (6th-24pts) and Yarragon (8th-16pts)
Thorpdale (5th-30pts) plays: Boolarra (9th-16pts), Newborough (3rd-40pts), YYN (1st-50pts) and Hill End (10th-0pts)