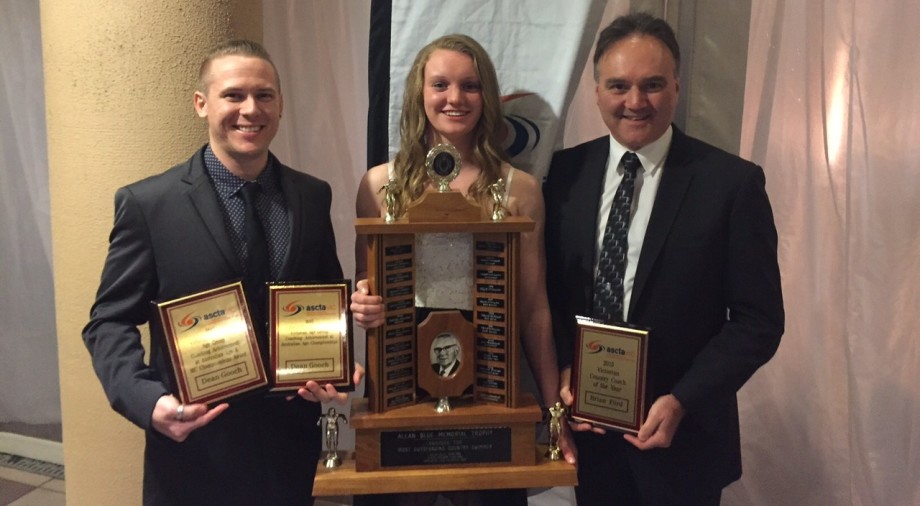 TRARALGON Swimming Club was recently recognised for excellence at the Swimming Victoria and Australian Coaches Association awards night, with three of its number sharing in four accolades.
Head performance coach Dean Gooch won the Victorian age group coaching achievement, awarded to the most successful coach at Australian Age level, after having swimmers win a medal at that meet for the first time.
He also won the Victorian multi-class age group coaching achievement for the Australian Age and multi-class Age Championship, afforded to the most successful coach who for the first time had a multi-class swimmer win medals at that meet.
Seventeen year-old Mikaela Cornelissen won the Allan Blue Memorial Trophy as the most outstanding country swimmer for her performance at the Australian Championships in the 50 metre butterfly.
Senior head coach Brian Ford was named Victorian Country coach of the year, after Traralgon accumulated the highest points score at the Victorian Country Championships.
It was the 15th time he has won this award.
Ford said his fellow club members were worthy winners.
"Dean is a young coach who although never a swimmer has all the attributes to be an outstanding asset long term for the club, his swimmers and the sport," Ford said.
"He has passion, enthusiasm and a thirst for knowledge – a great achievement winning two awards.
"Mikaela's record to date as a 17 year-old girl, with really only four years of training and racing under her belt, is outstanding.
"She is committed, dedicated, disciplined and has a fantastic worth ethic in and out of the pool – the trophy being reward for hard work."
The Traralgon Swimming Club this week holds its annual Latrobe City Cup at Morwell on Sunday with more than 250 swimmers competing from metropolitan Melbourne and Gippsland.
The club is aiming for its ninth straight title.