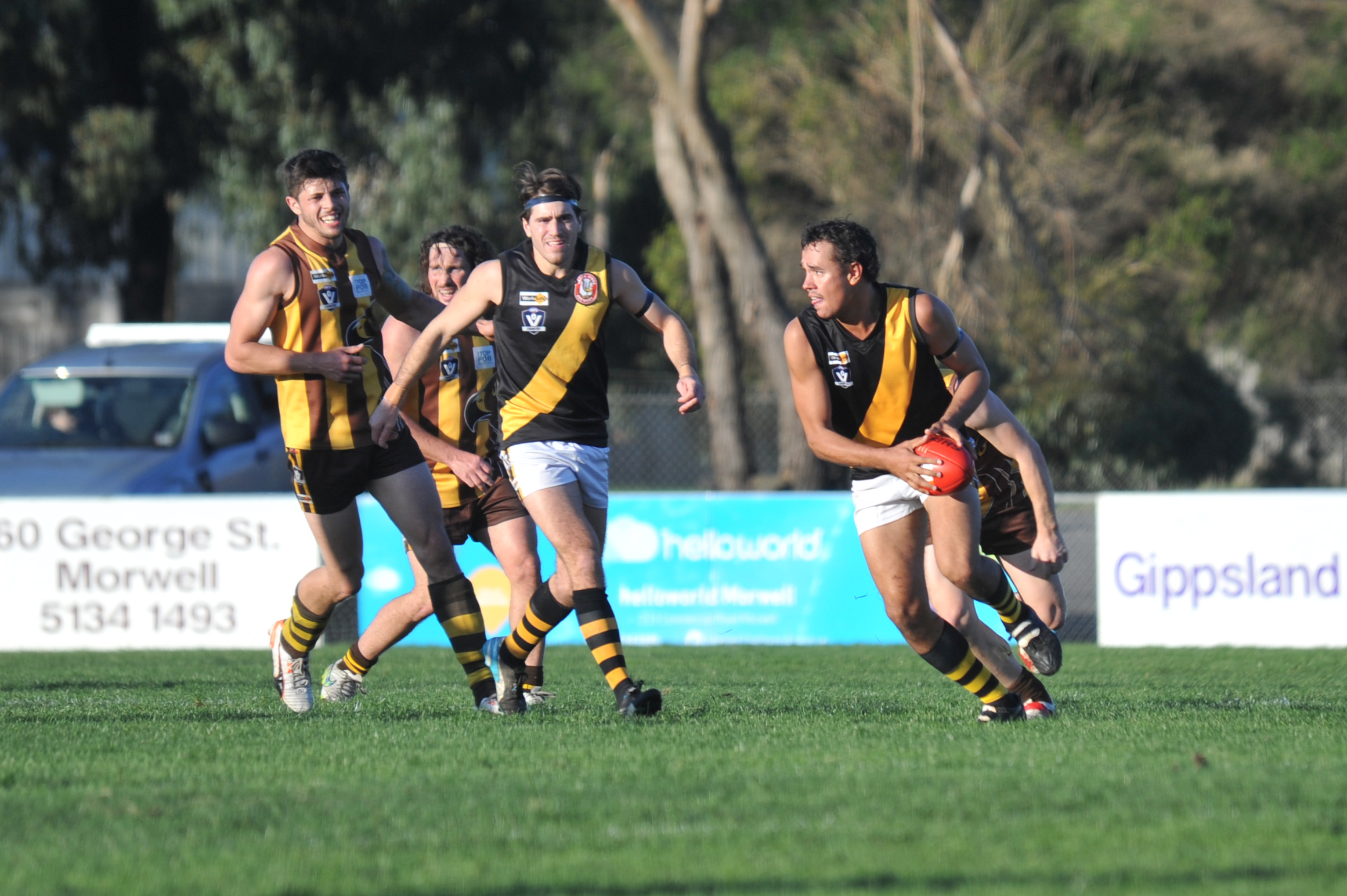 AN inaccurate final quarter saved Boolarra from defeat at Thorpdale's hands in round 15 of Mid Gippsland football.
The Demons were held scoreless in the final term, but Thorpdale could only manage 1.5 (11).
However, Thorpdale's hold on fifth position, and more importantly finals football, remains despite the defeat.
Credit goes to Boolarra who has played poorly in recent weeks only to bounce back with a victory against the Blues.
It throws a new light on the final five with only two points separating Thorpdale and Trafalgar with three matches to play.
The Demons fought back to take the match by two points after trailing by one at half-time.
Troy Tobin came into his own up forward for Boolarra and was its pivot point.
The youngster did not let his team down finishing with six goals including the winning goal in a terrific display; he had already kicked nine in the thirds game earlier in the day.
The final quarter was touch-and-go, with both defences in top form limiting the scoring.
Darryl Mayman was good across half-back and Ken Towt, when switched to defence, lifted his game.
Matthew Buglisi at full-back held Ilan Osman down to one goal as Boolarra held on to win 9.5 (59) to Thorpdale 7.15 (57).
Mirboo North v Morwell East
Mirboo North jumped up one rung on the ladder to third and is challenging Yinnar for second position following a convincing victory against Morwell East.
Following their disaster last week against Thorpdale, the Tigers bounced back to easily defeat the Hawks by 78 points.
Tim Traill, back to his best, finished with five goals for Mirboo North and Jon Burge and Jack Robertson both scored three.
With a few players missing the Tigers made the most of their replacements to keep Morwell East in check.
The Hawks scored their first goal in the third term, but by this stage Mirboo North had jumped away to a 10-goal lead.
A final term of four goals helped the Tigers to victory against Morwell East, 15.13 (103) to 3.7 (25).
Jack Robertson pulled the major award, but there was little difference between Burge, Shane Peters and Tristan Salerno.
For Morwell East, Daniel Pollard, Ben Marks, Jordan Cook and Jody Riodan all deserved a mention.
Yinnar v Yarragon
Yarragon started well again at Yinnar and led the highly talented Magpies at the first break.
But after a spray from coach Nick Lecchino the Magpies got their act together and pulled away from the tenacious Panthers.
Inaccuracy, due to the windy conditions, kept Yarragon close as Yinnar bombed away managing only 5.9 to create a good lead by half-time.
A five-goal third term sealed the match for the Magpies, who went on to score 4.7 in the final stanza to win 15.20 (110) to Yarragon 5.10 (40).
James Dowling was in medal-winning form and topped it off with four goals.
Cam Harwood and Sam Mills assisted with three majors.
Yinnar's best were Damien Yates, Julian Blackford and Kane Grinstead-Jones.
For Yarragon, Nick Pratt, Paul Harvey, Jake Cropley and Sebastian Ryan shared the votes.
Newborough v Yallourn-Yallourn North
It was a close affair between rivals Newborough and Yallourn-Yallourn North.
Neither gained much due to the crosswind which favoured the eastern side; the majority of the play was forced along this corridor making the game look ugly at times with plenty of boundary throw-ins and stoppages.
YYN went to an early lead through Tim Phillips but the joy was short-lived as Anthony Battista equalised for the Dogs.
It was a real struggle as both sides went in hard in clear, but windy conditions.
Newborough's Chris Hancock was good in the ruck duals, but his rovers let him down with YYN sharking the centre bounces.
Newborough gained the upper hand in the second term, but it was a hard slog and they went in at half-time only six points ahead.
YYN's Tim Phillips kicked his third to equalise only a minute into the third and it was game on.
Newborough was only rewarded with three behinds for its good play.
YYN then pumped up the volume and in a whirlwind seven minutes added five goals, but Newborough came back with two in as many minutes to creep closer to the league leaders.
By three-quarter-time YYN led by 21 points.
Tyler Brown had been busy for the Bombers as was Darcy Shellcot .
In the last term both teams added two goals as the game petered out to give YYN a morale-boosting 11.5 (71) to 7.8 (50) win.
Tim Phillips scored four to head the goalkicking scorecard and Adam Bailey chimed in with two.
Adam Kennedy and James Todd scored two each for the Dogs.
Better players for the Bombers were Tyler Brown, Darcy Shellcot and Shane Galea.
For Newborough, youngsters Mick and Anthony Rosato and Andrew Phillip continue to impress.
Trafalgar v Hill End
Trafalgar ensured Hill End finished on the bottom of the table, handing the Hillmen a 71-point hammering.
Trafalgar is now on the verge of fifth place, picking up 7.59 percentage points and four points to challenge Thorpdale over the last three games.
Scores were level at the first break, but Hill End did not see what Trafalgar had in store coming out of the huddle.
The Bloods bagged 6.5 (41) to nil to wipe away any opposition and by half-time could have packed up and gone home.
Hill End battled hard and equalled Trafalgar's third term score, but this was more due to the windy conditions than good play.
Trafalgar blossomed out in the final quarter to wrap up the win 14.16 (100) to Hill End 4.5 (29).
Trafalgar was served well by Dylan Farrell, Hayden Farrell, Jace Butler, Klay Butler and Hayden Brock.
Hill End's best were Rob Fiddelears, Ben Noy, Simon Fairbairn and Kris Ayton.