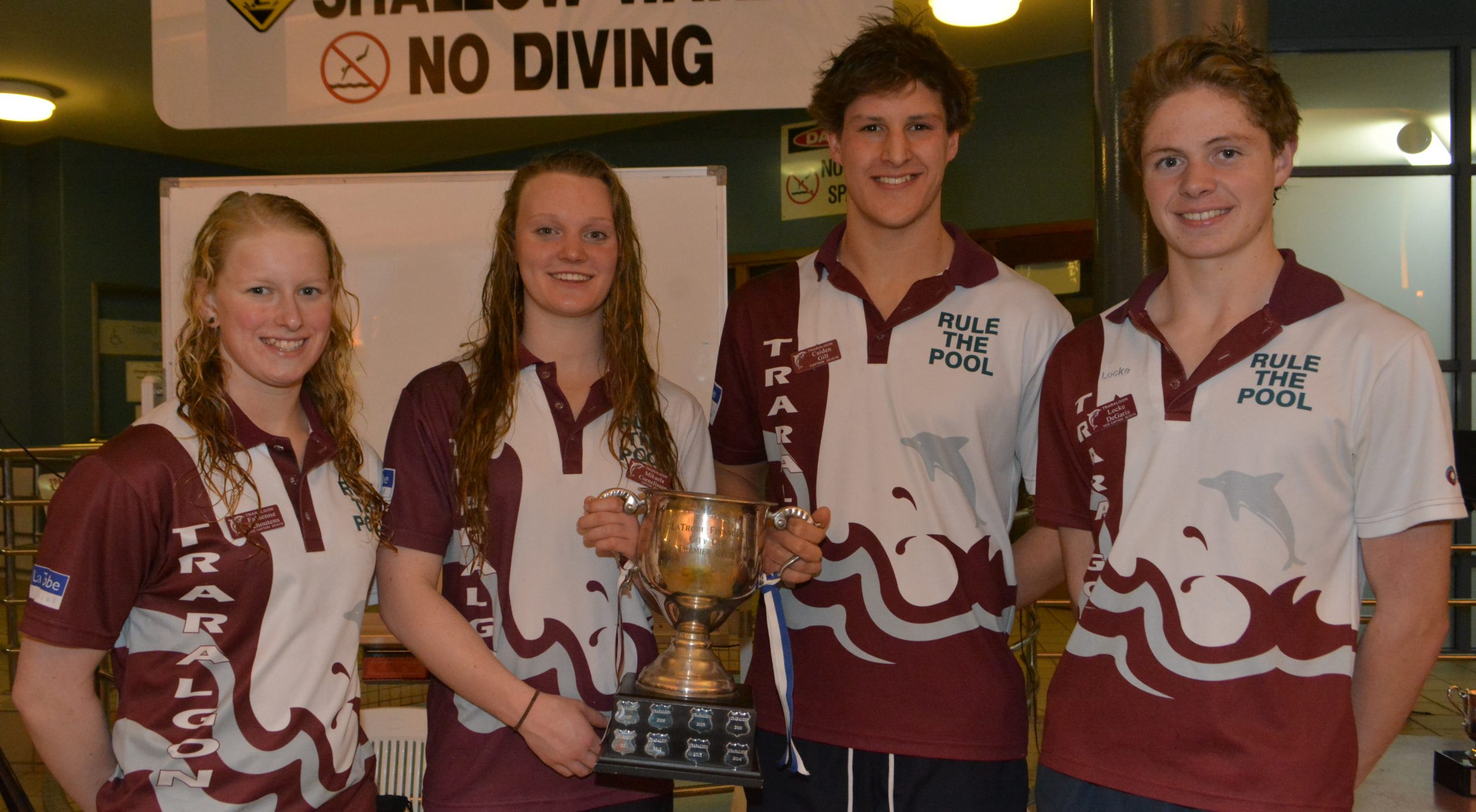 MORE than 250 swimmers dove into Morwell Leisure Centre's swimming pool last month for the 2015 battle of the Latrobe City Cup.

Traralgon Swimming Club hosted the event – the largest non-championship swimming meet in the region – and welcomed Surrey Park and Nunawading swimming clubs to compete.
Traralgon took the cup for the ninth year running with 1372 points, dominating the day's races over runners-up Surrey Park who finished with 539 points and third-placed Nunawading (437 points).
Jordan Cargill continued his run of record-breaking swims when he took the 10 year-old 100-metre freestyle Gippsland record in a time of 1.05.33.
Former record holder and teammate Alex Tsebelis set his own record with a 1.00.30 swim in the under-14 100m backstroke.
Fifteen year-old Connor O'Neill also broke the Gippsland record in the 100m backstroke (59.43) and 200m backstroke (2.10.74) for the 15- and 16-year age group.
Traralgon Club captain Mikaela Cornelissen led by example with three Gippsland records in the open 100m backstroke (1.02.61), 17 years and over 50m freestyle (27.54) and 50m butterfly (27.95).
Meanwhile Georgia Tsebelis also enjoyed a good showing in the pool with two records in the 17 years and over 50m backstroke (29.68) and 200m individual medley (2.27.32).
Cornelissen and Tsebelis later joined Sophie Fitzpatrick and Erin Roberts to take six seconds from the girls' 17 years and over Gippsland record time for their 4 x 50m freestyle relay.
They also took five seconds from the 17 years and over 4 x 50m medley relay Gippsland record time.
James Gallagher joined Alex Tsebelis, Locke DeGaris and Kieran Georgeson to set a Gippsland record in the 14 years 4 x 50m freestyle relay with a time of 1.46.69.
Senior head coach Brian Ford said he was happy with the club's performance.
"Our performance showed we can put together a big team to match many of our country or city competition clubs," Ford said.
"Overall, a fine performance from the swimmers and coaches ably backed by an outstanding team of parents."
Age champions from
Traralgon were:
Kaja Tierney (U8G)
Keian Curthoys-Davies (U8B)
Molly Cargill (U9G)
Ashleigh Mihaly (U10G)
Jordyn Cargill (U10B)
Elayna Pistrin (U12G)
Bridget Cain (U13G)
Eliza Jeffs, Lylana Anstee (U14G)
Locke DeGaris (U14B)
Fabienne Schoutens (U16G)
Fin Peddle (U16B)
Mikaela Cornelissen (U17G)
Caiden Gill (U17B)