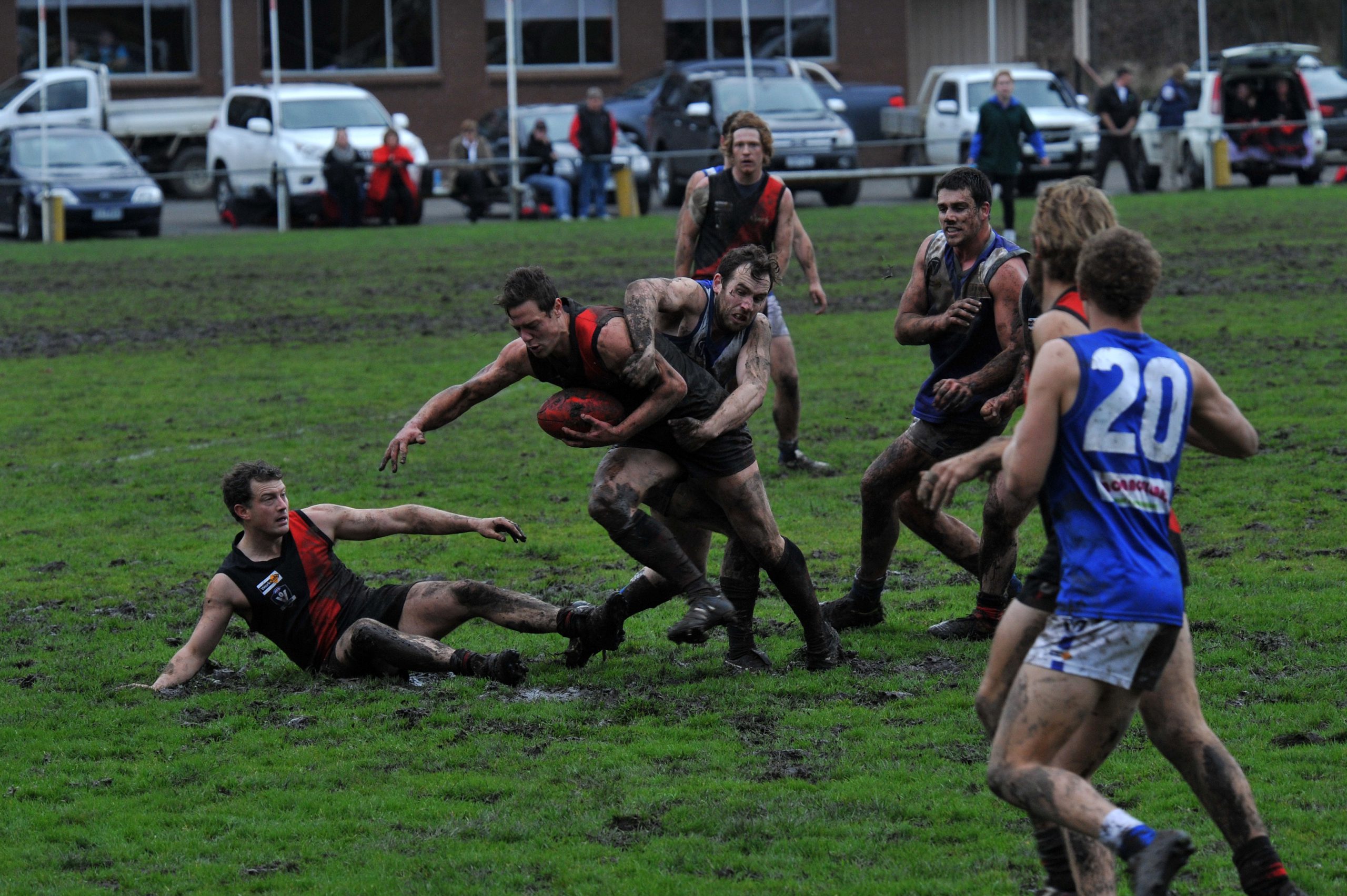 TWO big upsets brought the Mid Gippsland football competition back to life at the weekend, sparking renewed interest in this weekend's final round.

Trafalgar moved into fifth position after downing the more fancied Mirboo North and Hill End broke through for its first win for the season.
The Bloods were two points behind Thorpdale on the ladder but the Blues went down to top side Yallourn-Yallourn North to slip out of the five.
THORPDALE knew the importance of its penultimate game of the regular season against YYN, but could not rise to the occasion against the competition's top team in a low scoring 4.1 (25) to 6.9 (45) loss.
The Blues were clinging onto a two point advantage over Trafalgar in fifth on the ladder and now find themselves in sixth with one match to play, having held a finals spot for the past 10 weeks.
Conditions at George Bates Reserve were never going to be perfect after heavy rain during the week.
It was a scrappy match with frequent stoppages due to scrimmages.
Play was difficult for both sides but Thorpdale adapted well and looked good in passages without converting opportunities.
YYN was the bigger of the two teams and their talls were the dominant feature.
It was 19 minutes before the first goal was registered by Thorpdale after YYN had a string of five behinds, and the Blues carried a two point lead to quarter-time.
Leading goal scorer Tim Phillips got the nod for a free kick after YYN had scored their sixth behind, and he made no mistake.
Barrie Burnett and Tyler Brown were both good for the North in a hard slog for both teams.
YYN had more shots at goal and before half-time added a further two majors through Dale Murphy and Tyler Brown.
Thorpdale replied on the siren through coach Nathan Scurrah and at half-time two wearied teams trudged off leaving the scene at 3.6 (24) to 2.1 (13) in the Bombers' favour.
The third term did not go anywhere as both outfits drowned under a layer of mud; YYN was reduced to two behinds while Thorpdale could only scratch around for a solitary goal by Rhy Gieschen.
It was end-to-end work in the final term as YYN finally wore down the tired Thorpdale side, adding three goals to one to run out winners by 20 points.
TRAFALGAR snuck into the finals frame at the opportune moment with an 11-point win over third-placed Mirboo North.
The Bloods were given little chance of getting to fifth four weeks ago but finally achieved their objective and displaced Thorpdale.
It was a jubilant camp after the match upon hearing of the other results of the round.
Trafalgar outplayed and outscored their more favoured opponent, with 19 scoring shots to 13 telling the story.
Mirboo North led at the first change by one-point and by half-time scores were level.
Trafalgar had the run in the third term adding 3.6 (24) to nil and was able to relax in the last as Mirboo North made a determined effort but fell short by 11 points.
Jamie Hines, Hayden Farrell, Darcy Brock and Mitch Gorman were Trafalgar's best in the 7.12 (54) to 6.7 (43) win.
Mirboo North's best were Damien Turner, Clancy Bennett, Dwayne Gunn and Jack Robertson.
HILL End finally broke its drought of 17 successive losses to defeat Yarragon by 20 points.
Not only was it its first win, but its highest score for the season as well.
Although condemned to the wooden spoon, the Hillmen have at least added four points to their tally.
Hill End had to do it the hard way, coming from a deficit of 26 points at one stage, and produced their best second half of the season to kick 7.6 (48) to Yarragon's 3.4 (22).
Players were surrounded by their ecstatic fans who had waited all season for this moment.
NEWBOROUGH went to third position after beating Morwell East by 21 points, but it was not until the last quarter that the Dogs gained the upper hand.
Morwell East had shown plenty of grit and determination to gain the ascendancy and was more controlled, leading at the three breaks.
Newborough was given a three-quarter rev and went into the final term with more determination, adding 5.7 (37) to the East's 1.2 (8) to finish on top 9.21 (75) to 7.4 (46).
Conditions were not ideal and the Dogs wasted many opportunities to increase their winning margin.
Luckily for Morwell East Newborough could not kick straight as the result could have been a slaughter.
YINNAR gave its nearest rivals Boolarra a 63-point lathering to record the highest score of the round.
The Magpies will finish in second position, emulating last season's effort.
After a competitive first half Boolarra fell down in the third quarter when Yinnar applied the screws and added 8.3 (51) to 1.0 (6).
In a frenzy, both teams traded goals in the last with four each, but for Boolarra the damage had been done as Yinnar ran out winners 19.14 (128) to 10.5 (65).