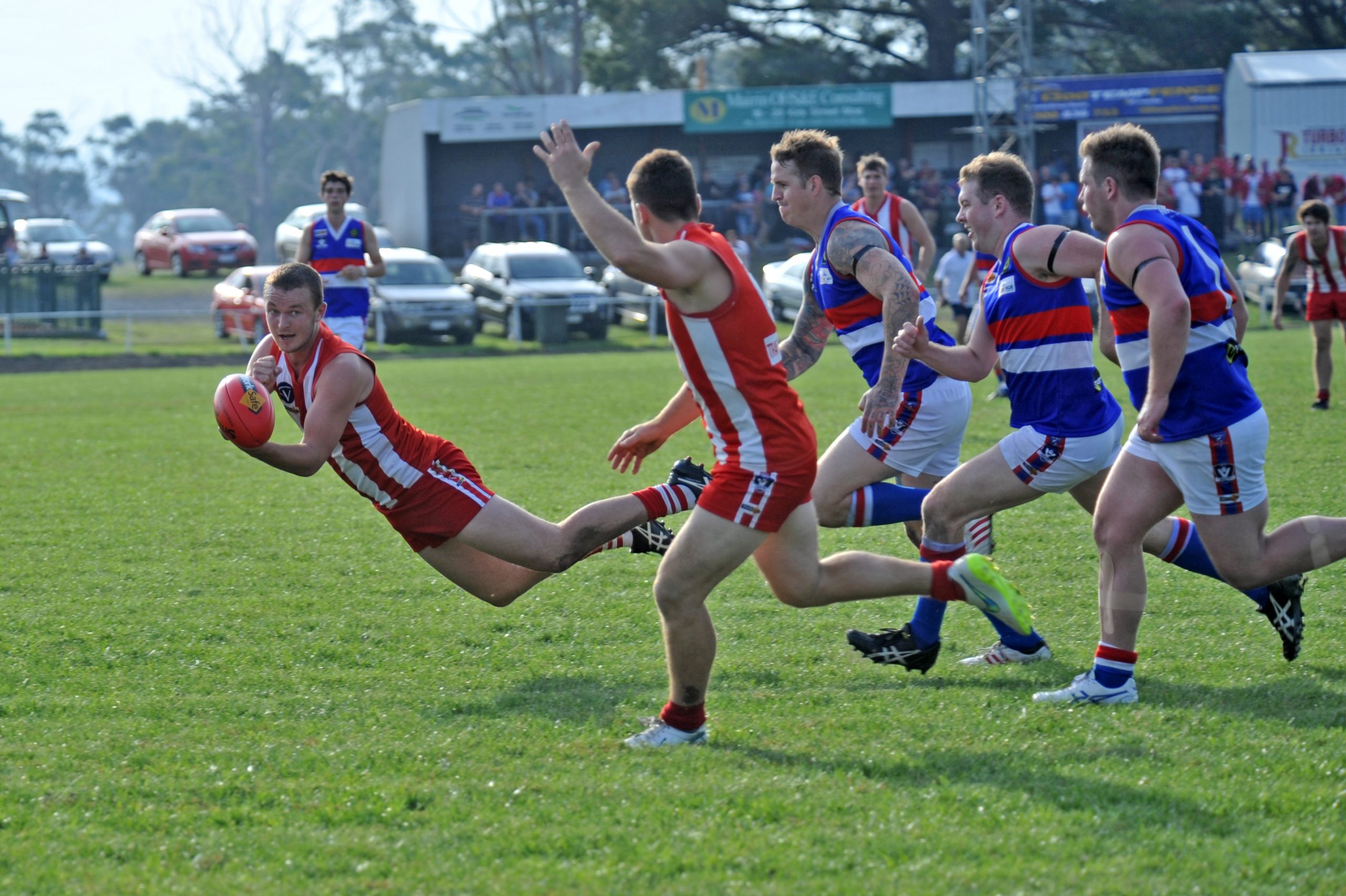 COMPETITIVE rivals Yinnar and Mirboo North face off in the first of the Mid Gippsland finals at Thorpdale on Saturday.
Over the years these two have played each other 109 times but it will be only the fourth time since the top five was introduced in 1995.
The previous results saw Yinnar win in 2003, while Mirboo North got up in 2006 and last year, 10.7 (67) to 8.9 (57).
Yinnar have had a similar season as 2014, when they also finished second but were knocked out in the early rounds, and will be hoping to go further this time.
The Magpies have always had the wood over Mirboo North, with the ledger 65 to 41 in their favour.
However, finals football is played at a different pace and Saturday will see both teams extended to their fullest.
Each side boasts exciting forwards who can turn a game; Tim Aitken (Yinnar) and Tim Traill (Mirboo North) are recognised as true full-forwards but the players around them are also capable of scoring goals.
Both coaches know what post-season is all about with Yinnar's Nick Lecchino an experienced finalist with Morwell East and Rosedale while Troy Hamilton has back-to-back flags in the cabinet.
This season the score stands at one win each – Mirboo North by 15 points and Yinnar by two points in their last encounter.
Yinnar has been in second for most of the season while Mirboo North and Newborough have been jockeying for third and fourth, until last Saturday Yinnar helped Mirboo North with a win over the Dogs.
The winner will face up to minor premier Yallourn-Yallourn North next week.
NEWBOROUGH plays Trafalgar in the elimination final at Hill End on Sunday.
It will be the 101st time these two have met with historically very little between them.
Their previous elimination final was in 2007 when Newborough won by only seven points – 12.4 (76) to 10.9 (69).
It is one win each in 2015 with Trafalgar taking the opening encounter 12.15 (87) to 6.7 (43), while Newborough had the better of it in the return leg 13.13 (91) to 11.3 (69).
Last season, Newborough finished on top of the ladder but have hovered around third and fourth this year.
Trafalgar only snuck into fifth a fortnight ago at the expense of Thorpdale who held it for 10 weeks, and are expected to be competitive with most of their injured players ready to get back into action.
Both teams have exciting players but neither has a star full-forward.
Of interest will be how Newborough treat former player Ash Payne, who is now a goal sneak with Trafalgar.
Golden Boot
YYN's Tim Phillips took out the senior goalkicking award with 59 after his six against Morwell East.
The snappy rover has had a stellar year with the Bombers since coming back to the club after a couple of seasons at Morwell.
In the reserves Mark Thorburn (YYN) also finished with 59, the thirds was won by Jordan Richards (Mirboo North) with 57 and Hill End's Jack Hudson took out the fourths award with 54 goals.
Saturday 22 August: Q-Final at Thorpdale
Seniors: Yinnar v Mirboo North
Reserves: Newborough v YYN
Thirds: Yinnar v Yarragon
Fourths: Hill End v Trafalgar
Sunday 23 August: E-Final at Hill End
Seniors: Newborough v Trafalgar
Reserves: Mirboo North v Morwell East
Thirds: YYN v Newborough
Fourths: Yinnar v Mirboo North