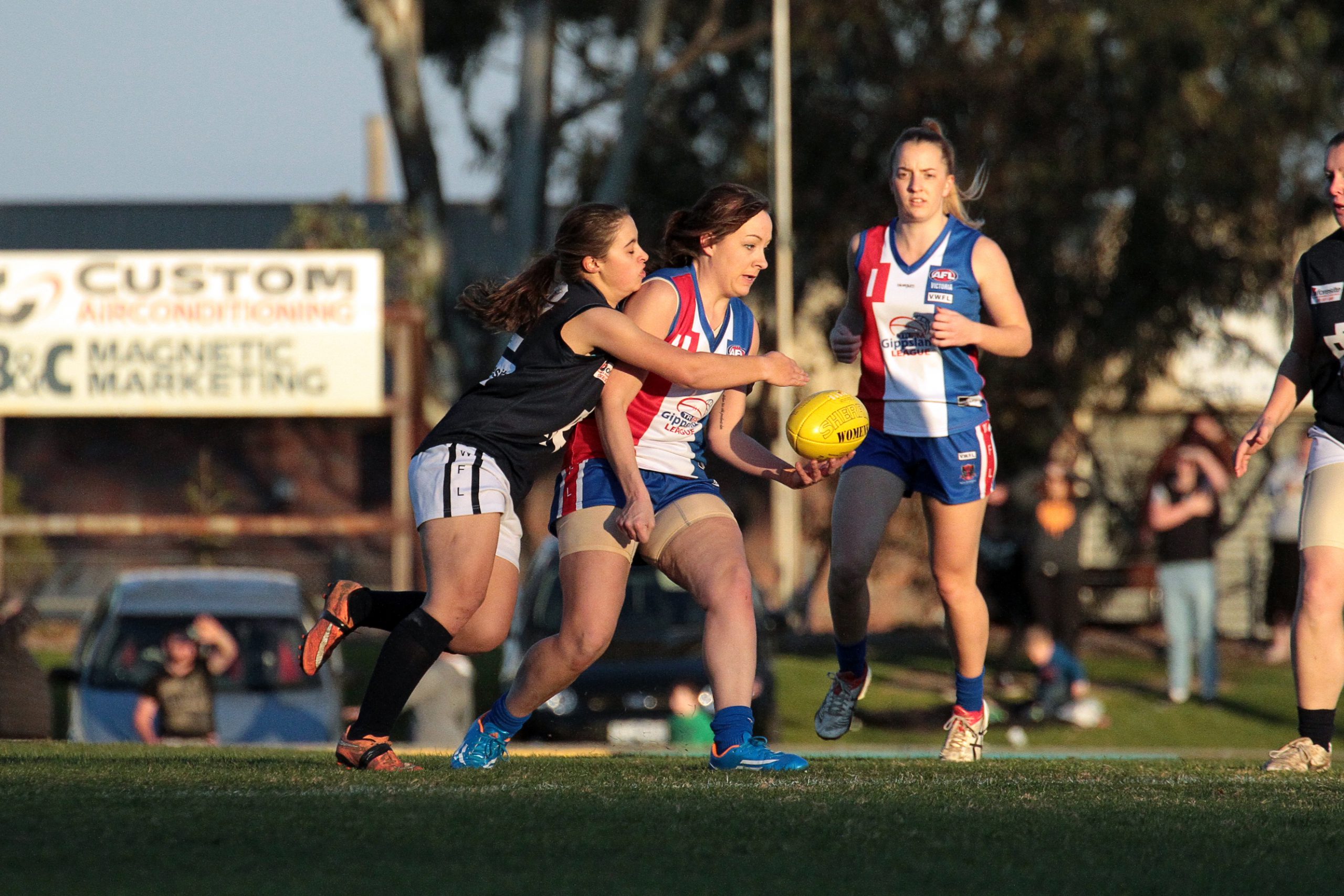 FOOTBALL
By SAM DARROCH
GIPPSLAND Galaxy soared into the Victorian Women's Football League division five east grand final, courtesy of a near triple figure triumph over Rosebud on Saturday.
Aiming to secure the flag in its maiden season of competition, Galaxy has taken all before it in 2015 and will enter the final as a firm favourite, having already secured the minor premiership.
A 16.10 (106) to 2.1 (13) victory over the second-placed Blues underscored Gippsland's dominance, sending it straight through to the decider, awaiting the victor of Rosebud and Ajax this weekend.
"Can't wait (for the final), being the first year in it, just being able to make our mark and take out the premiership and hopefully we'll be able to… go into a higher division next year and player some higher competition," coach Nikki Schroeter said.
"It would mean everything to us (to win the flag). Just to represent Gippsland in that first year of footy is the beginning of something to look forward to in our future."
The Gippsland League side has enjoyed an outstanding debut season, winning seven of its nine regular season games, including the past five by an average well in excess of 100 points.
One of the side's losses came when only 11 players were available, and the other when experimenting with players in different positions.
Aside from those anomalies the Galaxy's key to success has been consistency.
"It took a bit of getting to know the girls and where I had to play them. We only had a month before we played to get a team together, so to be coming in to a grand final now with the same team, the same bunch of girls, is amazing," Schroeter said.
"I assigned them their positions throughout the team and they've stuck with those positions, so they know where they've got to go and what they've got to do.
"We're a very fast, free-flowing football team. We hit our targets and with our pace no-one can catch us, that's the way we've won every week, just how quick we are with our transition of play."
With players continuing to gravitate toward the Galaxy, Schroeter said the introduction of a senior women's team had been well received.
"Everybody's been waiting for this opportunity in Gippsland for years," she said.
"They're looking upon it now as this is going to be their main sport next year… every week we have new people wanting to join."
Schroeter has a chance to do a debut double – she also coaches the Traralgon youth girls team, which has qualified for Sunday's Gippsland Youth Girls grand final with an undefeated record in its first season.
The coach said she hoped to see players continue their football with the Galaxy upon finishing graduating from the youth girls league.
Galaxy will contest the grand final next weekend.