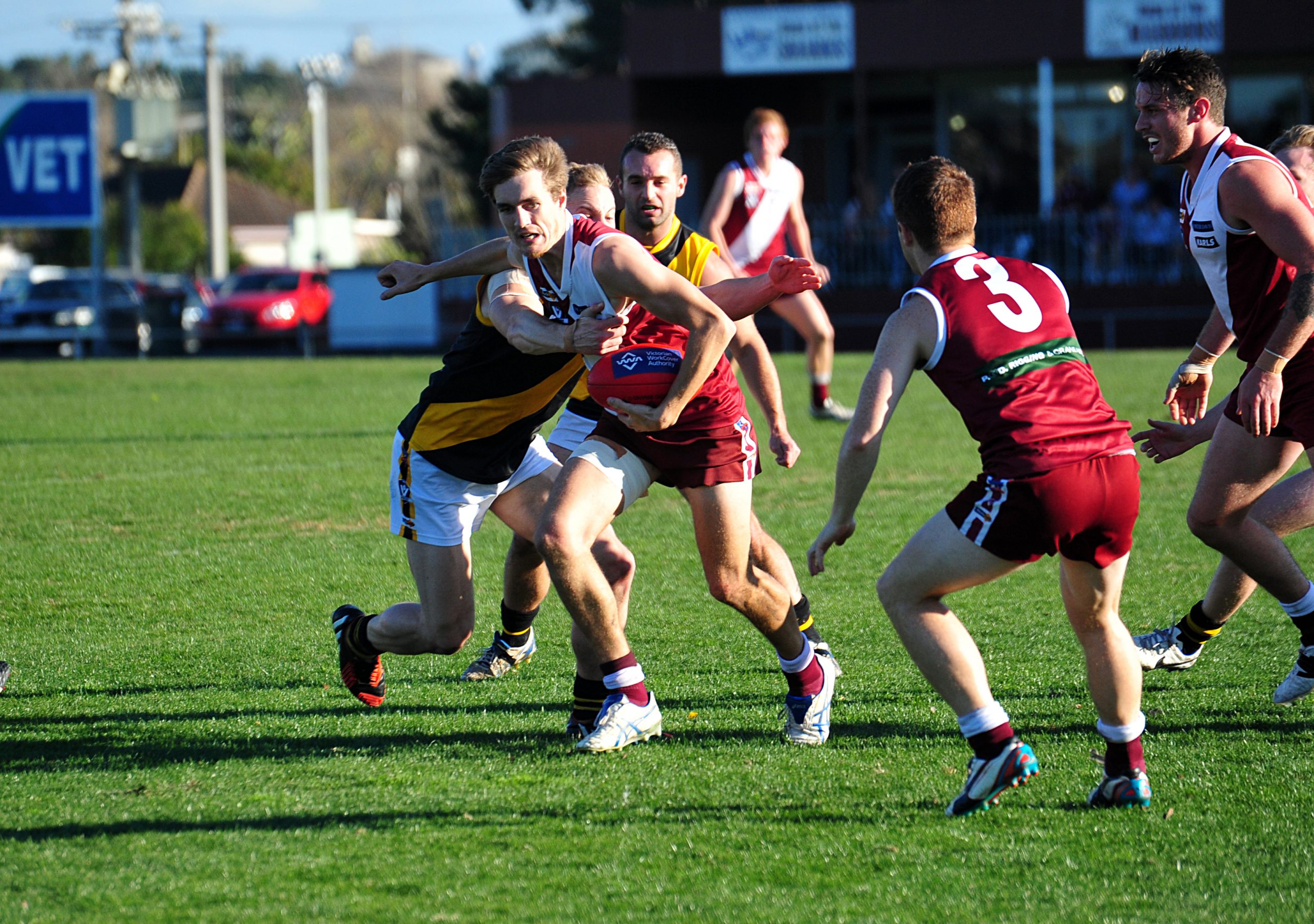 MORWELL'S season will be on the line when it hosts Traralgon in round 17 of Gippsland League on Sunday.

"We have got to win this one. It's going to be a big challenge for us. They are in good form," Tigers coach Joel Soutar said.
"We have to throw everything at them to keep our season alive. In fact I think we pretty much have to win the next two to keep it alive."
Sitting in sixth on the ladder with eight wins and eight losses, Morwell is battling it out with Sale and Drouin for the fifth and final spot in the five.
"Yeah we have had our chances, a few close games early in the year, which had we turned them around we might not have been in this position," Soutar said.
"It's been an up-and-down year but this is the challenge we have got."
Morwell has won four of its past five against Traralgon with the exception in round eight this year.
However it's been four years since Traralgon has won on Tiger turf.
"We like playing at home. Our ground is in excellent condition and we are always a better chance playing there… we are right to go and we will see how we go," Soutar said.
With the exception of Devon Soutar, who will miss the remainder of the season with a calf injury, the Tigers are near full strength.
However, their opponent will be full of confidence having knocked off the ladder leader last weekend.
"We want to continue to hit good form. We need consistency in our game and we are still yet to string four quarters together. I think we have only done that once so far and we want to get some momentum going heading into the finals," Maroons coach Mark Collison said.
Traralgon cemented third spot with its upset win over Maffra last weekend.
All 10 of the Maroons' football and netball teams are poised to finish in the top three.
"It's the best I've felt for four years," Traralgon Football Club president Andrew Quenault said.
LIKE Morwell, Drouin must win to keep its 2015 finals chances alive.
Historically Leongatha has been a tough opponent for the Hawks; they haven't beaten the Parrots at home since 2008.
THE third team fighting it out for a finals berth is Sale.
This weekend the Magpies will host Moe, a side which stunned the Gippsland League in round eight this year when it came from 20 points down at half-time to beat the highly fancied Magpies by 27.
However if the Lions were to win on Saturday, it would be the first time since 2002 Moe has beaten Sale on Magpie territory.
A fortnight out from the finals, Maffra will be looking to bounce back from a disappointing loss to Traralgon.
The Maroons got out to a good start, before being reined in by the Eagles after an undisciplined start to the last term.
A decade after returning to the competition, Warragul remains without a win at Maffra.
The Gull's last victory there was to the tune of 27 points in 1997.
WONTHAGGI must beat Bairnsdale in order to cement fourth spot on the ladder.
The Power has won six of its past seven clashes with the Redlegs, despite what is considered one of the toughest road trips in the competition.
At home this week and as a disappointing season draws to a close, the eighth-placed Bairnsdale would love nothing more than to claim one of the competition's biggest scalps on the eve of September.