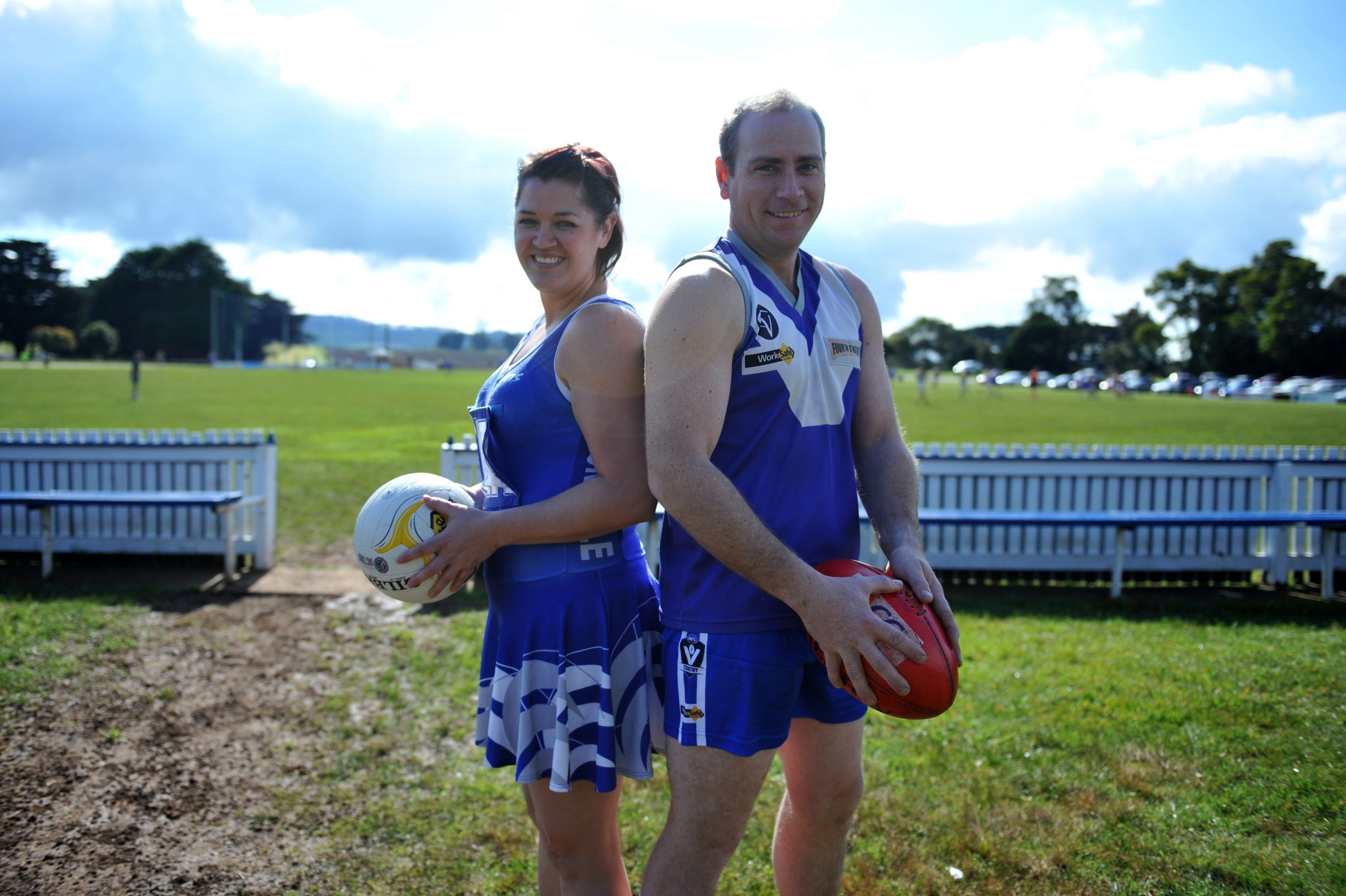 THE Hammond name has long been synonymous with Thorpdale Football Netball Club.
Former president Mick Hammond played 600 games for the Blues, his sons Barry and Daniel each clocked 300, daughter Tanya is closing in her netball triple century and wife Pam has run the canteen for 25 years.
On Saturday, the Hammonds added another milestone to the list when Natasha played game 400 of a decorated career with the family's beloved club.
"It's all we've ever known, it's kind of part of our family to be at the footy (club)," Natasha said.
"We've grown up in it, I always remember watching dad play footy. It's just a part of our life.
"We're a really close family anyway so we kind of do everything together, so playing football and netball on a Saturday is just an extra avenue."
In more than two decades of dedication to Thorpy, Natasha has filled almost every role on and off the court.
At age 15 she took on the dual role of netball club president and secretary, prior to the alignment of football and netball factions, shouldering the responsibility just so she could keep on playing.
"I really wanted to play and I knew if nobody stepped up we wouldn't get the luxury to play on the weekend so I just took that on, and did that for years," Natasha said.
Not only was the cabinet bare on the administrative side, but player numbers were also scarce in Natasha's early years at the club in the '90s.
Both Natasha and sister Tanya – who have played alongside one another for more than 15 years – used to play game after game each weekend, helping fill the numbers across the grades.
"Being a small town and no access to public transport it's been pretty difficult for us over the years to be able to attract people to the club, so we haven't always had the best numbers," Natasha said.
"At the very start… there was nobody around. You had to fill A grade every week then every other team; it was very hard for us because we didn't have the skill level of players.
"We were getting absolutely thumped every week, we lost a lot of players… people didn't want to pay registration to get walloped every weekend."
However, the growth of the Moe and district junior competition – which fed into a host of teams including Thorpdale – helped grow numbers, with fellow club stalwart Barry 'Bear' Robinson bringing players by the busload every week, and things began to turn around.
The Blues made the finals in 2004, then after finishing fifth in 2005 went on to win the A grade flag in what Natasha fondly recalls as the best day of her life, vindicating years of thrashings.
"In 2004 when we first made finals it was a real milestone for us, then the next year we won the grand final," she said.
"We came from just scraping into fifth position to winning and beating the undefeated team for two years (Morwell East); that's the biggest highlight not just of my netball, but my life.
"I think back to that day and it always brings a smile to my face."
Natasha went on to play in three A grade premierships, and has three runner-up finishes to her name.
The 38 year-old also has two B grade best and fairest titles in the cabinet, finished second in the A grade vote count thrice, and became Thorpdale's youngest life member in 2007 for "outstanding service".
Despite her personal achievements, coaching juniors – which she has done for two decades – has been one of the most rewarding aspects of her holistic involvement in the sport.
"They welcome that knowledge you're giving them. To see them go into our senior ranks and play up in our higher grades; that for me is a proud moment… to think maybe I had a hand in (that)," she said.
While family and work pressures may reduce her involvement in future, the club will always be close to her heart, with no definitive end to her career in sight.
"I don't know how'd I ever go not playing because it's all I've ever known, it's what you do on a Saturday."
THORPDALE reserves captain Andrew Archipow racked up game 300 for the Blues against his former club Hill End on Saturday, but he doesn't see what all the fuss was about.
"I just love playing footy so I just keep on turning up," the milestone man said.
Archipow joined Thorpdale in 1995 when his family moved from a 40-acre dairy farm in Hill End to a 400-acre farm in Childers, and quickly acquired the nickname Donuts as a 15 year-old fourths player.
"I don't know how it (the name) came around, but it's one that just stuck," Archipow said.
On the field Archipow has enjoyed a solid career, making his name primarily as backman, although he has snuck into the forward line this year for a handful of sausage rolls.
"It's good making some other bastard chase me (for a change)," he said.
He was named best reserves utility in 2003 and most consistent in 2012 and has been captain ever since.
"It's a big honour to even be thought of as being captain. I sort of didn't really know what to do but play it by ear and work it out," Archipow said.
"I've sort of just had to speak up and gee the boys up before the game. I get them in at quarter-time, half-time and three-quarter-time."
The club has been a pillar in the Archipow family; his father Mike is a former club president, and now his young son is also involved.
"It's just a big family up there, my young bloke has been up there since day one, he's eight now. I always knew the whole footy club would look out for him," he said.
"For the last 19 years it's just been what we do on Saturdays."
In recent times the nickname Donuts has been challenged by Mr Fixit, since Archipow rose to prominence as a club trainer.
In 2000 his then girlfriend and now wife Mary's ankles were "knackered", so Archipow learned to strap them and began to fill a much needed role around the club.
"One thing led to another and I've been a trainer ever since," he said.
Despite largely avoiding injury, the 33 year-old said he wouldn't be crazy enough to challenge Mick Hammond's record of 600 games, but would be more than happy to be a full-time trainer post playing career. For the meantime, he's content to keep on playing, an activity which he labelled a health necessity.
"I sort of need to (keep playing), because over the off-season I normally whack on about five kilos then knock it off through the footy season," he said.