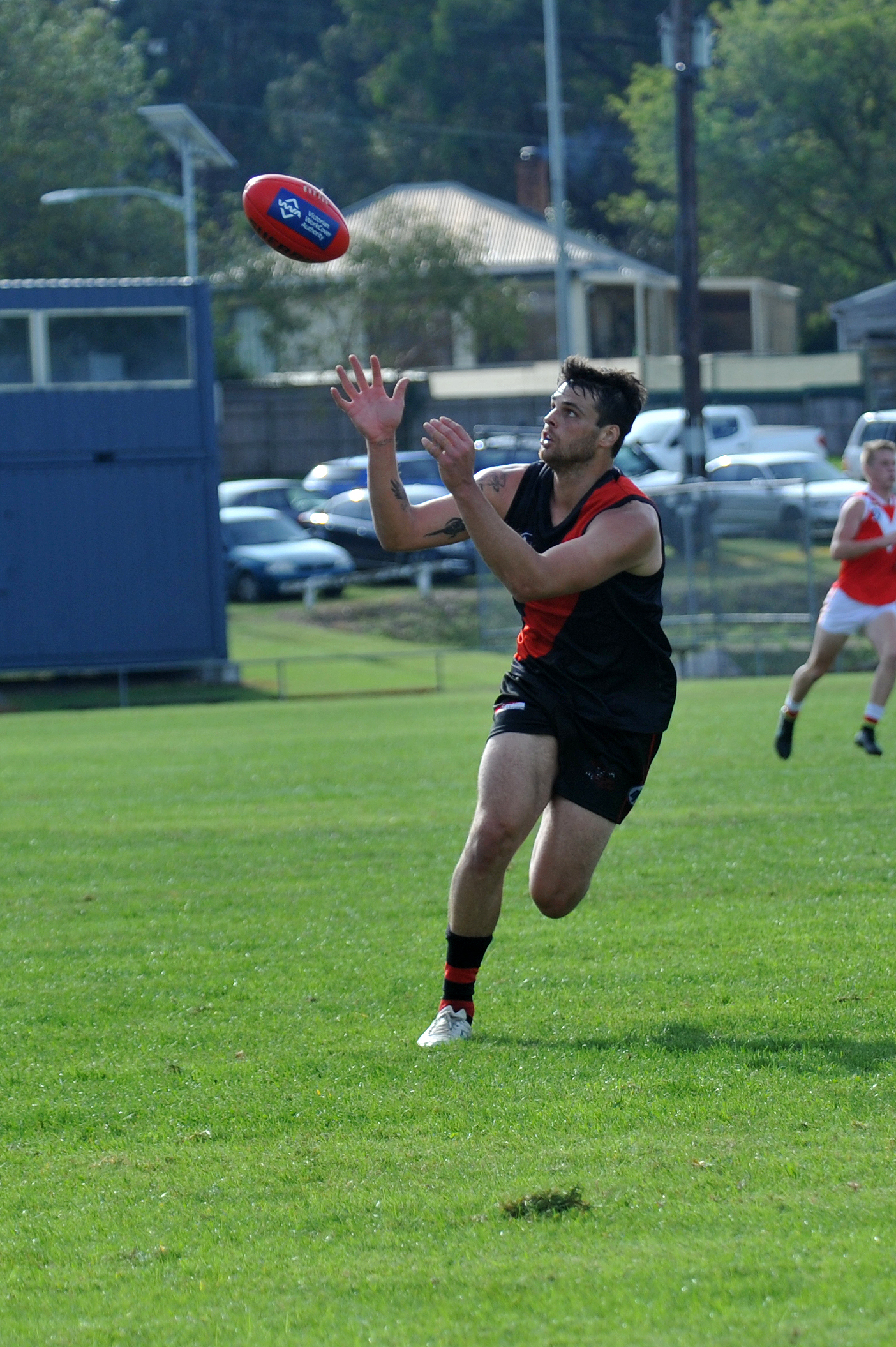 SALE City will contest its fourth finals match in two seasons under coach Hayden Burgiel in Saturday's qualifier against Heyfield at Woodside.
The City express train clicked into gear early in season 2015, harbouring no passengers to claim seven victories from its opening nine matches.
However the Kangaroos caused an abrupt halt to the side's march in round five, defeating the Dogs by 31-points.
The second half of the season has been just as impressive for the Dogs, with a further seven wins, a loss to Heyfield and a dead rubber against Cowwarr.
"We weren't too concerned either way by the result last weekend, it was good to come back from behind to take the win, but we knew that we would finish second or third which was our aim," Burgiel said.
"We didn't want to be top, we didn't want to have the week off. It wasn't the plan."
Having contested an elimination final last season to work their way through to a preliminary final berth, continued match time is a proven plus for the side.
The coach will have a near full list to pick from with the exception of Mitch Evans who suffered concussion against Yarram.
"We will be at full strength having myself, Dave Piasente, Jake Schuback, Harry Kaandorp and Matt Lutze all in the side which will trouble them," Burgiel said.
Boasting a line-up of senior players which already tasted ultimate success, Burgiel will be looking to the club's leaders to provide cool heads.
"This week we need to get the guys ready mentally, get them mentally prepared to take on Heyfield," Burgiel said.
The coach is not too worried about past results; the Kangaroos accounted for the Dogs by more than five goals in their first meeting and 15 points in their second encounter on City's home turf.
"The first time we had a fair few out, and similarly second time around we had a number of key position guys missing," Burgiel said.
"Our style of play worries them and at full strength we should trouble them.
"If we look at how we played last year during finals and look to bring that same attitude it should serve us well."
Set to embark on yet another finals campaign under coach Damien Birss, grand finalists for the last three seasons Heyfield have taken a different route to the post-season.
Last year the Kangaroos sailed through the home and away fixture undefeated, but this year appeared poised to miss out on finals action all together.
However three straight victories saw the side climb into third to seal the double chance in a one point thriller in the final round.
With the Dogs forwards impressing in a strong second half showing against Yarram, the Kangaroos' back six – led by Scott Anderson – will face one of their toughest assignments.
The half-back line needs to loom large and bully the opposition into turnovers, then create run from half-back to set up opportunities in front of goal.
TRARALGON Tyers United and reigning premier Churchill will meet in the knock out elimination final at Sale City.
The Cougars made a late charge to secure a top five berth, while the Bombers combined miserly defence with high scoring to conquer the second half of the fixture.
Coach Jay Neagle hopes such momentum will put his side in good stead in its return to finals football.
"We played the second half last week with only two guys on the bench which made it hard on the rest of the team and we had a shot on goal to win the game late in the contest so I was happy with our performance," Neagle said.
"Hopefully we can take that form into this week. I am sure our boys will be giving it their all.
"The side has improved from last year and are starting to understand good team football. We continue to improve every week so it is a credit to everyone involved."
The Bombers have had few problems in attack with Stephen Hawkins (57), Brian Graham and Chase Saunders (48) sitting in the top 10 league goal scorers.
Add some 10 plus players that can step up and score a handful of majors to the mix and its a recipe for headaches in the Churchill backline.
"Our forward line has been performing well but it is a credit to the whole team. The forward line can't play well unless they have good supply from the midfield and rebound from the backline," Neagle said.
Churchill's fire power can't be underestimated either.
The Cougars are also not reliant on one big power forward kicking a winning score.
The reigning premier is gaining momentum with coach Allan Chandler likely to make changes at the selection table, noting the return of several players from injury which will further strengthen his side.
"We should get a couple back from injury this week so hopefully that holds us in a good place to progress another week," Chandler said.
"We're looking forward to this week, you battle all year to have an opportunity at finals and we are very happy to just have made it."
The ledger stands at one all, and if results of the second half of the season are any indication TTU has the edge.
However season ending injuries to two key on-field leaders in captain Luke Middleton and Neagle may tip the scales in Churchill's favour.
"Their midfield and forward line were extremely dominating last time, (Brian) Graham was brilliant and we need to do something to curb his influence," Chandler said.
"Hawkins and Martin were very good too, we know we need to be at our best to beat them after our last meeting.
"We will be really looking for a number of players to step up, as the team with the most contributors will probably win."