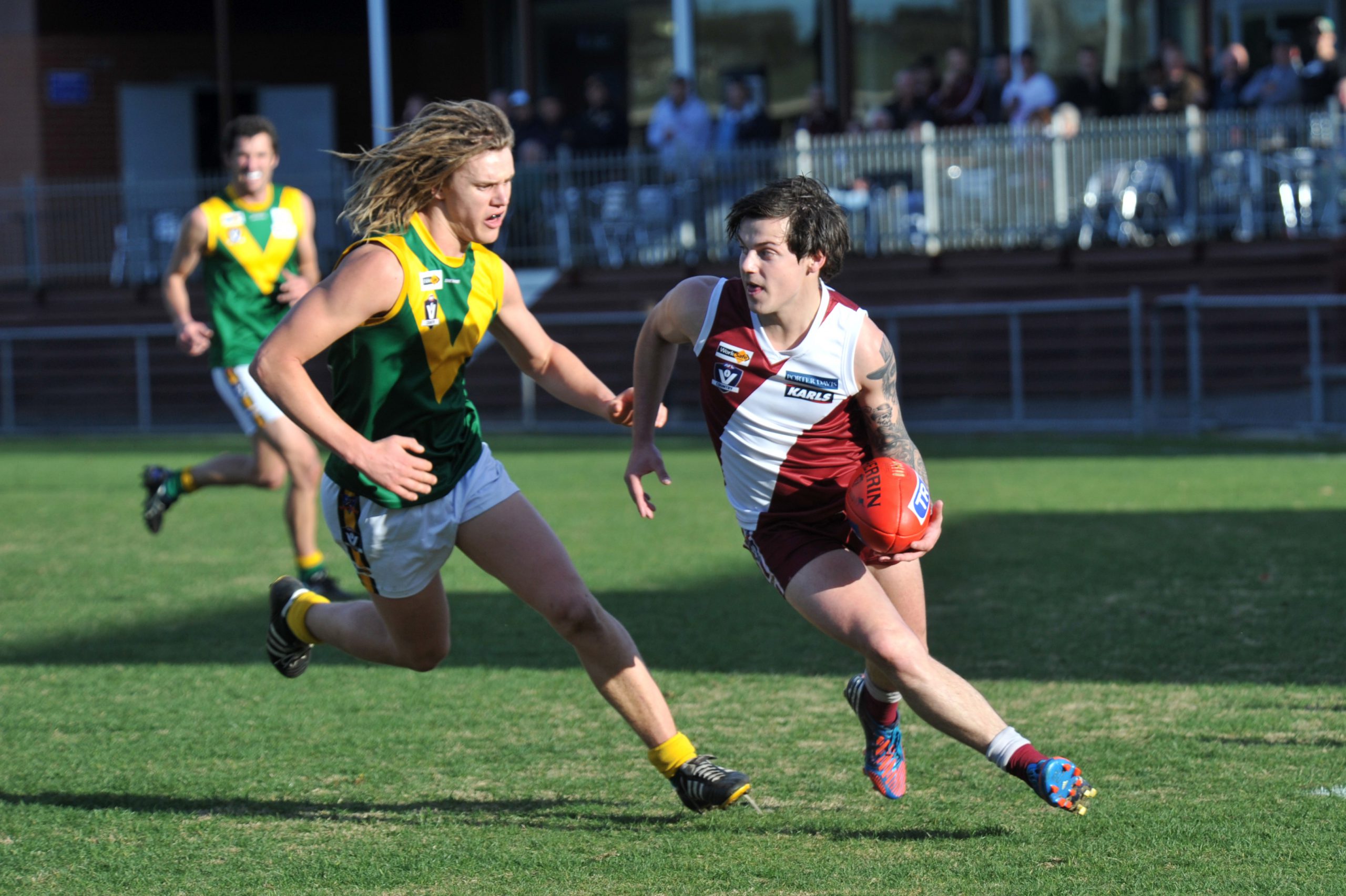 RELATED COVERAGE: Points system penned in
WHEN Traralgon Football Club had almost an entire squad poached from its third grade ranks in 2011, there was no resentment toward those who departed, only the system that allowed it.

That's why the Maroons are right behind AFL Victoria's plan to phase in a statewide player points system next season, which will help prevent such exoduses occurring again.
"We get absolutely smashed by the minor leagues coming in and purchasing our junior players straight out of thirds," club president Andrew Quenault said.
"That's been a big bugbear of ours; they throw a lot of money at our kids.
"We lost 18 or 19 out of the 22 or 23 kids that were coming up from our thirds (in 2011), it was pure money, they just came in and bought them and that was it.
"You can't blame the kids. If you're a kid at uni or you're on an apprentice wage and someone comes and throws dollars at you, what are you going to do?"
The proposed PPS – to be rolled out across metropolitan and country community football leagues from 2016 – will help limit wholesale movement between clubs and leagues.
It will also reward clubs for junior development by placing a minimum point allocation on players with 40 plus games in a club's youth ranks.
The Gippsland League, along with a number of others in the region, already employs a PPS, however others do not, allowing discrepancies in the recruitment process.
Given one of the Gippsland League's dictating factors in caps for each club is the corresponding town's population, Traralgon faces tighter restrictions than smaller towns.
As such it relies heavily on junior development and retention to keep points down and has succeeded in keeping a senior team well below the limit in recent years.
However, when a lot of juniors disappear at once – like in 2011 – it hurts.
"Our reserves really struggled, okay our seniors ended up winning the flag that year, but there was a big difference between our A graders and our C graders," Quenault said.
"They're not even going for the older boys anymore, there used to be a time where they'd hit up the 26, 27, 28 year-olds who hadn't quite made it at senior level, but they just come in and try to buy all the youth that we spend all our time developing thinking they're going to go out there and win them a flag."
Traralgon has supported the notion of a uniform system to regulate spending for some time and Quenault backed the AFL Victoria implementation, which has been trialled across the state this year.
"Most definitely (we welcome it). We've been calling for a points system across the board, statewide, for a little while now because it is easily policed, easily administered once it's in and it will control the movement of players," he said.
"It will eventually work, if they do bring a salary cap in I'm not sure how that will work, but the points system can control the amount of money that's being paid as well, so we see it as a very positive thing."
The PPS phase-in has been a byproduct of an AFL Victoria working party resolution to address the issue of escalating player payments in community football.
It will also see the implementation of a salary cap as early as 2017.
Player payments have been cited as unsustainable in some cases across the state, with select clubs fearing their future viability unless a lid is put on it.
While Traralgon pays its entire senior roster, Quenault said it did so at a manageable rate.
"All our senior players get paid; we work within a budget, we know exactly what we can earn each year and we work to a lower budget than that," he said.
"If they bring the salary cap in I think the only pressure it will put on us is to pay more, because we'll be nowhere near it.
"The culture we try and build is the guys want to be there to play sport for what it is. It's sport, it's a release, and what financial gain we can give them without putting the club at risk, we will.
"It's no good spending money if your club's not going to be there in five years time… we want all the clubs around here to keep going."
Traralgon has a strong track record of keeping local people at the club.
Its past four senior coaches – Steve Hazelman, Josh Jennings, Paul McCulloch and Mark Collison – are all Traralgon juniors.
Quenault said the internal focus had been a large factor in the club's success this season, with all 10 senior netball and football teams reaching finals.
"A lot of that is due to our junior development," he said.
However, he was quick to note it can all change in a heartbeat.
"That's not to say they're not all going to go next year, because we don't know."