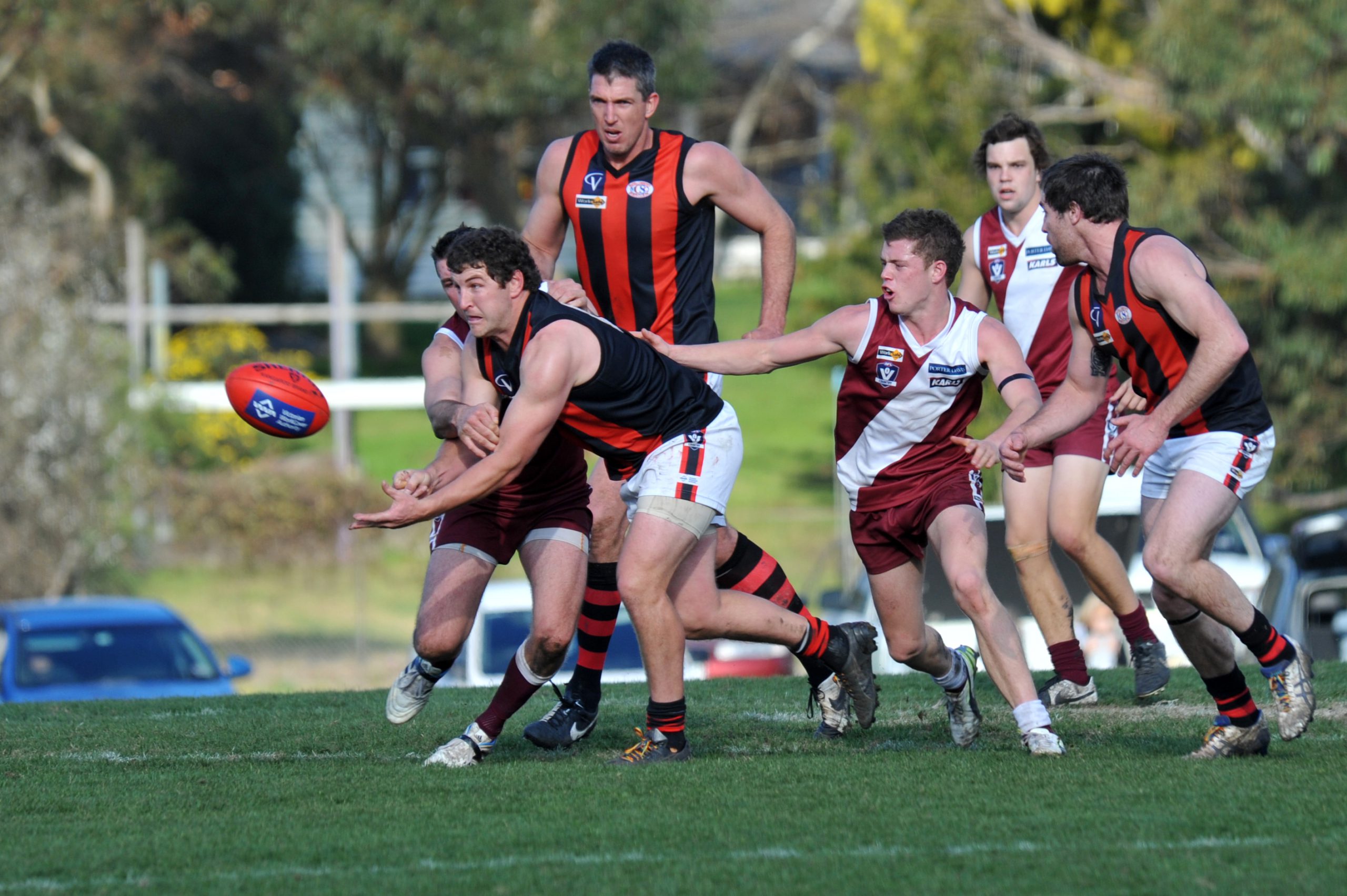 MODERN day rivals Maffra and Traralgon will open the Gippsland League's post season in a highly anticipated qualifying final at Moe on Saturday.

The Eagles finished second to Leongatha on percentage, while the Maroons snuck under the radar to finish just a game behind the pair, in third.
"We have only lost three games since round one, we've been rewarded with third and the second chance, but it all starts again now," Traralgon coach Mark Collison said.
Fresh from a heart-stopping win over the Eagles just a fortnight ago, Traralgon is full of confidence and in good form.
The Maroons also go in well rested, having left seven of their stars out of last weekend's round 18 match against Warragul.
"We have got a bit of confidence up, we are playing good footy and we have got Maffra again," Collison said.
"We were fortunate to have third spot tied up and were able to rest a few blokes."
Ben Amberg, Tim Johnston, Matt Lewellin and Dylan Loprese are all expected to return to the line up, as is Jordy Symons who made a successful return to the game from injury in the reserves last week.
"We struggled early in the year with injuries, but it gave us the opportunity to play around 40 players, our depth has been excellent and there is going to be a real pressure on for spots," Collison said.
Traralgon's win over Maffra a fortnight ago broke the Eagles' eight game-winning streak over the Maroons, which dated back to 2011.
"We've had some good battles with them, we lost by four points and then we got them the second time, but the boys should be confident that our best is more than good enough," Collison said.
The challenge at hand has not been lost on Maffra coach Wayne Butcher.
"Traralgon have got over the top of us last time, they are in good form and it is a huge game for us," Butcher said.
"You never know in finals, it's 50/50. We beat them once and they have beaten us once."
The Eagles will be bolstered by the inclusion of experienced finals campaigners Ben Coleman and Brent Connelly.
In addition, Maffra has something it was missing last year.
"It is good to have the second chance, especially this year. Any side in the finals can beat the other on their day, it's been like that all year," Butcher said.
Traralgon hasn't beaten Maffra in a final since its memorable grand final win a decade ago in 2005, which saw the Maroons shock the Eagles and break its unbeaten run of 45 straight wins.
However Maffra has had the upper hand since; it's won its past three finals against Traralgon, including the 2009 grand final with a kick after the siren and by six points in the 2010 second semi-final.
The winner of Saturday's match will take on Leongatha, which has a rest this weekend, for the chance to play in the Gippsland League grand final.
"I think we will benefit from it," Leongatha coach Beau Vernon said.
The first year Parrots coach does not have a preference as to who his team would rather play.
"Not really. I suppose if you want to win a premiership you have got to beat whoever you face," Vernon said.
THE loser of the match between Maffra and Traralgon will take on the winner of Sunday's elimination final between the fourth-placed Wonthaggi and fifth-placed Sale at Morwell.
"I guess it's cut throat, we will have to play well to win and they'll be looking to do the same," Power coach Rob Railton said.
Railton conceded his side is very different to the one that finished runner up to Morwell last year and made a record fourth term fightback to eliminate Sale in the preliminary final.
"It's taken me all year to recognise that. But it's exciting for the young blokes to get the chance to play finals," Railton said.
"There are six or seven guys who weren't with us last year and we have lost some big names."
They include Earl Shaw, Jack Blair who is playing in the VFL with Collingwood, the retired Aaron Ware and Joel Liddle whose season was ended by a knee injury earlier in the year.
"It's good for club that we are still able to be in the finals with some significant personnel changes," Railton said.
After surrendering a seemingly insurmountable lead to the Power in last year's finals series, Sale coach Travis Ronaldson is treating Sunday's match with due respect.
"We have a healthy respect for Wonthaggi and I know Rob Railton runs a good program down there. We will have to be at our absolute best to get the job done, and as we all know, anything can happen in finals," Ronaldson said.
"We are really excited about getting the chance to play finals footy. It is a great opportunity for our young group and I don't want to put a ceiling on what we can achieve… you build towards finals all year, it is the cherry that you look forward to during the long, cold winter. I know the boys have had a spring in their step this week and I hope that translates to on-field performance.
"We can't afford to rely on individuals to win us the game. Finals footy is about doing the simple things well, better than the opposition, and owning the big moments when they come."