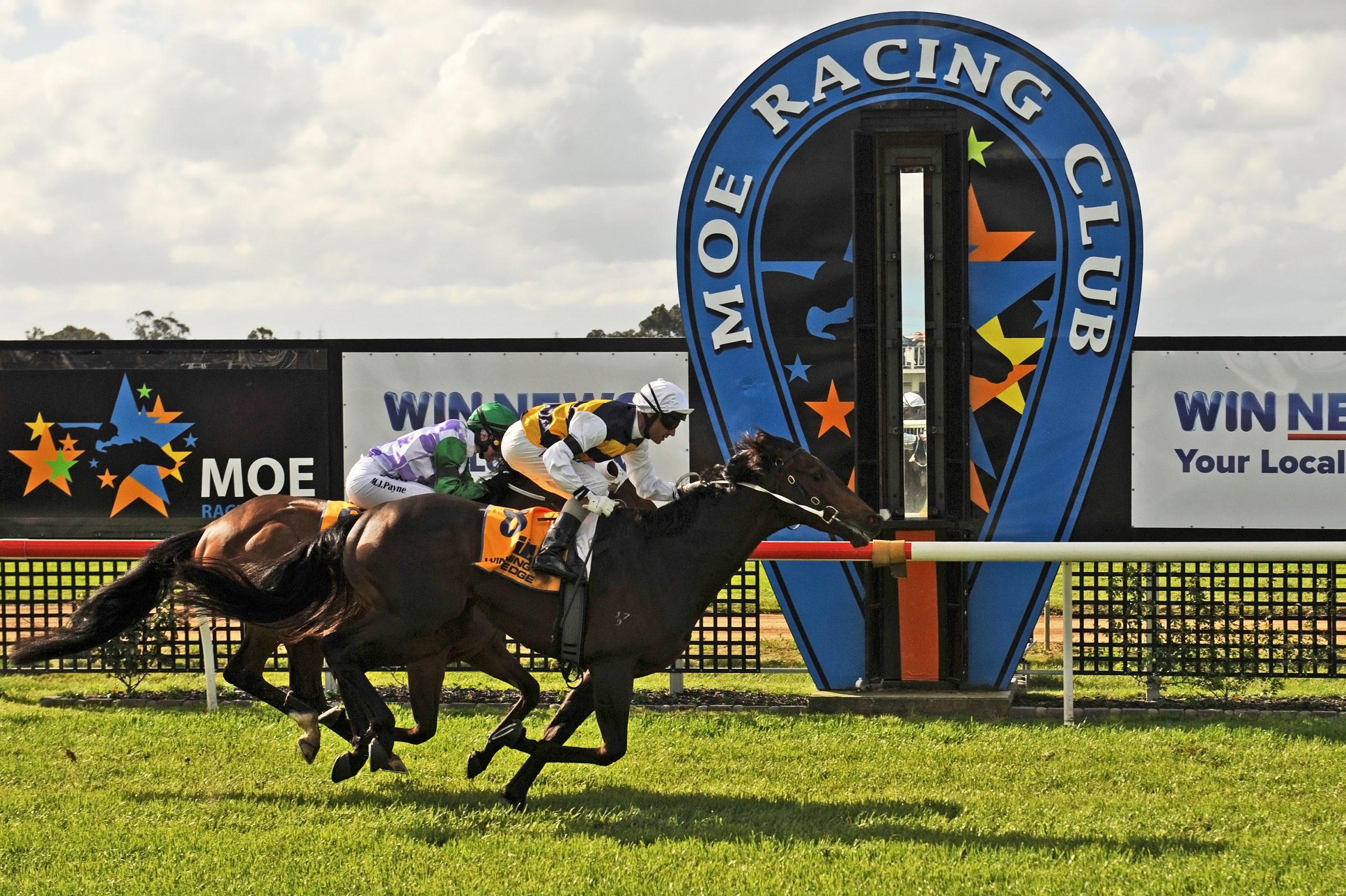 Moe Racing Club's recently resurfaced, multimillion dollar track has proved less resilient than promised throughout a wet winter, forcing the relocation of its next scheduled meeting on Monday to Bairnsdale.
Racing Victoria this week announced the transfer in order to rest Moe's 'all-weather' StrathAyr turf following safety concerns at MRC's last raceday on 22 August, which ran as a soft seven.
It puts a question mark over the track ahead of the club's planned 19 September event and the Moe Cup, scheduled to run on 15 October.
Kick back – flying turf dislodged during races – was reportedly at dangerous levels during the August meeting, setting off alarm bells for the Victorian Jockeys Association.
VJA spokesman Des O'Keeffe said one rider was "stunned quite noticeably" after being struck by track debris, which brought the issue – already "a concern in recent meetings" – to a head.
"The track during winter hasn't raced anywhere near what everyone would consider to be its optimum performance," Mr O'Keeffe said.
"The kick back, or the clods coming back, were of such a size and weight that we felt there was potential there for injury to horse and rider."
Mr O'Keeffe said the track may require significant work to return to a safe and acceptable condition.
"At this stage probably the best plan of attack is to wait until a standard, but fairly major, renovation on the track can take place," he said.
"Other than that it should work well, (we've) got every confidence it will work well in the future, but it clearly needs that major renovation to be done.
"To their absolute credit the Moe club and their committee have discussed (the problem), they agree that it's not performing at its optimal performance. We were really appreciative they recognised there was an issue and… the riders are very appreciative of the way the club's handled it."
The issue comes just 19 months after racing returned to Moe (on 18 February 2014), following a $4.5 million resurfacing project.
The redevelopment was undertaken primarily to prevent further loss of race meetings due to wet weather.
MRC outlaid $3.04 million of the balance for the project in the wake of 20 relocated race days between 2010 and October 2012.
Club chief David McKinnon said MRC was in discussions to determine a course of action.
"The jockeys have made a complaint about the surface of the track, that's being investigated currently with Racing Victoria, StrathAyr and the Moe Racing Club and we're currently investigating our options," Mr McKinnon said.
MRC had a meeting on Monday and has requested feedback from StrathAyr and all associated bodies "so we know where we stand".
RV referred all media enquiries to MRC but released a short statement regarding the transfer, which it described as a chance to "give the track a break after completing its winter racing program".
"The StrathAyr surface has not raced at its peak throughout the wetter months and it was agreed with the MRC and Victorian Jockeys Association it would benefit from the break," RV said.
The Moe Cup was run at the course for the first time since 2010 last year.
MRC delayed its initial late 2013 return to racing date by three months in a "cautious approach" to allow the new surface to consolidate prior to use.
StrathAyr managing director Frank Casimaty did not respond to messages left by The Express at the time of going to print.