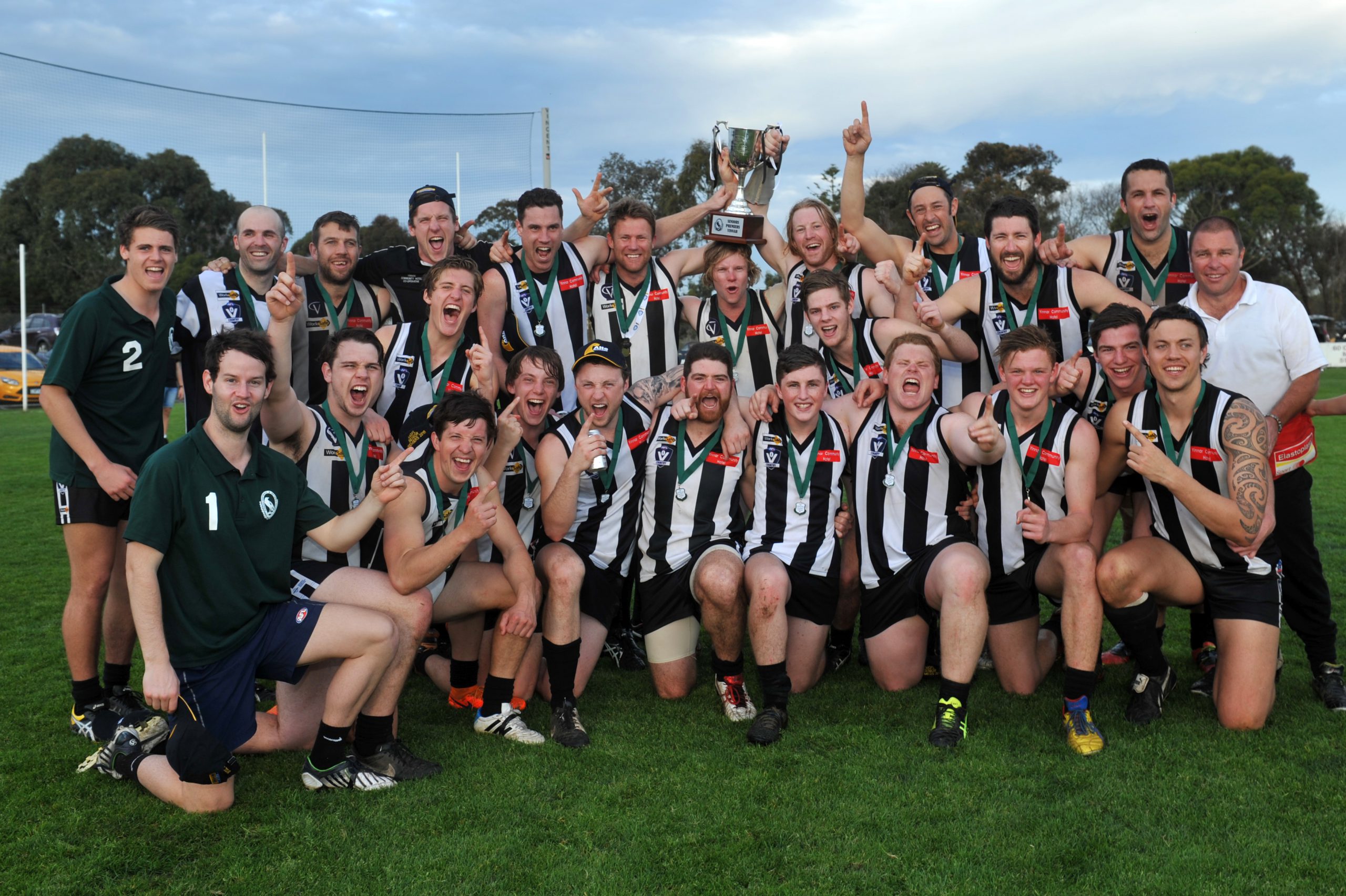 THERE was to be no last-to-first fairytale finish for Yallourn Yallourn North on Saturday as Yinnar claimed its 13th Mid Gippsland premiership flag at Morwell East.
The Magpies applied unyielding pressure throughout all four quarters to squeeze the life out of the Bombers in front of a record crowd which paid $38,000 at the gate.
First to the ball all day and never a step behind their matchup in defence, the black-and-white army showed steely determination in the 20 point win.
Captain and AFL Vic Country Medal winner, as voted by the umpires, Sam McCulloch said the painful memories of premierships that got away fuelled the Yinnar fire.
"I think the hunger, sometimes you've got to have a few losses in finals to make it hurt that much that you want it that little bit more. I think you could see the look in blokes eyes in the finals that they want it that little bit more," McCulloch said.
"It's just an amazing feeling. The amount of hard work this group's put in, we've fallen just short a few times now, but to get to now is just what we needed so credit to everyone."
The weather was perfect but YYN's start less so as Yinnar dictated terms early in the first.
Yinnar's Kane Grinstead-Jones was almost knocked out within the first minute, but he recovered after treatment and went on to play a pivotal role.
The Pies had three goals on the board before YYN worried the goal umpires as the Bombers' bogey team of 2015 proved too slick in their delivery.
YYN was playing from behind and suffered, giving away eight free kicks to two in the first term and by quarter's end trailed 5.1 (31) to 2.2 (14).
It was a tug of war in the second with two goals apiece as YYN put the pressure on, but the defensive line was resolute with Cam Harwood a rock at full back, backed by best on ground Jaime Aitken.
A couple of times players traded blows as play got heated, while on the scoreboard YYN stayed in the hunt with a goal after the siren to talismanic forward Tim Phillips drawing the deficit back to 18 points by half-time.
Bombers coach Adam Bailey kept his troops out on the ground for an extended conference before retreating to the sheds at the break.
Yinnar's pressure came to the fore in the second half, starting with the first goal of the third term after catching YYN holding the ball inside their defensive 50 arc.
It was a pattern that would continue to the final siren with the Bombers given no breathing space by their markers and a host of free kicks earned by the hungry Pies.
Luke Norder provided the response for YYN after taking a grab 50 metres out, only to be walked to the goal square when Yinnar crossed the mark.
Tyler Brown had a chance to bring the Bombers within 14 after holding a brave mark 30 metres from goal, but as was the case far too often for the minor premier sprayed his shot right for a behind.
Yet another swooping tackle from Yinnar resulted in a free kick in dangerous territory and pinpoint delivery to James Dowling saw the crowd favourite boot one of his three majors for the day.
Tim Phillips was lively for YYN and his reliable boot kept the Bombers afloat from the right pocket at 9.6 (60) to 6.5 (41) midway through the third.
Aitken's influence through the centre was telling and one of his many long direct kicks to position saw brother Tim Aitken crumb off the pack for one of his game high four majors.
YYN was desperate around the ground, epitomised by a last gasp dive to disrupt Aiden Quigley's charge toward an open goal, but the Bombers were unable to ever get within two straight kicks.
A late hit on Tim Aitken gifted the big forward a 50 metre penalty and his second in as many minutes.
At the other end Dale Murphy delivered to Brown from the pocket but again the shot missed right side, then minutes later the exact same setup saw league best Tom Hutton hit Murphy on the lead for a much needed major.
Four goals down at three-quarter time Bailey begged his troops for another 25 minutes of effort and endeavour in his address, but the Bombers began to fatigue in the last on a hot day at Ronald Reserve.
YYN went forward first but missed the mark and Yinnar goaled on the rebound.
Again it was Phillips who wrangled the reply, and Bailey looked to lift his side when he popped up from nowhere to take a flying intercept and goal to bring it back to three straight kicks.
It was a case of David versus Goliath as Phillips and Jesse Bowe got caught up in a midfield stoush, but as play continued Dowling scored a crumbing goal, inspiring a chorus of 'Jimmy, Jimmy, Jimmy' from the Magpies faithful.
Try as they might YYN could not reel back the margin, as Tim Aitken soaked up valuable time lining up a pair of set shots late in the game to see his side home.
First year Yinnar coach Nick Lecchino said Yinnar's pressure was the difference.
"That was part of our game. We wanted to make sure we kept the pressure on them early. We've done that throughout the year and that's what's really got us over the line against them," he said.
"Our pressure was great, our tackles were up all day, our contested footy was good."
The coach said it was an apt reward for several years of hard work, with younger players stepping up when it mattered.
"They've been building, they've had some disappointment over the last few years and they've had a bit of an elephant in the room with regards to finals," Lecchino said.
"Good mix of youth and experience and I think the desire even from the young kids – everyone thinks young kids fold in finals (but) these guys have been blooded already and they're still under 18 – they've learnt footy over the last couple of years and nothing seems to phase them, no fear, and that really helped them as well.
"(The most impressive thing was) the way we stood tall. It could have gone either way especially if they'd got another one and got it to a two goal game but we seemed really composed."
In a big day for the club, the Yinnar reserves also became premiers after a 9.8 (62) to 5.9 (39) win over Mirboo North.
The Tigers saluted in the thirds 12.10 (82) to 5.10 (40) over Yarragon, while Newborough claimed the fourths crown 8.19 (67) to 1.3 (9) against Trafalgar.