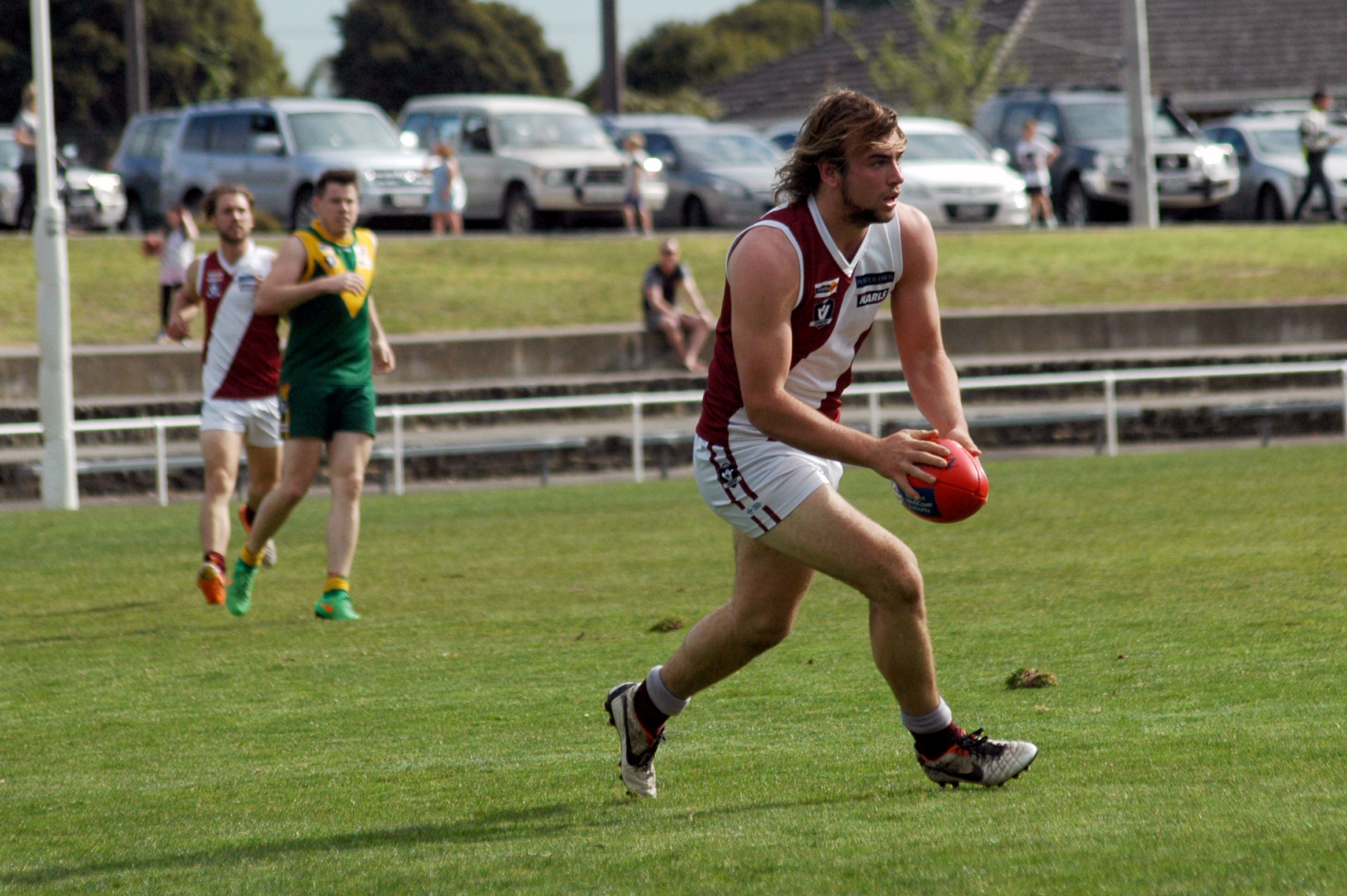 RELATED COVERAGE: Vernon eyes dream victory
RELATED COVERAGE: Four seasons in one day
RELATED COVERAGE: McCallum named GL best and fairest
RELATED COVERAGE: The power of youth: GL netball
Adrian Slottje: Described by coach Mark Collison as the best fullback in the competition. Slips under the radar from outside the football club after leaping from nowhere. Very reliable, the most goals he has had kicked on him is three against the competition's leading forward Maffra's Darren Sheen. Likely to get the job on a Hillberg or a Maskell.
Tim Northe: Young gun Tim Northe has football in his genes. The 2013 club best and fairest is following father Russell's footsteps and is well on his way to becoming one of the club's greats. Northe is a creative ball user with deft touch.
Josh Jennings: The last Traralgon coach to win a premiership, Josh Jennings is a veteran playing some of his best football this season. Jennings led the 2011 Maroons to the flag and remains one of the club's most inspirational figures on the park. His experience and energy will be crucial.
Aaron Heppell: Despite missing chunks of the season with VFL commitments Aaron Heppell finished fifth the Gippsland League vote count on 13. Very much Dyson Heppell junior in appearance and ability across midfield Aaron will be a pivotal cog in the Parrots' engine room. The former Gippsland Power gun has experience at the higher levels and will not be overawed on the big stage.
Ben Willis: Club talisman Ben Willis will not die wondering. The Leongatha star is a master of the little things, adding up to a complete football package. His extra effort could be the difference.
Zak Vernon: As brother of coach Beau Vernon there will be added incentive for Zak to help complete the Leongatha fairytale. Having seen his brother go through the horrors since 2012 their on-field relationship has been made all the stronger. Zak is a wizard in broken play and a bulwark in the contested issues.
1 Danny Campbell: Dynamic and exciting wingman, great skill

2 Tim Northe: Creative ball winner through the midfield
3 Michael Stockdale: General of the backline, rarely beaten in a contest
6 Michael Burge: Exciting high leaping forward with strong hands
7 Jackson Hall: Creative backman who sets up many forward thrusts
9 Tim Johnston: Elusive key position player, holds the forward line together
10 Mark Collison: Coach and hard running midfielder who wins the contested ball
13 Josh Jennings: Veteran who just knocks up getting the footy, playing like an 18 year-old
14 Ben Amberg: High leaping ruckman who can dominate around the ground
17 Michael Jacobsen: Classy with hand or foot, creative and elusive
18 Rohan Hildebrand: Another hard nut who loves a contest, watch for him in the midfield
19 Jake Vucenovic: First year out of the thirds and has settled well, great skill
20 Adrian Slottje: Has developed into one of the competition's premier backmen, a real leader
25 Matt Lewellin: Solid defender who never gives up and is rarely beaten
26 Dylan Loprese: Young key position forward still learning the game, great mark for his size
28 Michael Geary (c): Explosive speed, excellent skill and a great leader
40 Connor Ambler: Young in and under player up from under 18s
46 Hayden Britten: Another young player just out of under 18s, exciting future
47 Adam Jaensch: Ever reliable defender, loves a contest and goes all day
53 Cory Stockdale: Classy ball user from under 18s, watch for his creativity
55 Jordan Bourke: Hard running midfielder/wingman who runs both ways
56 Jackson McMahon: Clever goal sneak with excellent skill, still under 18
57 Christian Buykx-Smith: Tall key position forward or defence, can take a grab
58 Matt Northe: Solid hard working midfielder who covers the ground well
1 Zak Vernon: Tough line breaker who rarely loses a one-on-one
4 Tas Clingan: Great leader who drags teammates with him, accumulator
5 Shem Hawking: Wingman who spreads hard, great user of the ball
7 Ash Lynch: Utility who knows how to find the footy
8 Tom Marriot: Tough in and under clearance player
10 Nick Nagel: Elusive key forward who knows where the goals are
12 Dale Hoghton: Hard running midfielder with a nose for the footy
13 Chris Verboon (c): Inspirational captain who is a wall across half-back
16 Lochie Dumont: Strong midfielder with good skills and a great work ethic
17 Rhett McLennan: Veteran of the team, plays the percentages and rarely gets beaten
18 Mark Coghlan: Strong mark of the footy, can kick goals
19 Jono Pitman: Half-back who provides plenty of run and carry
20 Ben Willis: Club favourite, gives his all week-in-week-out, great at the one percenters
21 John Ginnane: Smart skilful forward. Knows where the goals are
22 Aaron Hillberg: High flying forward with lethal skills and goal sense
23 Cade Maskell: Captain who gets the boys going, classy forward with great skills
24 Brent Fitzgerald: Quick, hard running small forward who pressures well
27 Jason Tomada: Tough, versatile backman who rarely gets beaten
28 Nick Argento: Clever small forward/wingman who finds plenty of space
29 Jake Mackie: Strong utility with good skills and does the team things
31 Sean Westaway: Reliable defender, who rarely gets beaten
33 Jake Best: Freakish goalkicking forward who is good in the air and on the ground
35 Jackson Harry: Rugged, hard utility with great athletic ability and pressure
36 Matt Borschman: Hard, smart footballer who will do any role for the team
43 Rhett Kelly: The ultimate clubman. In and under midfielder
45 Jess Hickey: Quick, strong small forward, with good ball skills
59 Aaron Heppell: Midfielder with great pressure skills and distinctive hairdo, great one-on-one
Traralgon v Leongatha | (1936 – 53 (CGFL), 1969 – 2015)

All matches: Played 145 Leongatha 58, Traralgon 84, drawn 3
Finals: Played 20 Leongatha 7, Traralgon 13
Last three matches
2015 (L) Leongatha 24.14 (158) d Traralgon 5.5 (35)
2015 (T) Leongatha 9.13 (67) d Traralgon 6.7 (43)
2015 (2nd Semi at Moe) Traralgon 9.14 (68) d Leongatha 8.11 (59)
Highest scores: Leongatha 23.24 (162) (1995 Grand Final), Traralgon 29.14 (188) (2009)
Lowest scores: Leongatha 2.7 (19) (2006), Traralgon 1.14 (20) (2003)
Greatest winning margin: Leongatha 123 (2015), Traralgon 127 (2009)
Most goals (match): Leongatha 10 W.Ryan (1936): Traralgon 12 T.Aitken (2009)
Statistics supplied by Paul Carter