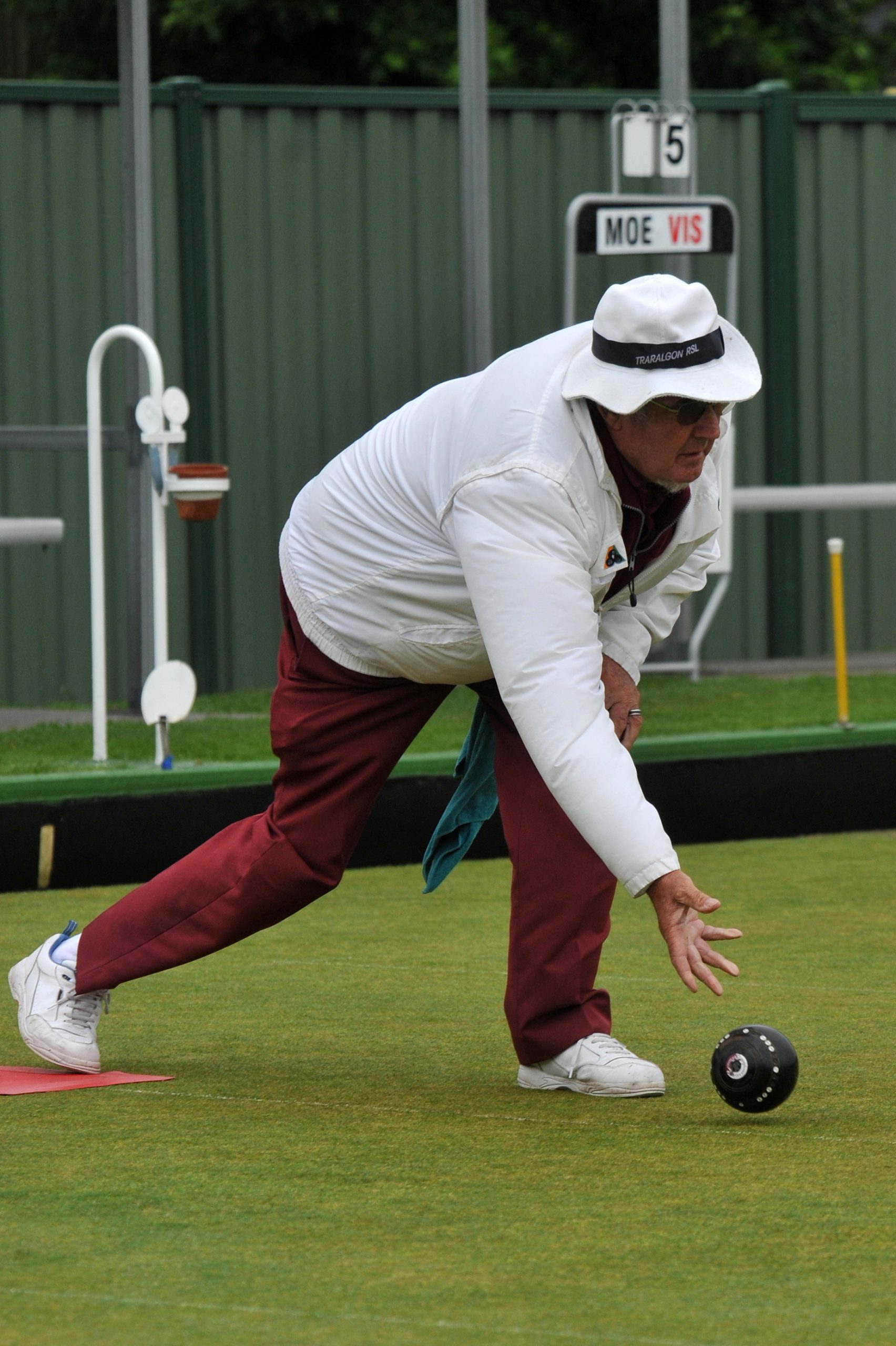 LAWN BOWLS
WGBD
DAVID Morley fought off a late fightback against Morwell Club's Denis Ashman to ensure maximum points for Traralgon RSL in round two of West Gippsland Bowls Division Saturday lawn bowls pennant.
Morley's rink led 13-7 at the tea break but conceded a six shot end shortly after the break to reignite the contest.
However, the wily RSL champion held firm to guide his quartet to a single shot victory 25-24.
With all other rinks getting up Traralgon RSL claimed the full compliment of 20 points, winning out 115-82.
RSL held sway across the greens at the break with Maurice Gardiner leading Brett Harle 13-6 and Rick Lukey on top of Ron Witton 12-10.
David Hodson's side was having a tougher time with 10-10 the ledger against Rod Smith, as RSL led 62-44 overall.
Doug Jowett stood tall on Gardiner's rink to inspire a 28-18 triumph.
Lukey and company ran away from Witton after brew to seal a 21 shot win 38-17.
In the closest battle of the day Hodson's men were pushed all the way by Smith.
With Norm Trembath leading with poise for Morwell Club, RSL had to pull a late trick to win 24-23, getting up by one on the final end of the encounter.
In other division one matches Yallourn bested Trafalgar, Traralgon overcame Warragul and Drouin accounted for Neerim District.
THE Traralgon Bowls Club team comprising Pat Trewin and Shirley Whitechurch won their way to the over 60 state pairs final and were drawn against the RSL team of Shirley McKenzie and Margaret Gibbins.
Trewin and Whitechurch were in fine form and after 10 ends led 15-5.
From there the duo went on to win in convincing fashion with a final score of 25-7.
WARRAGUL pair Glenda Collins and Geoff Woods claimed the WGBD women's and men's novice singles championships.
Both had to do it the hard way by drawing first round matches, which meant they had to play three games on the day.
Woods defeated Gary Stewart from Warragul, Moe's Rohan Willcok and finally Moe's Bazz Hawkett 21-16 in the final round.
In the ladies Collins knocked over Neerim District's Di Tame and Morwell Club's Tara Harle.
In the final round she played against her Warragul clubmate Helen Woods and won 21-17 in a marathon 28 end match spanning more than three hours.
DIVISION 1 Pts Shots Pts Shots
Yallourn 16 – 96 Trafalgar 4 – 88
Traralgon RSL 20 – 115 Morwell Club 0 – 82
Traralgon 18 – 101 Warragul 2 – 66
Drouin 16 – 99 Neerim District 4 – 66
DIVISION 2 Pts Shots Pts Shots
Traralgon (2) 20 – 111 Yallourn (3) 0 – 65
Moe (2) 16 – 103 Longwarry 4 – 98
Morwell 20 – 117 Garfield 0 – 74
Yallourn (2) 16 – 99 Moe 4 – 89
DIVISION 3 Pts Shots Pts Shots
Drouin (2) 16 – 110 Thorpdale 4 – 92
Warragul (3) 18 – 110 Trafalgar (2) 2 – 85
Warragul (2) 18 – 101 Yinnar 2 – 83
Traralgon RSL (2) 18 – 95 Traralgon (3) 2 – 83
DIVISION 4 Pts Shots Pts Shots
Traralgon (5) 16 – 116 Yarragon 4 – 93
Neerim District (2) 18 – 111 Traralgon (4) 2 – 74
Morwell Club (2) 17 – 102 Morwell (2) 3 – 90
Boolarra 17 – 95 Yallourn North 3 – 85
DIVISION 5 Pts Shots Pts Shots
Garfield (2) 16 – 89 Traralgon RSL (3) 0 – 53
Trafalgar (3) 14 – 62 Morwell (3) 2 – 56
Drouin (3) 13 – 72 Yallourn (4) 3 – 64
Warragul (4) 14 – 67 Yinnar (2) 2 – 64
DIVISION 6 WEST Pts Shots Pts Shots
Drouin (4) 8 – 45 Moe (3) 2 – 41
Warragul (5) 10 – 6 Yarragon (2) 0 – -6
Longwarry (2) 9 – 49 Garfield (3) 1 – 45
DIVISION 6 EAST Pts Shots Pts Shots
Yallourn (5) 10 – 63 Boolarra (2) 0 – 30
Yallourn (6) 10 – 69 Yallourn North (2) 0 – 30
Traralgon (6) 10 – 50 Morwell (4) 0 – 41