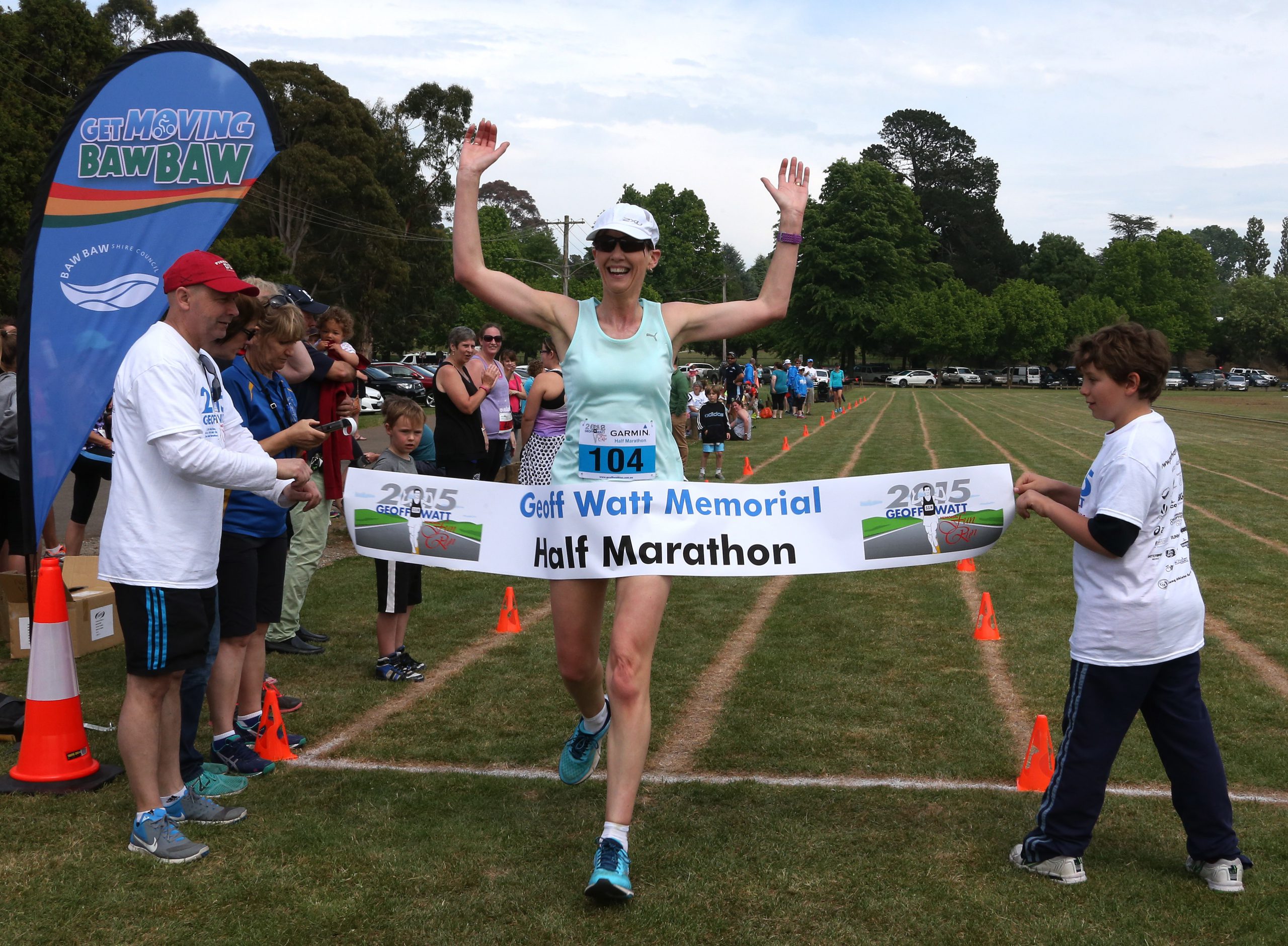 RUNNING
THE man with the starting gun is usually long forgotten after the race gets underway, but that was far from the case at the Geoff Watt Memorial Fun Run in Warragul at the weekend.
Olympic legend Steve Ovett OBE was the centre of attention well beyond his ceremonial duties on Sunday as a guest of honour along with partner and Australian running representative Carolyn Schuwalow.
The man who helped redefine middle distance running, famously edging out rival Sebastian Coe in the 800 metres at the 1980 Olympics, was right in the thick of it, calling the action at the annual fun run and half marathon.
"Steve Ovett and Carolyn were huge drawcards, it's not every day you have a fun run and Steve Ovett is commentating as you run down the finish track," run organiser and daughter of the event's namesake Kathy Watt said.
"It was brilliant, there's people who would know him from his racing career and there's a lot of up and coming athletes, I think it inspires people as they're coming through."
Watt, an Olympic cycling gold medallist in her own right, said about 500 people turned out for the event, including scores of families, fancy dress competitors, adults and children alike.
Run Like Crazy author Tristan Miller, who ran 52 marathons in as many weeks, was another notable presence.
Peter Cutler won his third consecutive Geoff Watt Memorial half-marathon, backing up from the Melbourne Marathon in one hour, 18 minutes and 30 seconds, while Trish Yates was first woman across the line in 1.43.15.
The day also included 10 kilometre, 5km and 2.5km events catering to all demographics.
"We had a lot of families turn up as well with prams and pushers so that was good. Some of the young kids were very competitive," Watt said.
The run commemorates the late Geoff Watt, who travelled the globe in the 1950s and 60s as one of Australia's first elite runners.
Men Open: 1. Peter Cutler 1hr18m30, 2. Brett Franklin 1hr20m 04, 3. Dan Langelaan 1hr21m26.
Men U18: 1. Lachlan Jacob 1hr28m33, 2. Oliver Adams 1hr42m25.
Men Over 40: 1. Jason Hilder 1hr25m09, 2. Gary Nooy 1hr27m07, 3. Paul Rowse 1hr31m51, 4. Peter Clerks 1hr32m25.
Women Open: 1. Trish Yates 1hr43m15, 2. Emily Barkley 1hr 45m12, 3. Susan Elsdon 1hr 47m10.
Women U18: 1. Felicity Paredes 2hr19m39.
Women Over 40: 1. Sue Elsdon 1hr47m10, 2. Vicki Remyn 1hr47m34, 3. Debra Robb 2hr04m36

Men Open: 1. Paul Taylor 37m47, 2. Richard Clavarino 38m19, 3. Mitchell Distin 39m13.
Men U18: 1. Mitchell Distin 39m13, 2. Harrison Moore 47m42, 3. Ty Miller 55m29.
Men Over 40: 1. Paul Taylor 37m47, 2. Stuart Gowans 53m10, 3. Darren Yates 55m14.
Women Open: 1. Kathryn Hilder 47m47, 2. Alicia Clerks 47m48, =3. Kate Flint & Tammy Brace 48m29.
Women U18: 1. Alicia Clerks 47m48 , 2. Georgia Pearson 49m08, 3. Hayley Adams 52m01.
Women Over 40: 1. Kathryn Hilder 47m47, 2. Tammy Brace 48m29, 3. Megan Thomas 51m04

Men Open: 1. Kim Harold 18m11, 2. Chris Macdonald 18m23, 3. Campbell Pike 18m55, 4. Lachy Auldist 21m02.
Men U18: 1. Campbell Pike 18m55, 2. Lachie Auldist 21m02, 3. Liam Gleeson 21m40, 4. Nathan Balfour 22m18.
Men Over 40: 1. Chris McDonald 18m23, 2. Mark Spencer 20m07, 3. Chris Buckingham 24m47.
Women Open: 1. Anna MacDonald 20m17, 2. Jo Pratt 21m46, 3. Melissa Taafe 22m27.
Women U18: 1. Ella Johnstone 27m05, 2. Mia McGrohan 27m23, 3. Darcy Sutteridge 28m10.
Women Over 40: 1.Tammy Jane 23m10, 2. Merryn Finlayson 23m29, 3. Julianne MacDonald 24m28

U14 Girls: 1. Emily Hart 11m11.71, 2. Jennifer Mackay 13m20.93, 3. Bella Finlayson 14m48.47.
U10 Girls: 1. Amelie Crossley 11m40.82, 2. Chloe Johnstone 12m09.57, 3. Tahlia Langelaan 13m40.94, 4. Harriet Yates.
U14 Boys: 1. Jackson Crossley 9m12.04, 2. Sam King 9m29.03, 3. Jackson Clarke 11m38.90.
U10 Boys: 1. Harry Van Schyndel 11m17.50, 2. Rhys Flegg 11m40.82, 3. Cody Jones 12m55.81.
Gippsland Athletics Young Female Athlete Award: Tameka Moore.
Gippsland Athletics Young Male Athlete Award: Aaron Saltmarsh.