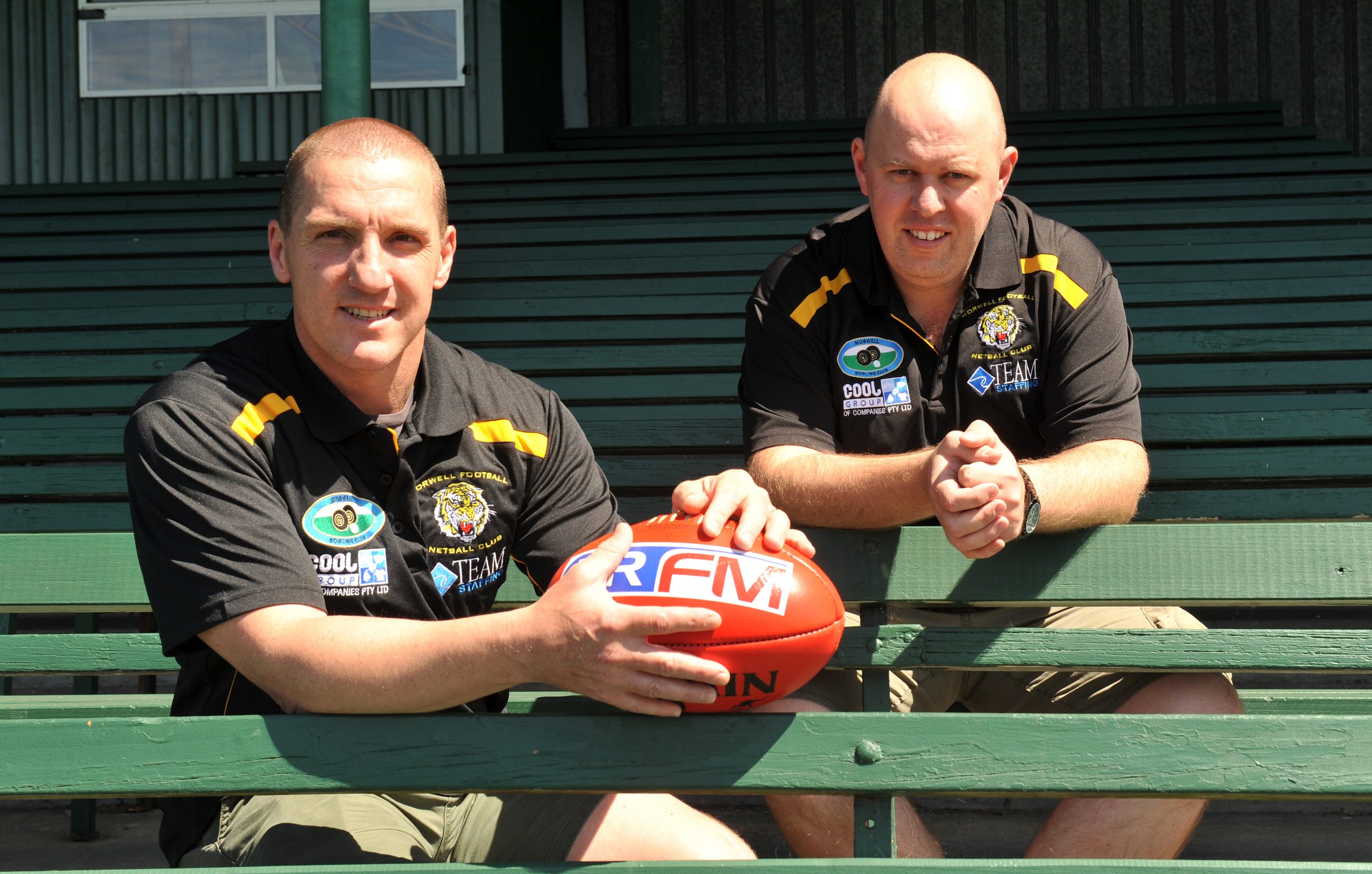 IT'S a good time to be a junior footballer in Morwell.

First there was the formation of a new amalgamated junior club and now Morwell's senior unit is continuing the youth development trend.
The Tigers have appointed club stalwarts Andrew Lappin as thirds coach for 2016 and Peter Ainsworth as junior development officer as part of its drive to re-engage the town's junior stocks.
Some 30 young footballers left the code after the 2014 season, with a further 33 who live in the 3840 postcode playing outside of the town.
Club president Wade Presley said in unison with the new Morwell Eagles Junior Football Club it was time to get those kids back to their roots and work on bridging the transition between under 14 juniors and under 16 seniors.
"Kids that live in Morwell might be playing in Yinnar or Traralgon… we want kids that live in Morwell to play in Morwell. We think it's pretty important to support the town you live in," Presley said.
"We want to make sure these kids come back to us and put an emphasis back on playing the highest standard of football (provided by the Gippsland League) rather than just having a kick with your mates in the minor leagues.
"We've had players come out to play in our senior premierships the last few years… (but) we want to turn the results around for the juniors as well. We're not all about win-loss ratio for our juniors but it's important they share a bit of success as well."
Having come through the junior ranks at Morwell to achieve senior success with a whole generation of loyal Tigers, Lappin knows first hand the power of promoting talent from within.
The same formula yielded success for the back-to-back premiership sides of 2013-14, which contained about 15 Morwell juniors, and it's one Lappin would like to see repeated.
"In my era most of us were mates who grew up playing thirds, seconds and senior footy together, and we stuck together as a group," Lappin said.
"The recent success is the same thing; those guys all played junior footy together, then played senior footy together and got that success.
"The home grown talent is where you get your success and sustain success… playing with your mates, that's when you play your best footy."
Lappin played his juniors at Morwell Tigers and St Vincents before graduating to the thirds, seconds and eventually the seniors at Morwell.
In a strong era Lappin struggled to cement his senior spot at Morwell and played three seasons at Sale to establish himself as a top grade player, before returning to play out his career at the Tigers.
He coached the reserves in 1998 before a knee injury ended his playing career, although he came back for one final season with Yinnar in 2004 where he won a flag as playing assistant coach.
He has since coached his son through the junior grades at Morwell Youth Club and through that role, along with assisting with the fourths last season, has become familiar with a decent chunk of Morwell's lower grade roster.
"I deliberately wanted to coach these thirds kids (specifically) because I see there's a lot of potential there and I can see a whole group of them that can go on to be senior footballers and have success… it was quite appealing to me to coach them," Lappin said.
"I see my job as developing as many senior footballers as I can. Some of these kids who I'm coaching in the thirds are ready to play senior footy or not too far off it."
The club is hopeful of producing more talent like Riley Hogarth, who came up from the under 18s into the seniors last year and was league rookie of the year, and Gippsland Power's Changkuoth Jiath, who the Tigers helped attain a full scholarship to Xavier College.
The precedent is there, and now Lappin wants to provide the same opportunity for local players to reach their potential.
"We've got fantastic facilities, probably the best in the league, and you're playing a fantastic standard. When you're finished and you're a broken old footballer like me at least you know you played the highest standard you could play, you played to your potential and got the best out of yourself," he said.
The club will also leverage its relationship with Collingwood Football Club, where former coach Harmit Singh is a community development officer, with a development day and training session at the AFL club.
Morwell FC training starts on Monday from 5pm at Morwell Recreation Reserve.
For more information phone Wade Presley on 0438 344 902.