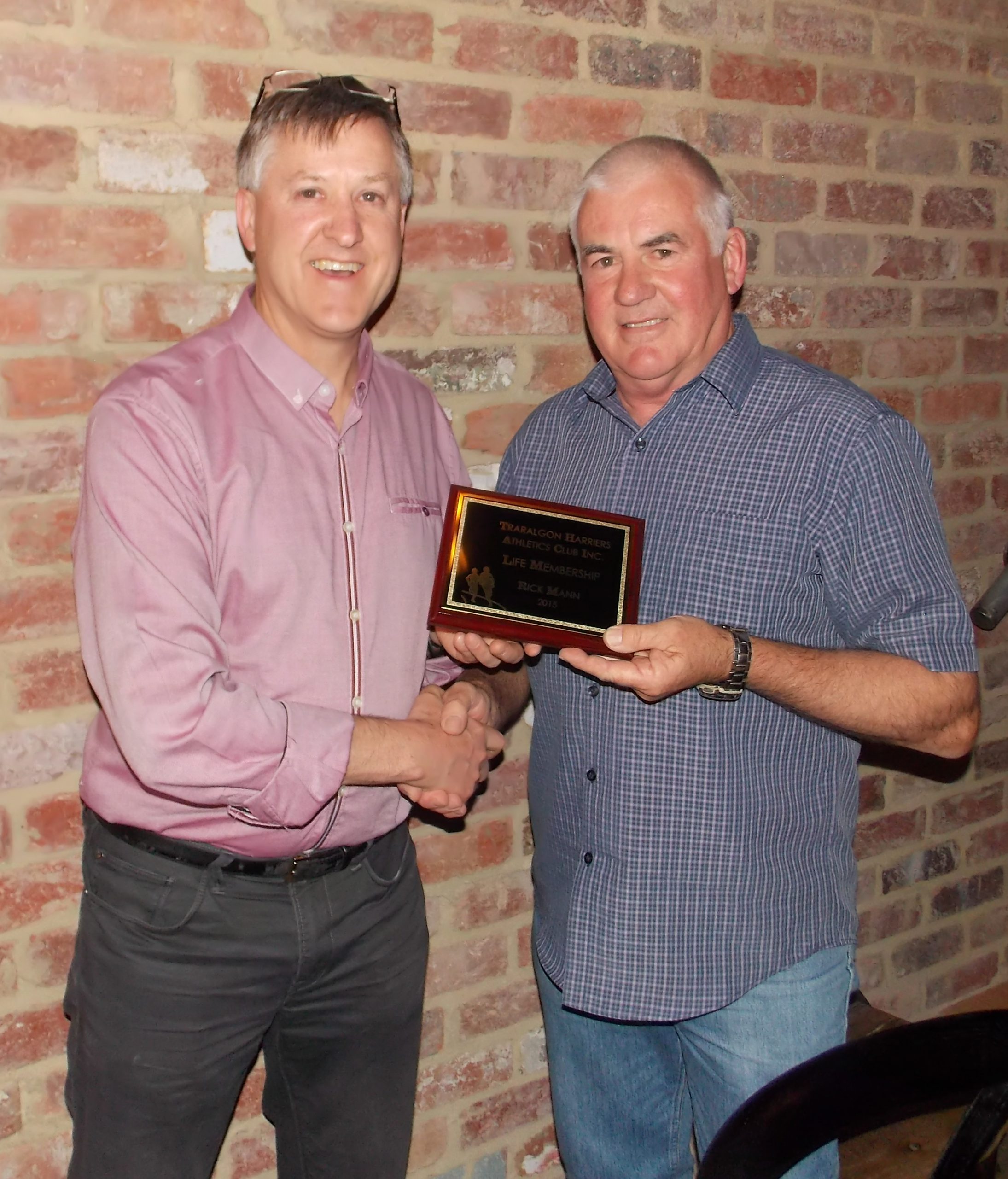 ONE of the masterminds behind the oldest marathon in the country received his due tip of the cap at the Traralgon Harriers Winter Championship presentation night this month.
Club stalwart Rick Mann was recognised for 25 years of commitment to the running group with life membership in front of 55 fellow Harriers.
Long-serving club member Ian Heafield described Mann's nine years as key organiser of the Traralgon Marathon and lauded his continued efforts in coordinating complex events.
Mann was modest when describing his former exploits, and gave thanks to the people who assisted him over that time.
He said the "club owed him nothing" as he had "gained so much from his involvement with the club, including the enjoyment of participating in many events and making lifelong friendships.
In the competitive forum Jason Irvine and Karen Graham were crowned male and female winter champions with the highest point scores for the series.
With one season fading the Harriers are now gearing up for the summer, with a come and try night scheduled for next Thursday evening
Club president Will Hanrahan said the warmer months were the ideal time for members of the public to attend and "have a go".
"There is a commonly held myth that Traralgon Harriers are elite runners, which could not be further from the truth," Hanrahan said.
"While we do have some very good runners, the club is proud of being an inclusive and friendly club which is welcoming and supportive of people and all abilities."
Hanrahan said the Harriers' involvement in the establishment of the Traralgon parkrun back in April was evidence of its support for inclusivity.
The event is one of the most successful free weekly timed parkruns in Australia with 1400 people registered and a regular attendance of about 270 participants.
"We are delighted with the success of parkrun and the large number of people who have been inspired to run or walk on a regular basis," Hanrahan said.
"The come and try night is a chance for people to have a free run with us followed by a free dinner in the clubrooms at the corner Douglas Parade and Grubb Avenue."
For more information see the Traralgon Harriers Facebook or website www.traralgonharriers.org.au
Outright Male Female
1st Jason Irvine 869 Karen Graham 834
2nd Phill Mayer 866 Molly Irvine 785
3rd Edi Murat 863 Belinda Ruff 745
Outright Male Female
1st Ian Cornthwaite 45.34 Karen Graham
2nd Steve McLeod 49.44 Molly Irvine
3rd Glen Graham 50.57 Liz Kenny
Open Male Female
1st Glen Crawford 50.03 Molly Irvine
2nd Mark Rossiter Simone Forbes
3rd Ben Bailey Marieka Reilly
Junior Male Female
1st Tylah Whitehead
Veteran Male Female
1st Ian Cornthwaite 45.34 Karen Graham
2nd Steve McLeod 49.44 Liz Kenney
3rd Glen Graham 50.57 Tania Whitehead
2015 Swaggy Wilson 6 km
Open Male Female
1st Des Paynter 22.37 Kathryn Preston 26.14
2nd Travis White 25.55 Michelle Sawyer 31.01
3rd Anna Orr 35.48
Junior Male Female
1st Josh Bugeja 26.37 Claudia Belacchino 51.54
2nd Isla McRae 51.55
Veteran Male Female
1st Rick Mann 40.47 Belinda Heafield 36.18
2nd Lynda McRae 51.55
3rd Fiona Belacchino-O'Donnell
Open Male Female
1st Ryan Wismar Katheryn Preston
2nd Peter Cutler
3rd Joel Claxton
Veteran Male Female
1st Ian Cornthwaite Karen Graham
2nd Glen Crawford Liz Kenny
3rd Glen Graham Sandra Timmer-Arenda
2015 Boolarra Rail Trail 10 km
Open Male Female
1st Greg Semmler Molly Irvine
2nd Richard Clavarino Marnie Flowers
3rd Ben Bailey Becky Nowak
Veteran Male Female
1st Steve Quirk Helen Whitby
2nd Charlie Twomey Helen Reeves
3rd Allan Timmer-Arends
2015 Edward Hunter 12 km
Open Male Female
1st Des Paynter
2nd Brian Cake
3rd Matt Allison
Veteran Male Female
1st Ian Cornthwaite
2nd Graeme Ferguson
3rd Lance Thomas
Open Male Female
1st Sophie Fontaine
2nd Kate Jones
3rd Amanda Fontaine
Veteran Male Female
1st Liz Kenny
2nd Donna Gibson
3rd Cheryl Thomas
Novice Male Female
1st Jen Houghton
Junior Male Female
1st Darcy Wade
2nd Cohen Wade
3rd Quinn Wade
Outright Male Female
1st Steve Quirk Karen Graham
2nd Peter Cutler Molly Irvine
3rd Ian Corthmaite Simone Forbes
Open Male Female
1st Todd Houghton Georgia Pearson
2nd Megan Harper
3rd Michelle Colwell