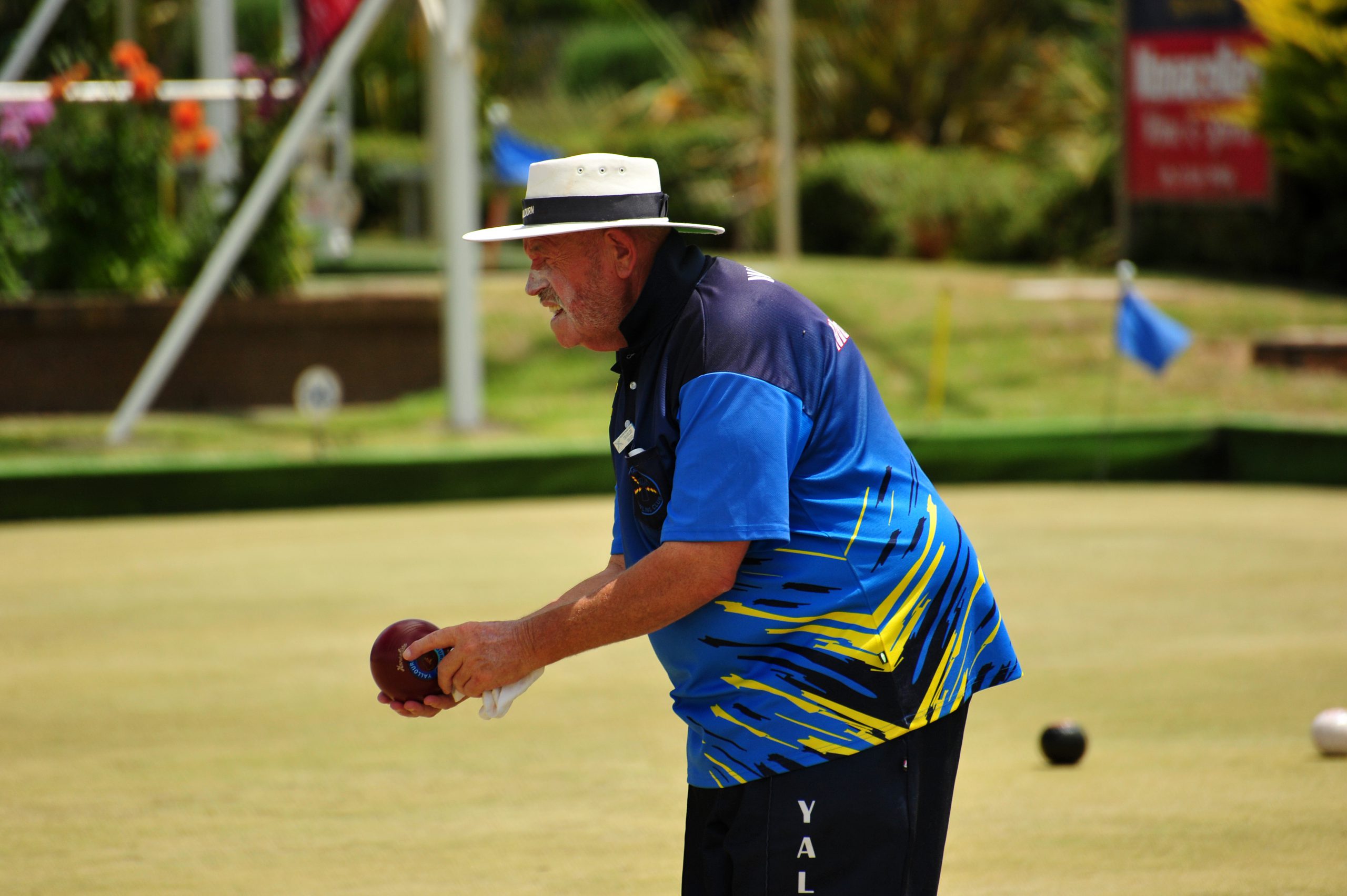 UPDATE AS AT 10am THURSDAY 14 JAN
Round of 16
C Le Lievre Glenroy d F Krslovic Rye 21 – 18
J Coles Melbourne d T Wood Ringwood 21 – 15
G Spencer Caulfield Park Park d P Burns Tura Beach NSW 21 – 20
J Breust Narooma d A Hilton Seymour VRI 21 – 17
S Said MCC Kew Sports d J Horwood Berwick 21 – 13
J Bye-Norris Essendon d J Reynolds Merimbula NSW 21 – 8
G Rodgers Beaumaris d B Baker Kurri Kurri NSW 21 – 14
R Watt Bundoora RSL d D Ferguson Rules Wagga NSW 21 – 16
Round of 8
C Le Lievre Glenroy d J Coles Melbourne 21 – 8
J Breust Narooma d G Spencer Caulfield Park Alma 21 – 9
J Bye-Norris Essendon d S Said MCC Kew Sports 21 – 19
G Rodgers Beaumaris d R Watt Bundoora RSL 21 – 16
Semi-finals (in progress)

C Le Lievre v J Breust 1-7
J Bye-Norris v G Rodgers 8-8
______________________________________________________________________________________
RELATED COVERAGE: Girls challenge gender bias
A HOT start to the 19th Yallourn Classic Singles lawn bowls tournament was matched only by the sizzling action on the greens this week.
Monday's first round of sectional play was keenly contested by 54 hopefuls looking to advance to yesterday's knockout phase in pursuit of Tier 3 Bowls Australia ranking points and a piece of the $12,020 purse.
Negotiating the heat with aplomb, Mentone's Graham "Spider" Everett was the first man through his section after dislodging Trafalgar's Tom Lodge in his second rink, ensuring he was out of the heat before 3pm.
"I'm pretty happy about that… it's quite a challenge here, there's lots of good players… from interstate and the local players," Everett said.
"It is a little uncomfortable (the heat), it's quite draining and I'm suffering a bit of dehydration despite what I've drank for the day.
"A good shower after the game and a gallon of water… that's the only way I can rehydrate."
Everett is contesting his fourth Yallourn Classic, with his best effort a semi-final finish where he lost to celebrated coach and Kew bowler Garry Ball.
He lauded the event and said it was a prime opportunity to step up against some of the best in the business.
"It's a very good tournament, it's very well run and you have a very good, festive atmosphere," Everett said.
"The lunches are great, and that's always very important, but the challenge of playing against the better bowlers is what you're chasing."
A number of well fancied players including New Zealand international Chris Le Lievre (Glenroy), Tony Wood (Ringwood), perennial runner up Graeme Spencer (Caulfield Park) and Henny Cortenbach (Mulgrave Country Club) were also section winners on Monday.
The developing heat during the day was a worry for some, however Michael Chittenden (Burwood District) was not bothered upon his return to the event after a few years and recorded a strong win after a series of long, competitive games.
Sale's Jan Morton was the only woman to win through after surviving a tough game with former champion and host club player Charlie Ward to take out her section.
There were only two sections with all players winning one match. In the first, former winner Tony Schiavello (Bundoora RSL) was unable to replicate his victory in the heat of two years prior to be edged out by Graeme Rodgers (Beaumaris) and Richard Gale (MCC Kew Sports).
Gale, a former coach of the Indian Bowls side, narrowly won the section as he clawed back a large deficit to advance by countback and remind people of the motto "win by a lot and lose by a little" for sectional play.
Barry Daley was the only local to sneak through with a last gasp victory over Bruce Richards (Brighton).
Daley has been in fine form and took out a significant tournament at the weekend at Yarram in a team with his good friend Phil Burns (Tura Beach, New South Wales).
Other Gippslanders to win through were the Traralgon duo of Geoff Cole and Laurence Melhuish alongside the Yarram pair of Dennis O'Keefe and Bruce Penney.
Tuesday's sections were highlighted by a major upset as recently retired Australian international Matt Flapper was ousted by Alan 'Paris' Hilton of Seymour VRI.
Despite the loss, Flapper said he would be back next year. Defending champion Brendon Baker almost followed suit but fended off Brad Lancaster (Lakes Entrance) 25-24 in his final match to advance by one shot.
Baker's Kurri Kurri clubmate Rohan Dennis also moved on.
Yallourn's Alan Grubb, the club's equal best performed player at the tournament, won through his section, as did crowd favourite and Multi-disability Games star James Reynolds (Merimbula).
Jay Bruest (Narooma), New South Wales skip Dave Ferguson (Wagga), Bob Watt (Bundoora RSL), Ray McKay (Hamilton, Queensland) and Frank Krslovic (Rye) who defeated John Snell also reached the knockout rounds.
Former world number one Malaysian gun Safuan Said advanced late on Tuesday as did inaugural winner Neville Brown (Heathmont). The results of yesterday's knockout rounds were not known at the time of going to print.
The semi-finals will be staged this morning, with the grand final to take place from 1pm. Spectators are welcome at the Yallourn Bowling Club on the corner of Monash and Coach Roads, Newborough where admission is free.
Section winners Monday
J Morton, Sale
T Kuklinsky, Sale
D O'Keefe, Yarram
J Coles, Melbourne
P Burns, Tura Beach NSW
G Spencer, Caulfield Park
L Melhuish, Traralgon
K Brandhoj, Lakes Entrance
G Everett, Mentone
G Cole, Traralgon
R Gale, MCC Kew Sports
M Chittenden, Burwood
G Rodgers, Beaumaris
B Penney, Yarram
H Cortenback, Mulgrave CC
B Daley, Yallourn
C Le Lievre, Glenroy
T Wood, Ringwood
Section winners Tuesday
A Grubb, Yallourn
S Said, MCC Kew
B Baker, Kurri
R Dennis, Kurri
A Hilton, Seymour
J Bruest, Narooma
D Ferguson, Wagga
B Watt, Bundoora RSL
R McKay, Hamilton, QLD
F Krslovic, Rye
N Brown, Heathmont
S Said, MCC Kew