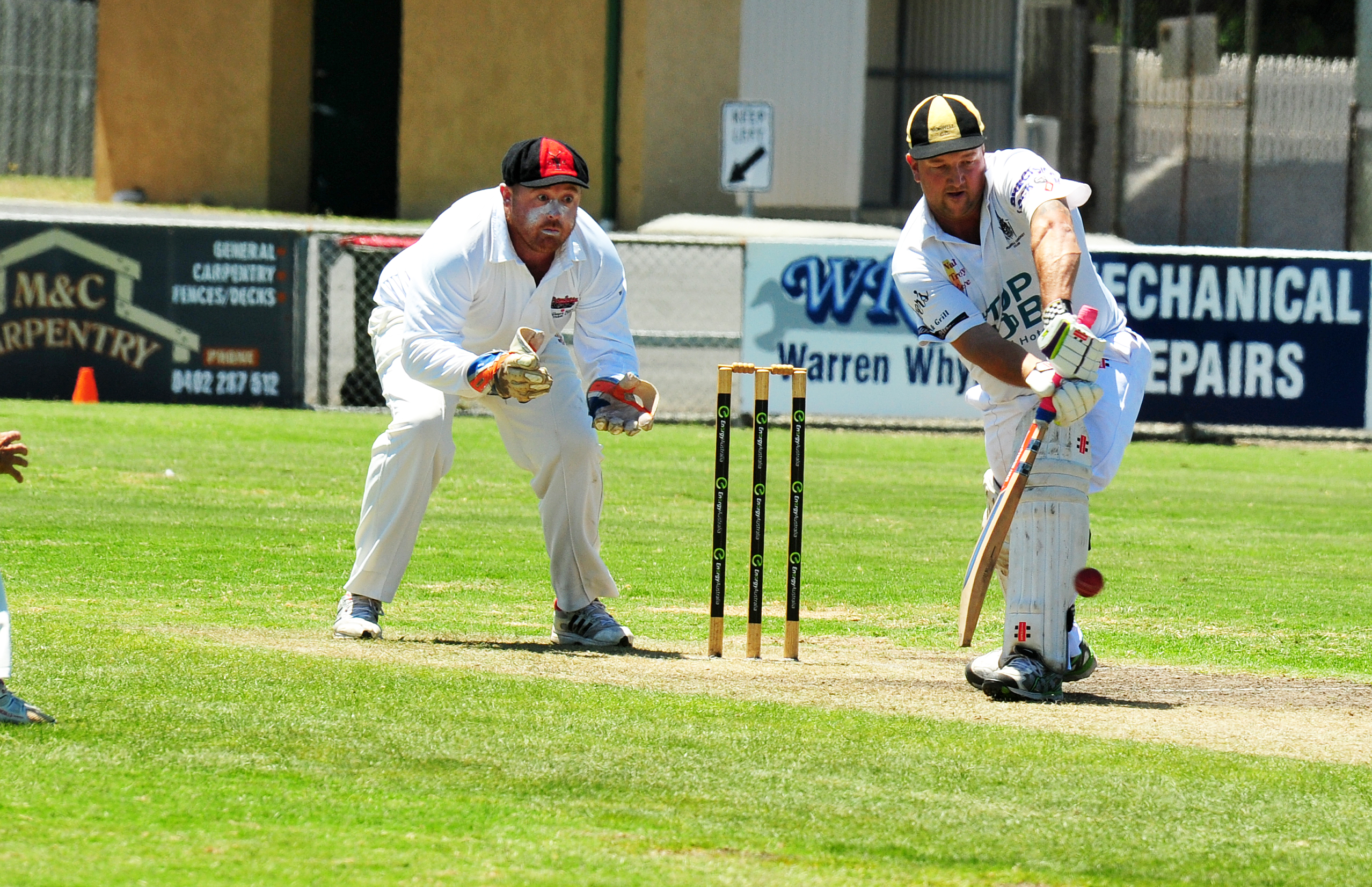 A SPARKLING century by Brendan Brincat led Morwell to 214 all out against Yallourn North on day one of round 11 in central Gippsland cricket.

Morwell captain Rory Hare won the toss and opted to bat first, but the Tigers were under the pump early after losing veteran opener Craig Giddens in the first over without scoring, bowled by Rowan Kelly.
Jackson Beani also fell victim to Kelly, and his dismissal set the tone as the hosts lost regular wickets and struggled to build partnerships.
At 5/69 the innings could have been a disaster but the union of Riyaz Pathan (42) and Brendan Brincat settled things before Jeremy Butler struck to remove the former.
At 6/102 Brincat decided to tee off and his 79-run partnership with Dylan Day featured just 11 runs for his junior partner.
Brincat was seeing it like a beach ball and the Bombers were forced to turn to alternate options when the ball was thrown to Josh Keyhoe.
The opening batsman did what his bowling colleagues failed to do, tempt the batsmen into giving chances and mopped up the tail with 4/16.
Keyhoe had Brincat for an even 100 as the last man out, stumped trying to go big again.
Brincat's innings was all the more remarkable for the fact that six of his teammates failed to make it past double figures.
Butler finished with 2/33 while Rowan Kelly was the next best bowler after Keyhoe, snagging 2/23.
Twenty-six overs remained in the day's play and man of the moment Brincat took the new ball with success, trapping Keyhoe in front.
Spinner Mark Cukier then had Aidan Vesty plumb lbw, then had Butler caught to leave the Bombers wobbling at 3/56.
Evan Sheekey and Stuart Anderson are unbeaten at the crease with Patrick Spiteri and Callum Polo waiting in the sheds.
TRAFALGAR skipper Rhys Holdsworth sent Latrobe in and when Craig Nielsen had Matt Brewer caught behind for a duck it looked to be a masterstroke.
Tim Cranwell and Chris Johnson settled into a groove, adding 58 before Johnson was caught by Holdsworth off Jackson Noonan.
Cranwell followed not long after, adjudged leg before to young left-arm spinner Liam White for 49.
The Sharks then lost regular wickets, constituting a collapse of 5/20 as the middle order was detonated.
White was instrumental, instigating the collapse before the skipper brought back speedster Todd Mann who claimed two wickets.
Brendan Evans and Hayden Kimpton did their best to knuckle down and grind out a defendable total but when they both departed it looked like first-innings points might be decided on the first day. Imported fast bowler Tyron Gamage and wicketkeeper Benn Zomer set about resurrecting the total, adding 78 to take the Sharks past the 200 mark.
Zomer played well for his 33 and was unlucky to be given lbw after his reverse sweep reached the boundary.
When Gamage fell five runs later for 42 it marked White's maiden first-grade five-wicket haul.
He was the standout among the Trafalgar bowlers, while Mann also bowled well to claim 2/50 off a marathon 24 overs.
Trafalgar was in the tricky position of needing to bat out 12 overs to complete the day, and were off to a bad start as both White and Aiden George were dismissed by Chris Johnson without scoring to leave the Ships floundering at 2/3.
Noonan and John Asmussen saw Trafalgar to the close with no further loss and will resume at 2/18.
With the visitors welcoming back James Blaser next week and Holdsworth waiting in the wings, the game is poised on an even keel and promises an exciting finish.
MOE was humiliated by Jeeralang-Boolarra as they surrendered first-innings points on the first day.
Andrew Philip won the toss but that was the only thing that went right for the visitors.
Ayden Kelly departed without scoring as the young opener struggled for form at the top level after showing his ability in second grade.
Philip was dismissed by his opposite number, Panthers' skipper Stan Urbanic, and at 2/2 the Lions were on the ropes and never really recovered.
Sean Spiteri battled hard for his 15 but Urbanic and Dillon Leys were all over the middle order.
At 6/36 things could have been embarrassing, but Stace Puts and youngster Trent Baldi knuckled down and added 49 to the total, by far the biggest partnership of the innings comprising just shy of half Moe's eventual score.
Once Leys got the breakthrough it was lights out for the Lions; the big bustling quick finished with 5/33 while Urbanic claimed 5/29 as the pair shared all the wickets.
The whole innings took just 43.2 overs and meant there was still almost half a day's play left.
Jeeralang-Boolarra opened with Craig Blackberry and Ossy Brennan, and with both men out of form and under pressure Moe was a big chance of an early wicket.
Nick Clarke delivered with the wicket of Blackberry clean bowled, but Brennan then teamed up with Ben Heath to add 62 runs and effectively shut the Lions out of the contest.
Heath and Brennan both fell late in the day to Robert Blunt and Philip, the latter for a match-winning 47.
Tom Beamish and Ben Duffy guided the Panthers past the victory target and will look to set up an attempt at an outright victory, which could propel them into an unlikely finals place.