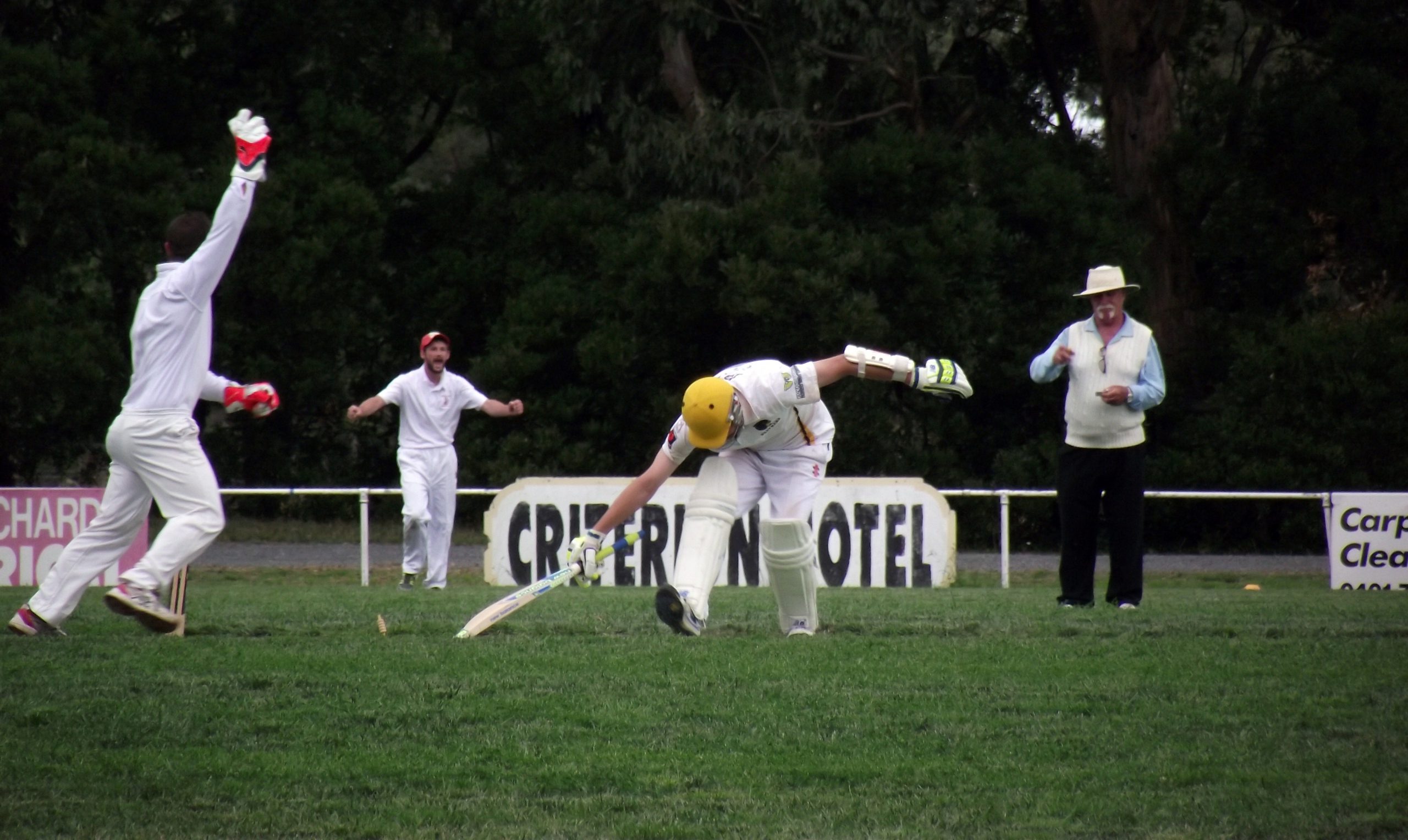 TRAFALGAR bounced back from last week's humiliation with a strong showing against a luckless Jeeralang/Boolarra.

James Blaser's aggressive 81 set the tone from the get-go and by the time he was lbw to Craig Blackberry the damage was done.
The wicketkeeper-batsman departed with the score at 3/98, having contributed an incredible 83 per cent of his team's runs to that point.
The Panthers needed to take wickets to get back into the game but claimed only one more for the day when Dillon Leys induced an edge from Rhys Holdsworth on 93 to cost the Ships' captain his century.
Holdsworth and Aiden George (80*) had added 174 runs to effectively bat the Panthers out of the match, and with 282 on the board the captain called his men back to have 11 overs at the hosts.
Jackson Noonan and Blair Clymo delivered with Craig Blackberry and Ossy Brennan both falling to leave the Panthers 2/15 at stumps.
Trafalgar is odds-on for a win next week and will push for outright points.
If Noonan and Todd Mann are on song early the Panthers have a big task ahead to stave off a heavy defeat.
MORWELL posted a competitive 229 on day one against Mirboo North in a crucial match for the makeup of central Gippsland cricket's top four.
The visitor was sent in by Mirboo North skipper Shane Peters, but early wickets were not forthcoming.
Sam Mooney was recalled to the first team after a maiden century two weeks ago and put on a 64 run opening stand with Jackson Beani before he was caught behind off Josh Taylor.
Beani then teamed up with Rory Hare as the pair added 73 runs to build a crucial platform.
Riyaz Pathan came and went but Mark Cukier showed his class with 44, doing his best to marshall the tail end as spin twins Rob Phoenix (4/71) and Jed Alexander (4/28) sliced through the lower order.
Beani eventually departed for a well-made 69 – a major factor in setting up his side's eventual score of 229.
Mirboo North was required to see out two overs in the late afternoon which Josh Taylor and Damien Turner negotiated to finish 0/1 with Turner the man off the mark.
The clash is on a knife's edge with Adam Mates, Shane Peters, Jesse Giardina and Phoenix still to come.
Morwell will need to bowl well to win on day two but runs on the board is always a luxury.
A sparkling 92 from Andrew Philip ensured Moe ended day one in a dominant position against Latrobe.
The Lions' captain missed his century by eight runs after being caught by Will Kennedy off the bowling of Tyron Gamage.
Losing Sean Spiteri early, Philip and Kayne O'Connell added 64 before Ash Halkett broke through the latter's defence.
Nathan Lee and Stace Puts both departed without troubling the scorers, before an 89 run union between the skipper and Jacob Mulqueen saw the Lions ease into a comfortable position.
The Sharks struggled to create breakthroughs and were not helped by the absence of the unavailable Brendan Evans and the suspended Chris Johnson.
Gamage took 3/45 and Halkett managed 2/35 in his return to the first team, but Aaron Walshe steered the tail to 7/241, a competitive total.
Early wickets will be key to Moe's fortunes on day two and Nick Clarke, Robert Blunt and Kayne O'Connell will be required to take the big top-order wickets.
THORPDALE eased to victory over Moe rollinh the Lions for 98.
Spinner Heath Ferguson blasted out the tail with 5/26. Alan Philip's 23 was the only semblance of resistance offered by the inexperienced Lions.
Zac O'Connell and Travis Pickering then made sure of the points with determined half-centuries.
Ron Whitney claimed all four wickets to fall as Thorpdale closed at 4/127.
A towering 72 from Kris Fortuin powered Morwell's total of 8/195 against St Vincents, with Steve Tobin nabbing 3/38.
The Saints were then rumbled for 105.
Wayne Arnold top-scored with 25 as Steve Bilic, Rob Semmler, Brent Reside and Lachlan Day shared the spoils.
YALLOURN North was shot out for 119 with Brandon Bradshaw (2/7) and Hudson Kerr (2/12) too much to handle.
Andrew Soplakow and Connor Williams also nabbed a pair of wickets each.
Adam Chester (28) and Brendan Rooney (21) did their best to fight the good fight but were outclassed by a superior attack.
Mirboo North cruised to 6/152 off just 28 overs, with Brendan van Heurck, Justin Blair, Cameron Le Page and Jacob Blair all getting starts.
Gavin Pearson and Darren Wilkie both took multiples on a trying day for the Bombers.
THE Sharks' total of 9/127 looked a bit thin, propped up by 31 to Shayne Vallance and 21* to Jamie Coltman.
Liam Durkin bowled well to take 3/18.
The Ships sunk to 6/43 in reply as Nathan Nikodemski (3/13) did a number on the young Trafalgar batting lineup.
Some questionable running between the wickets didn't help the cause either.
Leo Connolly played well for his 31 not out but had too much responsibility left on his shoulders by older heads.
THE Colts flew to 197 thanks to 62 from Steven Hanning and 43 to Kris Wells, but were given a sharp reality check as the Kookaburras smashed their way to 5/204 off just 26 mayhem-filled overs.
Chad Williamson's belligerent 83 all but settled the points, while Josh Hammond's 4/35 played its part in restricting the target.