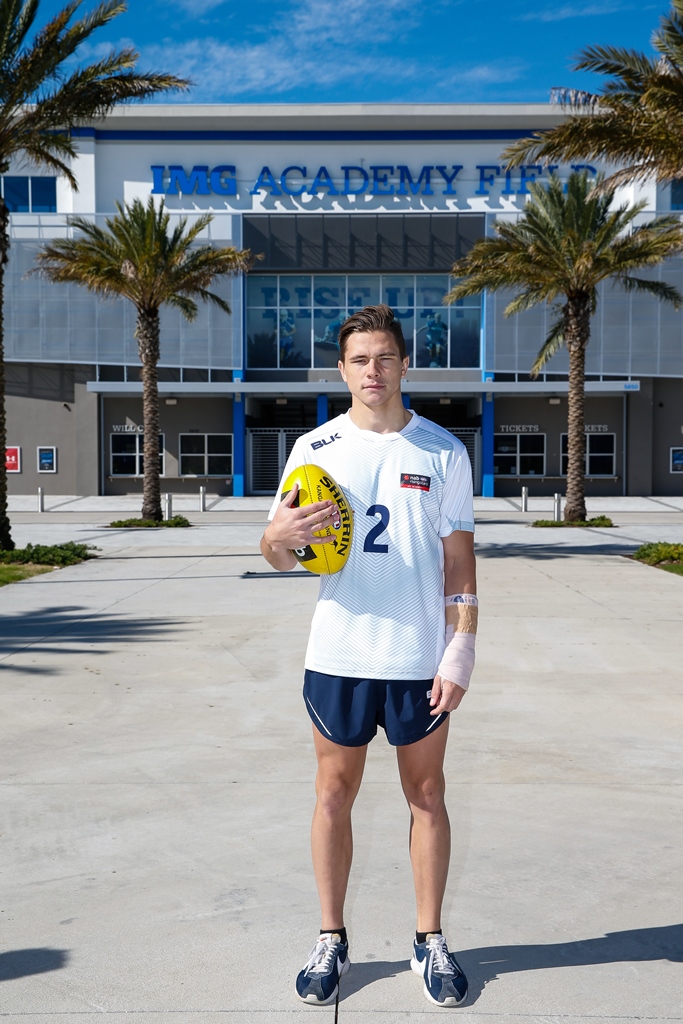 FOOTBALL
By SAM DARROCH
WHILE the average footballer was reluctantly emerging from Christmas hibernation to resume pre-season training, 2016 AFL Draft prospect Ben Ainsworth was getting a leg up on the field.
The already seasoned Gippsland Power forward recently spent a fortnight in the United States, training and undergoing testing as part of the AFL Academy Level Two's high performance camp.
Along with 34 other highly touted draft prospects the 18 year-old Morwell man was subjected to rigorous fitness testing at the IMG Academy, world renowned for the development of elite athletes including Maria Sharapova and Eli Manning. The squad was "pushed to our complete limit" during six days at the institute, followed by two days of interviews with about a dozen football clubs and their recruiters.
Despite suffering a fractured wrist during the camp, which sidelined him from the bulk of the training, Ainsworth said the experience was valuable ahead of 2016 national draft testing.
"It was nonstop, it was so high class. Everything they did was top of the range. All the coaches, with Brad Johnson, Glen Jakovich and Sando (Brenton Sanderson), were top notch," Ainsworth said.
"I think the intent was just to become fitter than the others who are doing pre-season at their local state league clubs.
"(Some of the tests like) repeat sprints and three kilometre (time trials) were just basically getting you ready for the draft (process) this year." The athletes were subjected to laboratory-style VO2 max and sweat tests, complete with oxygen masks and test tubes, which Ainsworth said would offer priceless information once the results were catalogued.
"It's pretty good information and I think we'll be one step ahead of everyone else that's for sure," he said.
The squad also had about a week to chill out on the west coast, taking in professional basketball and ice hockey matches.
Ainsworth, who was involved in last year's AFL Level One Academy trip to New Zealand, said the journey was the "trip of a lifetime".
"It was the trip of a lifetime, just outstanding how they can give you such an opportunity at such a young age and give you all the resources to tee you up for AFL footy," he said.
Ainsworth has already been earmarked as an early pick in the 2016 national draft.
He said the Level Two Academy program had been influential in his development and drive towards that goal.
"The Level Two Academy just improves your game… every couple of months you go on a camp and they put you through your paces and put you in line if you're not up to speed. It brings a lot more out of you than just your skills – it brings a lot out in characteristics as well," he said.
"Just basically the maturity levels and your understanding of the game becomes a lot more clear. The coaching panel you have around you is second to none, they've played over 800 games of footy between them, it's unreal to have that personnel around you."
Aiming for a return to fitness for Power's final practice match and round one of the TAC Cup season, Ainsworth hopes to represent Victoria Country again this year and put his best foot forward in all forms of the game.
He said despite the early hype he was not thinking about draft night just yet.
"I'll just go out and play footy like I did last year, not too much expectation," he said.