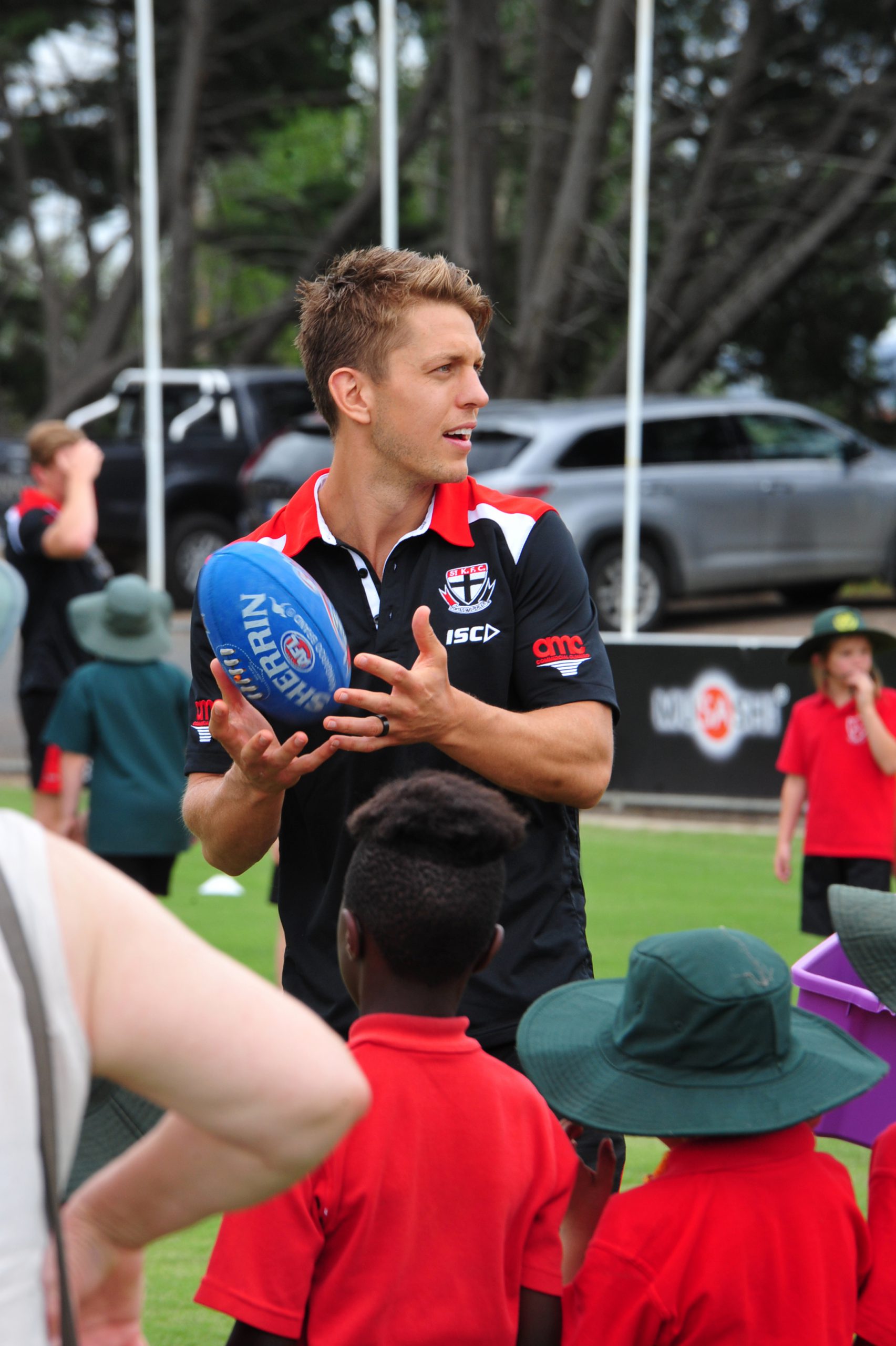 THE Saints came marching into the Latrobe Valley this week with one heck of an agenda for their AFL Community Camp visit.
St Kilda Football Club's two-day stay was chock full of clinics, community and club visits, training sessions and functions as an army of senior players converged on the region.
While Tuesday's super clinics were cancelled due to heat, the Morwell edition went ahead on Monday much to the delight of some 200 children from five local schools.
The AFL side also took some training at Morwell East and Churchill senior football netball clubs during their stay.
ST Kilda half-forward Tim Membrey can hardly believe it's been four years since he was drafted to Sydney from Gippsland Power.
The Traralgon local was back on home soil for the Saints' Latrobe Valley Community Camp this week, now as settled at Docklands as he ever was at Travers Street, where he led junior clinics on Monday.
Membrey played 12 senior games for St Kilda last season after being delisted by the Swans and has begun to find his feet at the top level.
Now back to fitness following a shoulder injury late last year the former Power skipper said he was ready to make his mark in the AFL.
"I'm settled in now; I've had a year and got to know how the system works at the Saints so I'm loving it," Membrey said.
"I've done a fair bit of work in the pre-season just with my endurance and fitness, so I've got myself as fit as I've ever been now.
"I'm hoping to push through the midfield a bit as well and play that half forward role and try to hit the scoreboard a bit more this year."
The 21 year-old was starved of senior opportunities at Sydney, where he pummelled 105 NEAFL goals from 41 matches, but has enjoyed the opportunity to play in a young, developing unit.
He said last season's extended run at the top grade taught him a lot about his game and his role at St Kilda, which he was ready to take up a notch in 2016.
"The main thing was probably my quick feet around stoppages and around the ground, just knowing the structures and getting used to my teammates as well," he said.
"One more year again of experience with everyone (has helped) and we've got some good young leaders coming through as well looking to really take the reins from the older boys which is exciting."
Membrey was also excited by the activity at Gippsland Power when he visited Morwell on Monday.
Catching up with talent manager Peter Francis, Membrey said he was impressed by the club's expansion to include a full youth girls academy and its continued success at TAC Cup level.
"It's awesome to see what they're doing down here at Power. They've got such an awesome setup and it's good to see the girls getting involved in it now as well, it's really starting to take off," he said.
Membrey said he was ready to go for the remainder of pre-season football.
St Kilda's next match is against Brisbane on 6 March.