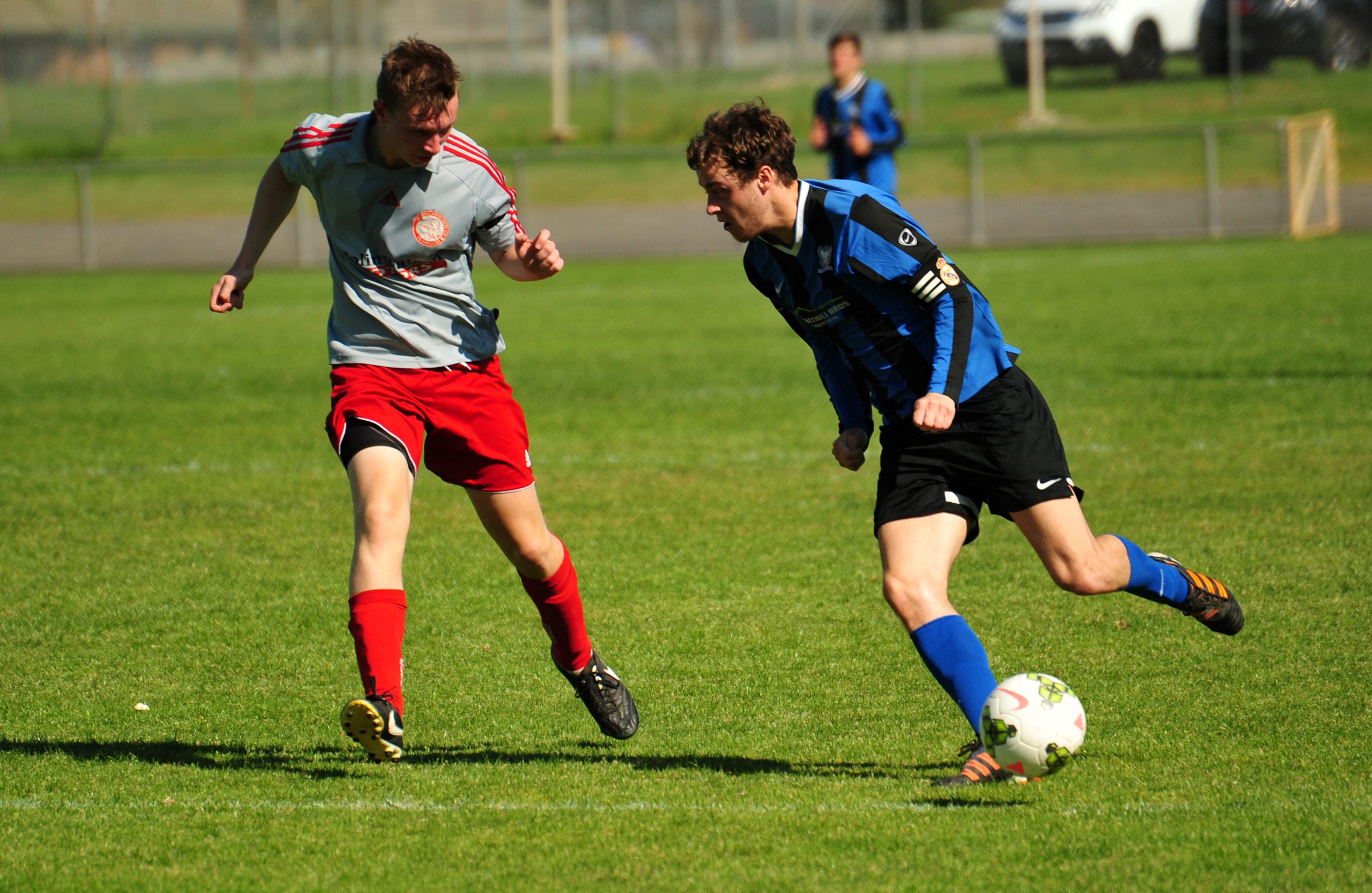 RELATED COVERAGE: A whole new playing field
RELATED COVERAGE: Lightning aims for three-peat
RELATED COVERAGE: All cleared to go
The Express takes a look at the 13 clubs set to contest the 2016 LVSL season. Transfers, ladder predictions and club overviews are all below.
Coach: Nick D'Alessandro
Last year: League champion (21W, 1D, 2L), BOB champion
Prediction: 1st
INS: Julian Baccega (returning from injury), Daniel Edey (returning from Melbourne), Gianni Romano (returning from overseas), Nick Stevens (Traralgon City)
OUTS: Andrew Carbone (study), Stefan Baccega (knee injury), Matt Amaira (Traralgon City), Kuiy Jiath (football)
THE defending league and Battle of Britain Cup champion forged its way to the top of the tree over the past two seasons and does not plan on giving up the perch.
Falcons 2000 retains favourite status with the core of last year's champion side still in tact including Victoria's leading 2015 senior goal scorer Jesse Kennedy.
"Our success has been the result of relentless work and effort to bring about massive improvements on and off the park," coach Nick D'Alessandro said.
"The club wants to now cement ourselves as the benchmark club for the other teams in the league and continue to build on the success we've established.
"With a strong list and impressive work ethic the signs for another good year are evident but opposition clubs won't be taken lightly.
"We are looking forward to the challenge of being "The Hunted" this season."
The list has also been bolstered by returning players with 50 plus senior games under their belts.
Coach: Jon Piefke
Last year: 2nd (21W, 0D, 3L)
Prediction: 4th
INS: nil
OUTS: David Simpson
TALENT has not translated to silverware for a hapless Sale United in recent years.
The Swans have been a dominant force on the park but ill-timed slip-ups have cost them dearly.
A last minute loss to NYU on the final matchday of 2015 cost Sale the league championship by a single point.
The year prior the green-machine reached the top six grand final and Battle of Britain decider only to fall short in both.
With a settled squad assistant coach Ross McWhirter said it was time to consolidate in 2016, but faced a tough start to the season with captain and playmaker Ash Ross sidelined after recent surgery.
"The first few months will be definitive for us based on how much players are out; we're still looking to be top four but it's more about having a solid season.
"We've had a bit more of a focus on youth development… there's definitely a lot of young juniors that have come through that are now part of the senior squad; the key this year is to still be competitive but try to develop those younger guys."
Coach Jon Piefke is also set to miss the start through injury.
Coach: Kevin O'Farrell
Last year: 3rd (21W, 0D, 3L)
Prediction: 2nd
INS: Yorek Nicholson (returning)
OUTS: Marc Mchallam (NYU)
FOUR years under outgoing coach Lee Dastey has steeled the consistent Red Devils for success.
New coach Kevin O'Farrell has inherited the bulk of the side which came one point shy of the league championship last season, barring the departure of 2014 league best and fairest Marc Mchallam to NYU.
O'Farrell said the squad, which earned two trophies in the past three seasons, had enough depth to paper over the cracks.
"We've had a pretty big squad over the last couple of years and a few of the boys have been playing in the ressies which will get their opportunity this year," O'Farrell said.
"Hopefully they can take it and hopefully they can cover it (the loss).
"I want to continue on Lee's good work; Lee's set a pretty good standard over the last few years, we want to make sure our training is up to scratch which it has, we've had a really good pre-season.
"We want to be there and thereabouts at the end of the year to win the league."
Moe has enjoyed a strong pre-season, winning the Football Chaos Cup as a late inclusion.
Coach: Tim Armistead
Last year: 4th (15W, 1D, 8L)
Prediction: 3rd
INS: Marc Mchallam (Moe), Jarryd Alway (Traralgon City)
OUTS: Nil
THE addition of 2014 league best and fairest Marc Mchallam (Moe) could be the final piece of the puzzle for Newborough-Yallourn United.
After soaring up the ladder last season to fourth place, fourth year coach Tim Armistead believes the Combine is ready to take the next step.
"We've only got the one expectation and that's to take the trophy; you play to take the league and whatever other trophies you can and that's what we're striving for," Armistead said.
"Each year you strive to get better and that's the next step."
Mchallam adds another threat to an already potent attacking line-up, spearheaded by Mark and Dylan Fairbrother and rangy winger Brandon Scott.
"Those three boys can score goals at will so our focus is discipline within the team and playing for each other," Armistead said.
Off the park the club continues to focus on building its family atmosphere and bringing through talented juniors.
"(We're) trying to become the family club in Newborough and get Newborough back on the map where it used to be."
Coach: Luke Cheney
Last year: 5th (12W, 3D, 9L)
Prediction: 9th
INS: Luke Cheney (Pegasus metro), Frank Albanese (Olympians)
OUTS: Dylan De Hommel (Football), Hayden Tanti (Pegasus metro)
INCOMING coach Luke Cheney has dubbed Fortuna '60 the 'Sleeping Lions' for 2016.
Much like last season under Mauro de Luca, few expect big things from a rebuilding Orangemen, but former Pegasus metro coach Cheney believes his experience combined with that of veteran Frank Albanese can accelerate the journey back to the top.
Despite losing key striker Hayden Tanti and promising youngster Dylan De Hommel, along with about five senior starters, Cheney said Fortuna would scrap out results and surprise people.
"We're going to fight every week, we're not going to go and cop it, we're going to give everything we've got and do everything we can to win," he said.
"There's plenty of talk going around (about us) but there might be a few surprises for a few people about where we end up at the end of the year."
Returning to the LVSL after a stint coaching at state league one level, Cheney said he would bring a flexible game plan and team unity to Crinigan Road.
"I've got the experience to adapt to what any team brings at us and shut down whatever they've got," he said.
"We fight as one, we play as one. If we can get that culture you don't have to be a superstar team on paper."
Coach: Andres Nilo
Last year: 6th (12W, 2D, 10L)
Prediction: 10th
INS: Leon Cook (Pegasus), Matt Borthwick (Drouin), Braden Paulet (returning from AFL), Chris Noppert (returning from overseas)
OUTS: Chad Shelley (Olympians) Wally Noppert (QLD)
MONASH will be out to rediscover the magic that carried it to the 2013 top six grand final in its second season under Andres Nilo.
The departure of midfield ace Chad Shelley and defensive lynchpin and former coach Wally Noppert leaves big holes in two parts of the ground, but the Wolves have shored up the last line of defence by signing Leon Cook.
Despite conceding a league high 142 goals at Pegasus last season, Cook was named joint club players' player and is arguably the best shot-stopper in the competition.
Protected by a stronger backline the keeper will make life hard for opposition strikers.
"Monash will look to build on an improved second half of the season that saw them eventually finish sixth," club president Russ Musgrove said.
"The loss of midfield workhorse Chad Shelley will be negated by the signing of Leon Cook between the sticks and return of former GSL Youth best and fairest Braden Paulet.
"Talismanic striker Ty Christy will again lead the line with Ethan Lawrence in another team young."
Coach: George Fkiaras
Last year: 7th (10W, 6D, 8L)
Prediction: 5th
INS: Alradi Ismail (Pegasus), Chad Shelley (Monash), Aaron Daniels (returning), Marcus Hunter (Churchill), Robert Cusworth
OUTS: Dave O'Dowd (Traralgon City), Liam McCluskey (Traralgon City)
YOUNG talent is the focus at Olympians under new coach George Fkiaras as the Traralgon based side looks to leverage its success at under 16 level in its senior program.
"The young talent coming through (is exciting). We've had the best under 16s in Gippsland for the last five years so the talent coming through is very good," Fkiaras said.
"The main thing was keeping the existing players. When you bring up some good young talent other teams try to poach them.
"A couple of the add-ins we've signed up as well mixed in with the youth is very exciting."
The club has also picked up some strong recruits in the form of Monash midfield star Chad Shelley, who ran close in the league best and fairest standings last season, and Pegasus striker Alradi Ismail, who scored 17 of the Horsemen's 28 goals in 2015.
With experienced heads such as Tony Pardo making themselves available again this year Fkiaras is confident in the mix at his disposal.
"I'm just looking at having a bit of structure, working defensively as a unit and just trying to play a fast attacking style of football," he said.
Coach: Mark Bianconi
Last year: 8th (11W, 2D, 11L)
Prediction: 6th
IN: Dean Pyle (returning from overseas), Joshua Gangi (Falcons)
OUTS: Tyson Webb
CHURCHILL'S fall from impervious league champion to eighth place in the space of one season told a story of a club in transition.
Missing a host of the stars that led the Rams to dominance over the past decade, the side rebuilt under Mark Bianconi and is aiming to climb back toward those lofty heights.
"We're hoping to improve on last year's league performance – that was a bit disappointing and a bit inconsistent – and go on another cup run like last year (where we reached the final)," Bianconi said.
"I think we can climb up the table this year, I think this year's going to be wide open with the number of clubs losing players or trying to get new faces in. Top four will be a goal."
After being shuffled around the park in recent years the experienced Paul Riess looks set to engineer the play in a defensive midfield role.
Bianconi said last year's woes were mainly due to struggles in the final third, where Riess may play a role late in games.
"We could only soak up so much pressure through the midfield and our defence. We've got a really experienced backline; we just didn't have that killer instinct in front of goal.
"If we're chasing goals in the last 10 minutes we have the option to throw him (Riess) up front, but I think it's a waste of his talent to play him as a striker, he's far more dangerous a bit deeper."
The club's FFA Cup run ended at Hopper's Crossing with a loss against Point Cook, but proved a valuable pre-season tool.
"(The cup) gets us focused on what's at hand… if you're playing for something there's a bit more incentive," Bianconi said.
Coach: Gareth Harris
Last year: 9th (9W, 0D, 15L)
Prediction: 8th
INS: Nil
OUTS: Nil
TYERS will look no further than its all-conquering women's team for inspiration in 2016.
The Lightning women have been lighting the way with their success in recent years, and the men followed suit last season by stringing together nine wins following a winless 2014.
"They're a good source of motivation for the guys because for a couple of years there it was the girls a head and shoulders above the boys as far as win-loss ratio," coach Gareth Harris said.
"It was nice for the guys to get a couple of wins but it also brings a lot of positivity to the club, just the general mood and atmosphere is a lot brighter."
With no significant personnel changes Tyers is out to build on last year's platform and target a spot in the top eight finals series.
"(We'll) stick with what we've got and keep progressing," Harris said.
"I think the boys are just a little more organised and have a bit more discipline. Success breeds success, you get one win and then they get hungry for another one and it rolls on from there. It doesn't take much to get them keen."
Assistant coach Shayne Pavich will again be the creative key for the Lightning.
Coach: Steve Riess
Last year: 10th (4W, 4D, 16L)
Prediction: 7th
INS: Matt Amaria (Falcons), Mark Bruzzese (Fortuna), Drew Sedgwick (Pegasus), Nick Lapenta, Dave O'Dowd (Olympians), Liam McCluskey (Olympians), Cameron Ryan (Churchill), Sam Darroch (Pegasus)
OUTS: Moy Aliyu (Pagasus Metro), Duach Simon (Pegasus Metro)
Champion Churchill coach Steve Riess has returned to his junior club to lead a new-look young Roosters in 2016.
A host of big inclusions, namely Matt Amaria (Falcons), Mark Bruzzese (Fortuna)
Dave O'Dowd (Olympians), have bolstered the club's stocks with huge numbers turning out through the pre-season.
Former Gippsland Falcons player Nick Lapenta has been enlisted as reserves coach and will add experience to the senior group alongside incoming assistant coach O'Dowd.
Riess said the club was concentrating on round one and would take the season one week at a time.
"We have some handy ins which will provide competition for spots," Riess said.
"We're focused on creating a great social environment and everyone is looking forward to an exciting season on and off the field."
Coach: Jason Steele
Last year: 11th (4W, 2D, 18L)
Prediction: 12th
A long year on the road has led to several of EGUFC's older brigade hanging up the boots.
The club will likely field seniors only in the men's competition due to waning numbers, but is hopeful of remaining competitive under new coach Jason Steele.
"Jason has coached our under 16s in the past. He's got a UK background, has played soccer for many years at multiple levels and he's earned the respect of the players who've played with him and for him in the younger age groups," club president Wayne Jarvis said.
"We had a series of the older guys that went through the very long season last year and just went 'I can't do it again', and a bunch of younger guys heading off to uni; it's just one of those unfortunate years where we've got more going out than coming in."
The Bairnsdale based side scored four wins in its debut season last year and will be out to improve on that ledger.
Coach: Mark Tanti
Last year: 12th (2W, 2D, 20L)
Prediction: 11th
INS: Alex Bowman (Fortuna), Andrew Heyden (Fortuna), Ben Cassar (Trafalgar), Daryn Cummings (Trafalgar), Joel Pirotta (returning from injury), John Rooney (Trafalgar), Josh Tanti (Fortuna), Kuku Mohammed (Fortuna), Kyle Taylor (New), Tony Nicholson (Fortuna), Jesse Azzopardi (Fortuna), Shayne Cassar (Trafalgar), Robin Holmes (out of retirement)
OUTS: Alradi Ismail (Olympians), Drew Sedgwick (Traralgon City), Leon Cook (Monash), Oladapo Odubote (Traralgon City), Sam Darroch (Traralgon City), Nick Waring
There's been wholesale changes at Ronald Reserve with a Horsemen of a different colour set to contest the 2016 championship.
New coach Mark Tanti has brought an army of recruits to Morwell Pegasus in a bid to resurrect the club after a lacklustre return to the league.
"I have come here to build a new culture at this club, with a seniors, reserves and women's team we will all be working together as one," Tanti said.
"We are not only rebuilding but we are starting from the ground up.
"I am not concerned about ladder positions, I just want this mixture of young and experienced players to gel together and enjoy playing the best game in the world.
"Hopefully we can only improve from here on in."
Former coach Ben Cassar, who led the 2014 campaign, is set to return to his junior club along with brother Shayne.
Coach: Eamon O'Hare
Last year: 13th (2W, 1D, 21L)
Prediction: 13th
INS: Ryan Witty (returning), Matt Steen (returning), Ben Rotheram (Korumburra), Joel Christian (returning), Rob Myzrgloski (returning), Michael Byrne (returning) Aaron Vaughan (Pakenham)
OUTS: Daryn Cummings (Pegasus), John Rooney (Pegasus), Ben Cassar (Pegasus), Jamie Green (Maffra) Ash Klemke (University)
Trafalgar Victory's switch from the GSL south division last season proved a difficult baptism.
The new boys received the wooden spoon with 21 losses along the way, but a couple of encouraging wins and a host of returning players for 2016 have laid the foundation for improvement under new coach Eamon O'Hare.
"After a disappointing season on field in 2015 TVFC aims to continue to develop its young group and foster a strong team culture which we hope to see translate into on field results," club president Dylan Wyatt said.
"With Eamon at the helm our focus will be on youth development, team culture and commitment.
"We hope 2016 will set the foundation from which we can build on in years to come."