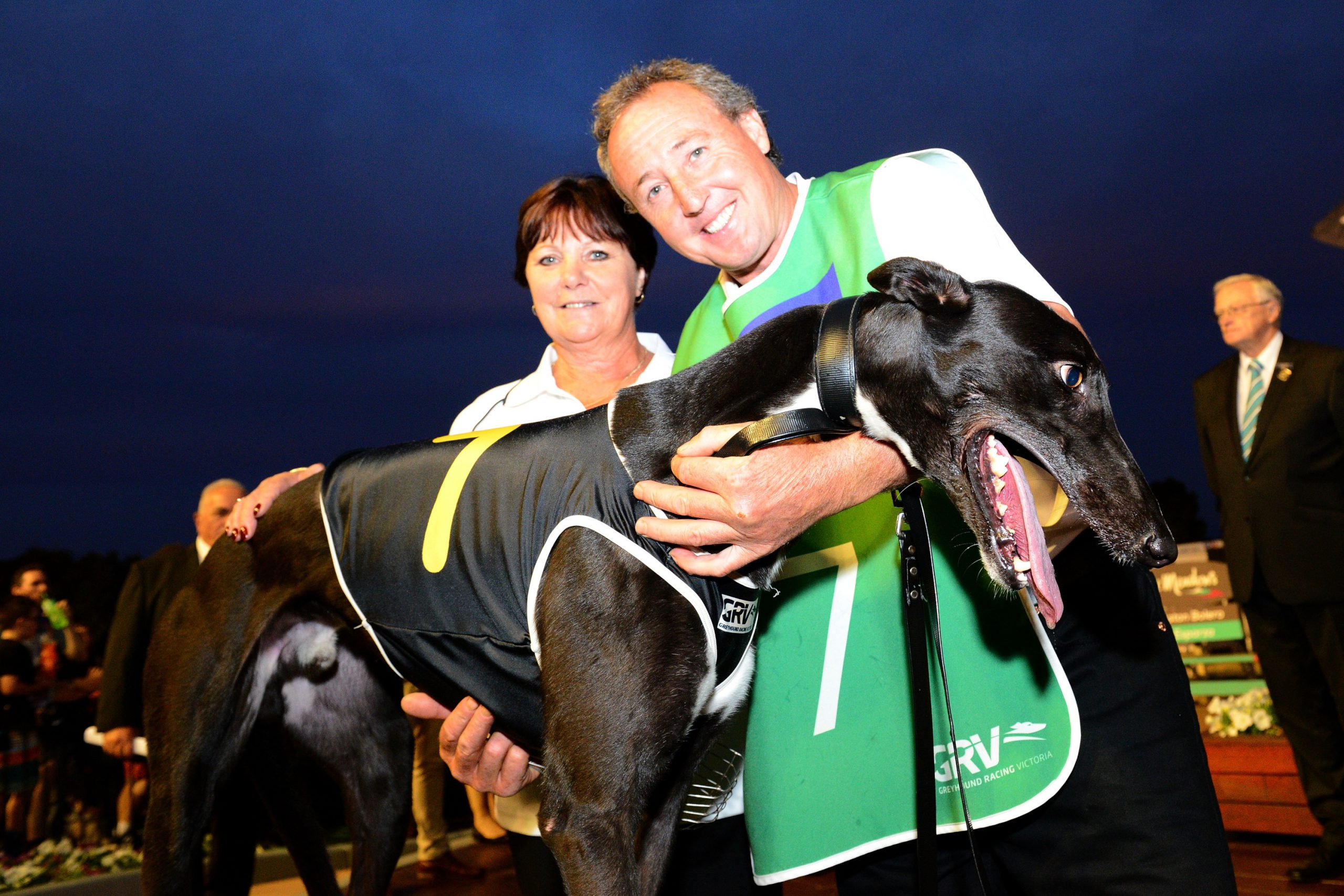 FROM the small town of Darriman, Gippsland greyhound Gilberto showed no signs of being overawed by the bright lights of The Meadows on Australian Cup night.

Born and bred by a Woodside caravan park owner and hobby trainer Jennifer Gill, the 21 month-old kicked off his group racing career in fine fashion when he claimed Saturday's $35,000 Group 3 Vic Bred Maiden Final (525m) in just his third start.
At $2.90 the son of Barcia Bale and Surfonic exhibited a scintillating turn of pace from box seven to cross the line in 30.36 seconds ahead of race favourite Dewana Dimie ($1.90).
Part owner Will McMahon said the timely triumph came as a huge thrill in the up-and-comer's first assignment outside his home town, particularly for Gill.
"She owns the mother and she's bred the pups, they've been reared and educated here," McMahon said.
"She's stoked, she's still on cloud nine, she keeps looking at the envelope with the make believe $25,000 cheque to make sure it did happen.
"It's one we've been waiting for and one we really needed at the present time; It's just good to be there on the big night and win a good race."
The pup had never raced outside of Woodside prior to the heats of Victoria's biggest maiden race and consolidated his form in the semis.
McMahon said Gilberto found his feet quickly and proved his class in the final.
"We've got our own track, he never left the place; we did all the education here and he went straight to the city – that was his first one off the place when we put him in the heats," he said.
"He was going nice enough to go down for it and our attitude was if he could get through the first week we'd improve right through.
"His first week he was a little bit green and he was just feeling his way around, the next week he went around super and that possibly flattened him a bit for the final, but he just showed he's a true race dog by winning."
McMahon trained Gilberto's mother and said the decision to retire her while in her prime to keep her as a brood bitch had paid dividends.
Gilberto has now had three starts for two wins and a third, with the $25,000 first prize taking his career earnings beyond $30,000.
The fast-improving greyhound is set to contest tonight's Launching Pad heats at Sandown.