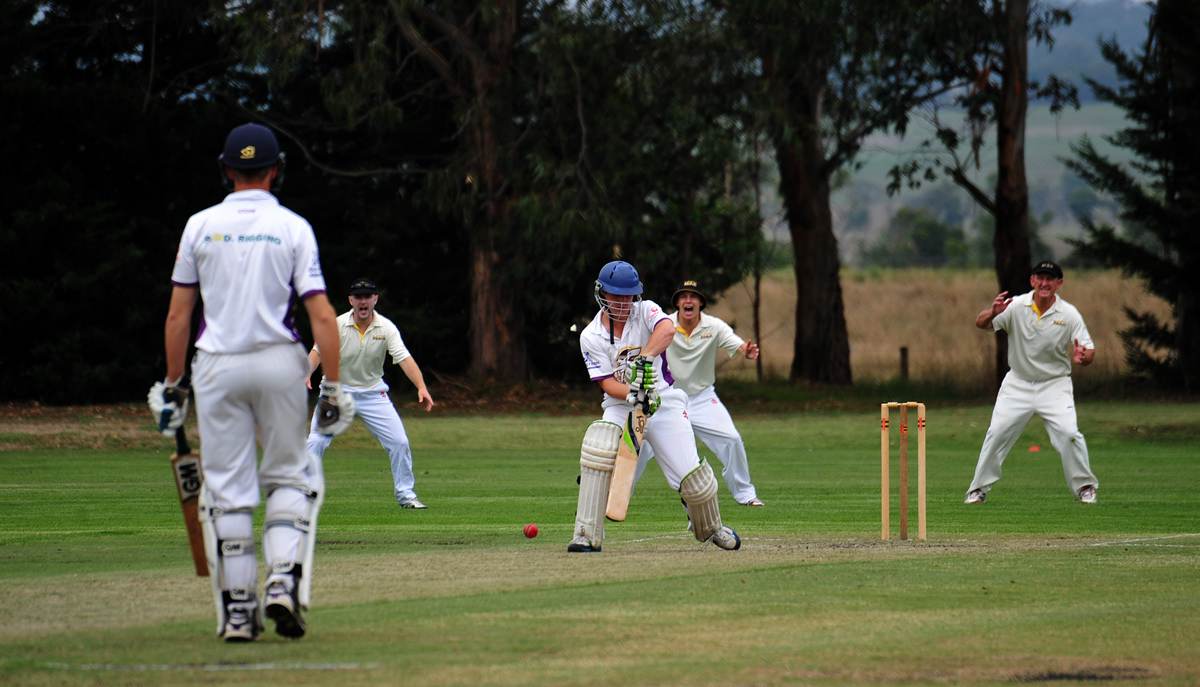 CRICKET | TDCA
GORMANDALE and Ex Students will square off for the Traralgon and District Cricket Association flag after winning their semi-finals at the weekend.
Sharks batsman Jordy Gilmore was the star of the show with a blistering 128 to help his side home against MTY Raiders.
Gormandale v Glengarry
THE Tigers won the toss and had no hesitation in batting first against Glengarry at arguably one of the best turf wickets in Country Victoria – Andrews Park, Churchill.
After a start of 16, Travis Switzer was first to go for five.
Al Jenkin (37) and Kent Hammond (36) both looked in good touch and added 57 for the second wicket to stabilise.
Brad Wadlan and Barney Webber then took the Tigers to a solid 3/123 off 43 overs at tea.
Glengarry struck back after tea as Wadlan (33), Webber (19) and Kade Joske (12) were all dismissed and Gormandale looked to be in a spot of bother at 6/155.
Rob Darby and 17 year-old Conner Little restored the situation and batted beautifully to add 77 for the seventh wicket.
Darby top scored with an important 45 while Little showed great maturity to compile 40.
The Tigers hit out in the last few overs to post an impressive semi-final total of 264 all out off 79.2 overs.
The Glengarry bowlers stuck to their task; Cam Graham bowled 25 overs to take 3/69, while Frank Marks' 17 overs yielded 3/55.
Defending premier Glengarry began their run chase disastrously when gun bat Frank Marks was caught in the second over for a duck.
The Tigers were ecstatic with the early scalp to Webber.
Sam Marks and Hayden Ross-Schultz knew they had to dig in and have a big partnership.
Both players batted sensibly as they set about the long haul and dragged the score to 105 at tea.
The Tigers were wilting as the Magpies reached 128 after 48 overs, but a major shift occurred when Ross-Schultz was dismissed for a brilliant 66.
As the run rate moved to six per over another key wicket of skipper Sam Marks was taken for a well made 50.
A cameo from Ben Marks put the game in Glengarry's favour after he hit out to make it 6/215 with nine overs left.
When he was dismissed for a hard hitting 49 the Magpies' chances suddenly slipped; the remaining batsmen tried valiantly but could not bridge the gap and were bowled out for 235 in the 78th over.
In a remarkable spell Brad Wadlan bowled unchanged to take 5/66 from 30 overs.
Shaun Barbour claimed 2/53 and Adam Brady managed 2/63.
MTY Raiders v Ex Students
EX Students skipper Michael Warne called correctly and elected to bat first but the first hour was all Raiders.
Brad Knowles and Dave Embleton were on fire and they tore through the top order.
Greg Munro (10), Jimmy Pryde (4), Jackson McMahon (2) and Michael Stockdale (4) were all back in the shed as the Sharks floundered to 4/29.
The hope for Ex Students was that Gilmore was still in and batting well.
Rick Battista made 20 before he was run out, leaving the score 5/73.
In an incredible fightback the lower order knuckled down with Gilmore and batted out the day to score 242.
Mitch Membrey (15), Michael Warne (11) and Rob Voss (20) all contributed to vital partnerships but the standout was a star innings from Gilmore who put his name up in lights with a magnificent semi-final masterclass of 128.
Knowles took 4/42 from 19 and Embleton 3/56 from 18 to be stand outs for the Raiders attack.
Raiders started the run chase poorly by losing their first three wickets for 16.
Macfarlane (6), Dyke (0) and Higgins (10) were all removed early.
Skipper Knowles and Liam Maynard set about the rescue operation as the Sharks continued to bowl a tight line and moved the score to 3/58 by tea.
Just after passing the 100 mark off 57 overs the key wicket of Knowles was taken for a well made 53.
When Maynard was dismissed for 42 the equation became too much as Raiders lost wickets consistently before ending their year all out for 167 in the 78th over.
A brilliant team bowling performance was led by Andy Mathews (4/42 from 14), skipper Michael Warne (4/49 from 25) and Michael Stockdale (2/26 from 9).
B grade
EX Students will play Glengarry in the B Grade grand final after both recorded solid wins in their semi-finals.
The Sharks batted first against Centrals on a slow Traralgon Recreation Reserve wicket and made a competitive 8/135 off 45.
Top scorer was Adam Jaensch with 33. Centrals needed a big innings from one of their top four bats but could not muster it and they finished the day 9/121 to lose by 14.
Churchill sent Glengarry in on a bowler friendly track in the other semi and had immediate success when leading run scorer Paul Henry was out for zero.
Glengarry battled hard to bat out the overs and reached 119 after Dave Little top scored with 42.
Matt Harvey was best for Churchill with a five-wicket haul.
Churchill could not produce a solid partnership and went down fighting, bowled out for 102 in the 44th over.
Henry struck back with the ball to take 4/10.
C grade
TOP sides Ex Students and Gormandale will play in the C grade grand final after recording comprehensive semi-final wins.
Traralgon West batted first against the Sharks and reached 120 all out in the 35th over.
Blair Turnbull top scored with 36, while Brad Pratt with 3/24 was best for the Sharks.
Ex Students cruised to victory in the 25th over with 5/123 on the board.
Don McDougal top scored with 41.
Gormandale batted first and made 134 all out in the 36th over against Imperials thanks to a half-century from Nathan Parsons.
Aaron Johnstone claimed 4/10 for Imperials.
The Devils could not get a big partnership going and were bowled out for 79 in the 30th over.
Michael McNulty top scored with 24*.
Shae Duncan (4/6) and Gavin Swan (3/17) were best for the Tigers.