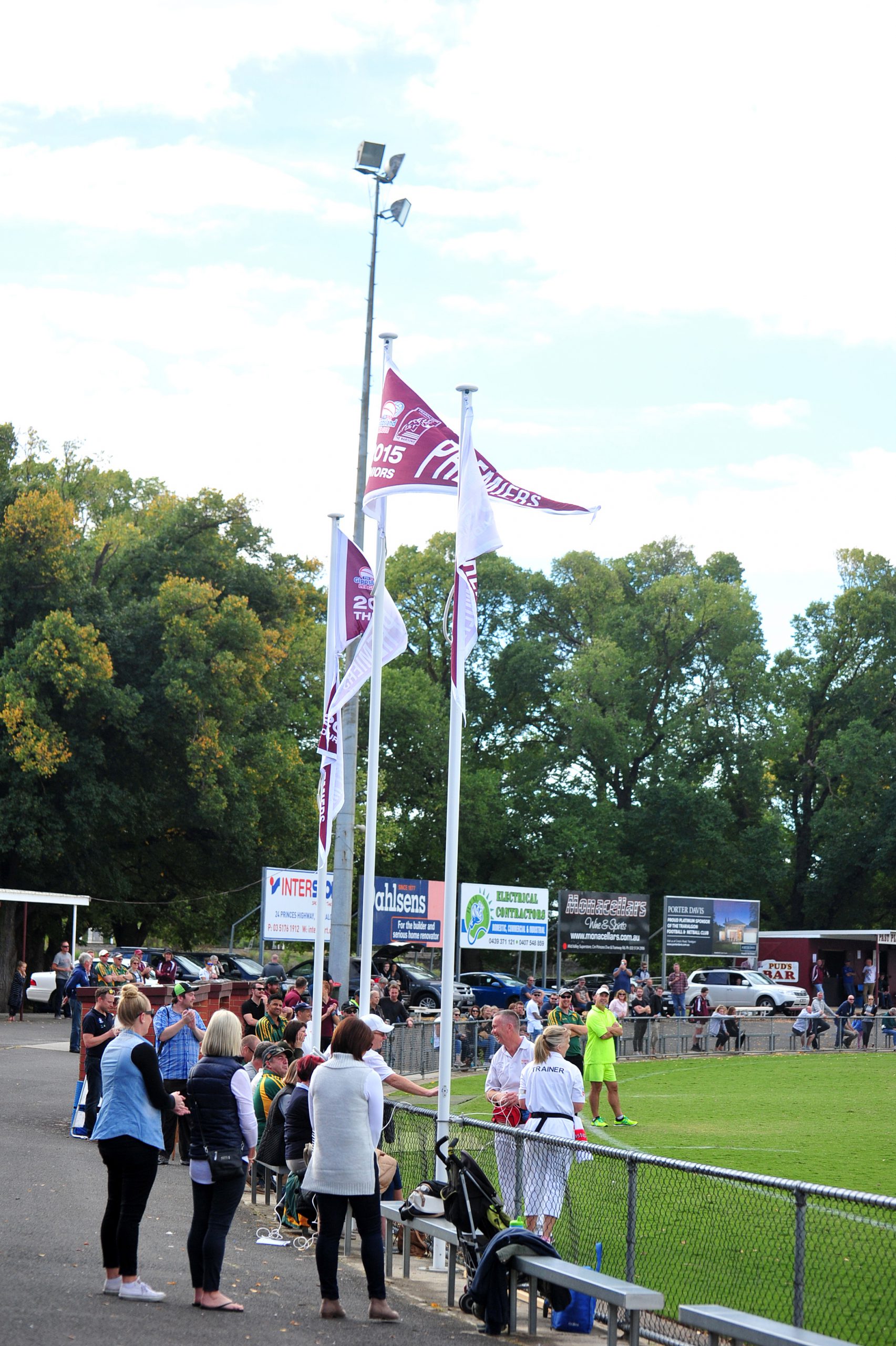 THE premiership flag reaching its apex before the start of play was the highest point for Traralgon on Saturday when Leongatha rained on the Maroons' parade in round one of the Gippsland League.

Though not as humbling as last year's record 123-point thrashing, Traralgon was again shown up by the Parrots in the season opener 11.10 (76) to 5.15 (45) at the Traralgon Recreation Reserve.
With a healthy crowd on hand to witness the flag raising and Jason Winderlich's debut in maroon it was Beau Vernon's men who stole the show and led start to finish.
Despite the promising start Vernon was looking at the bigger picture as the Parrots focus on avoiding a repeat of last season's script.
"We beat Traralgon round one last year quite convincingly then they came back and won the flag so I'm pretty happy with Saturday's win but we're not getting ahead of ourselves," Vernon said.
"We had 21 contributors and I think if we're going to be a good team this year we have to have that. I thought last year in the grand final they were able to shut down a couple of our key players and we struggled with that, so to have an even contribution across the board was very pleasing."
It was the opposite of last season's grand final as Leongatha made the early running in a 3.2 (20) first quarter while keeping the home team to a single behind.
Traralgon finally split the big sticks in the second to win the term 2.4 (16) to 2.3 (15), but the visitor held a 19-point advantage at half-time.
It was even keel again in the third as the Maroons failed to hit the target and registered six behinds to just two majors to let the Parrots off the hook.
Last season's runner-up took full advantage in the final term and kicked four goals to one, as Traralgon again struggled for accuracy with 1.5 (11) for the quarter, to finish 31 points ahead.
After being blown off the park in the opening term of last year's decider, Vernon said his men upped their intensity from the first bounce.
"I suppose any game you play you want to start well. It wasn't a big focus of ours, I didn't touch on them getting off to a fast start last year so we just wanted to go and bring our pressure, intent and win the ball in close early and I thought we did that and got off to a good start," he said.
Chris Dunne and Aaron Hillberg led the scoring with three and two goals respectively, while debutants Luke Bowman, Joel Sinclair and Josh Hopkins all showed their class in the major league to be among the best on ground.
"They've all played in the lower leagues around us and been better players in those leagues; they've stepped up and want to challenge themselves in Gippsland League football which is good because they bring a good attitude," Vernon said.
"They want to step up and play good footy so they've come in and trained really well and just want to improve."
Traralgon Tyers United recruit Hayden Hector showed he was at home at Gippsland League level to receive the votes for Traralgon's best on the day.
The host was also well served by coach Mark Collison, defensive lynchpin Adrian Slottje and Troy Forrest.
There were a couple of close encounters in other round one matches.
Bairnsdale defended its strong home record against Drouin in an uncompromising five point ball game.
The Redlegs emerged 10.9 (69) to 9.10 (64) winners in a match that was separated by no more than six points at any change.
James Gibbs booted four goals for the home side.
A five goal second quarter helped Warragul account for Moe at Western Park in another tight tussle.
Moe led by five at the first change but a 5.8 (38) to 2.2 (14) second term set the Gulls on course for a 16 point win by the final siren.
Brayden Fowler starred for Warragul with four goals, a tally shared by Lion Mark Engley.
Wonthaggi Power turned in a strong second half to fend off a feisty Morwell 11.16 (82) to 7.5 (47).
The Power jumped to a 17 point quarter-time lead but Morwell made it a two point game by half-time after kicking 4.4 (28) in the second.
Morwell was held scoreless in the third as the Power added a couple of majors, then shut the door with four more in the last.
Yesterday's Battle of the Birds was taken out by a resurgent Maffra, 11.19 (85) to 8.4 (52) over Sale.
The Eagles soared on their second wind after the main break to overturn a 14 point deficit and led by four at the final change.
Maffra added 36 points to Sale's seven in the final term to claim east Gippsland bragging rights.