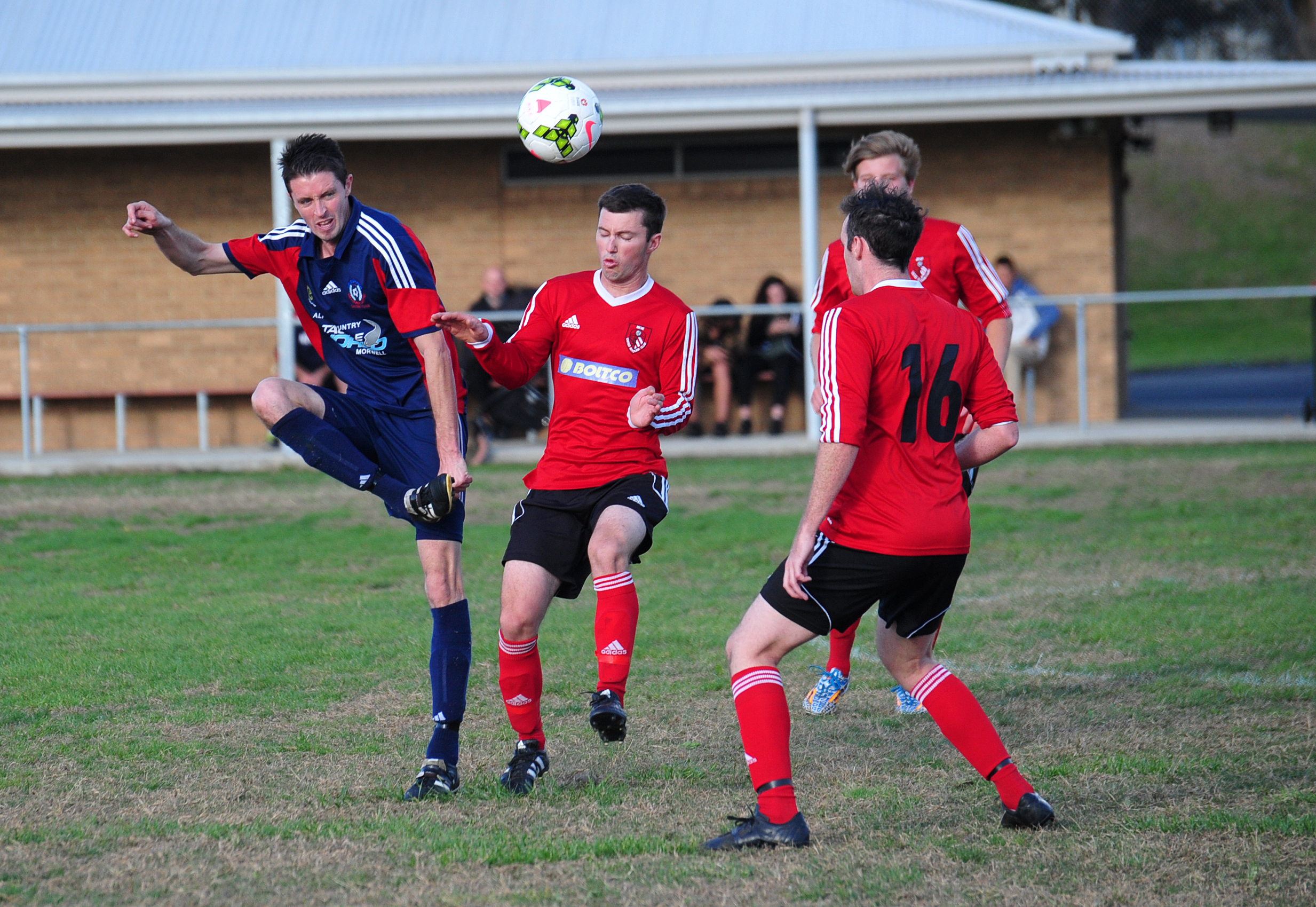 NEWBOROUGH Yallourn-United escaped Olympic Park with a point yesterday after squeezing out a 1-1 draw in the district derby against Moe.

Mark Fairbrother's second half deflection was cancelled out by Matt Shearing's diving header for the Red Devils in a frenzied five minute exchange of goals.
NYU coach Tim Armistead said a draw was a solid result on the road to one of the league powerhouses.
"Moe has been a fortress over the years; getting a point is an excellent result," he said.
"We had our opportunities, so did Moe, overall I think it was a fair result.
"Very disappointed (to concede immediately after scoring), it's something we have to work on – getting 1-0 up then giving it back.
"They're sort of the benchmark in the league, have been for a number of years, and we're coming up so it's a good result."
After a dour first half the Combine came out with purpose and dominated possession for the opening 10 minutes of the second stanza.
Marc Mchallam, returning to his former home for the first time in opposition colours, was getting plenty of touches and along with Adam Batt was finding Fairbrother and Brandon Scott in space up front.
The Red Devils eased back into the match once they found their touch as Joel Baldwin and speedster Sam Gatpan started to attack the defence with pace.
One such raid down the left by Baldwin resulted in a free kick in dangerous territory, which the midfielder rammed into the defensive wall only to chip the rebound in and force a measured save from a touch-on header.
NYU drew first blood on 70 minutes in curious circumstances.
Marc Mchallam floated in a free kick from 35 yards directly into the arms of Moe custodian Peter Albanese but was given a second opportunity by the referee, who called the set play back having not blown his whistle for the first effort.
The crafty midfielder made the most of his fortune with an improved curling effort, which Fairbrother somehow managed to redirect past a diving Albanese at the near post.
The ecstasy was short-lived for the Combine when Gatpan made space down the left flank and whipped in a hard, low cross for Shearing, who flew to beat his marker and the NYU keeper.
It was end-to-end for 15 minutes as both sides attempted to break the 1-1 deadlock with NYU fashioning the better chances.
Dylan Fairbrother whipped a grounded cross which found Scott at the back post but his first time effort sprayed wide.
Mark Fairbrother almost created a sensational goal when he chased down an aerial through ball, chipped his defender with his first touch and volleyed to force a save from Albanese.
Gatpan had a late chance after Moe played on quickly from a free kick in the centre of the park but his effort was wide, leaving scores 1-1 at full-time.
Seniors
EGUFC (3) lt Traralgon Olympians (5)
Churchill United (2) d Morwell Pegasus (0)
Falcons 2000 (3) drew Sale United (3)
Moe United (1) drew NYUSC (1)
Trafalgar Victory (1) lt Fortuna '60 (6)
Tyers Lightning (0) lt Monash Wolves (3)
Traralgon City – BYE

Reserves
Churchill United (6) d Morwell Pegasus (1)

Falcons 2000 (3) d Sale United (1)
Moe United (3) d NYUSC (2)
Trafalgar Victory (0) lt Fortuna '60 (1)
Tyers Lightning (0) lt Monash Wolves (6)
Traralgon Olympians – BYE

Women

EGUFC (1) lt Traralgon Olympians (0)

Churchill United (1) lt Morwell Pegasus (20)
Falcons 2000 (6) d Sale United (0)
Moe United (0) lt NYUSC (1)
Trafalgar Victory (0) lt Fortuna '60 (3)
Tyers Lightning (1) d Monash Wolves (0)
Traralgon City – BYE

2nd Division

Churchill United (4) d Monash Wolves (3)

Traralgon Olympians (4) d Traralgon City (0)
Moe United & Sale United – BYE