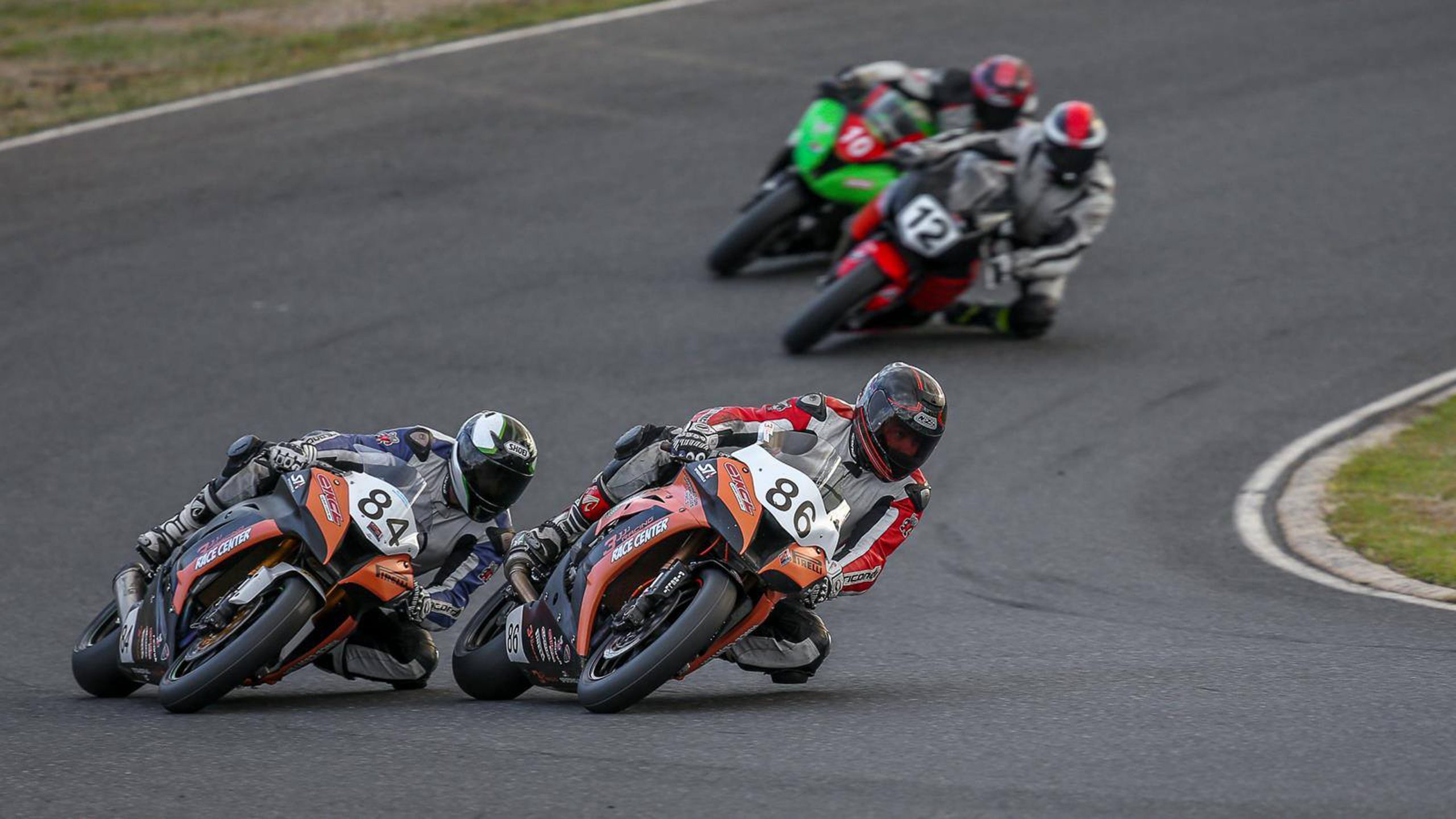 SIBLING rivalry was alive and well at the Victorian Road Racing Championships at the weekend as Moe brothers Nathan and Tyson Jones duked it out over two days of motorcycling mayhem.

Nathan went one better than his brother in round one at the State Motorcycle Sports Complex at Broadford, winning two of three races in the coveted Superbike class.
The 31 year-old flew around Broadford's road race circuit, clocking an impressive 57.122 in race two to clinch the overall win for the opening round.
"Not being here for a while, we started off a bit slow in qualifying but we worked at it," Nathan said.
"With the new tyre rule – you're only allowed four tyres – I went with the option of using second hand tyres in both qualifying sessions where I qualified third. It all went to plan. I won the first race, and had good racing between (myself and) Tyson all weekend."
Tyson won the second race by .025 over Nathan in a day dominated by the Jones boys.
Nathan now has a five-point lead over his brother and is 16 points ahead of third place getter Dean Archbold from Tyers.
The points leader said he was looking forward to round two at Phillip Island on 27-28 August, and would likely compete in the third round of the Hartwell Motorcycle Club Championships at the same venue in May.
"I was lacking a bit of pace in qualifying but I didn't stress out because I know that now it's a long championship. If I can be competitive in every race and finish every race I think it'll be a pretty close finish," Nathan said.
Tyson said he was very happy to get away with a win and two seconds considering his slow start to the weekend.
"On Friday we were pretty rusty (in practice). It took a long time to get anywhere near the times that we were doing," he said.
"Even Saturday was a struggle, all weekend really; I still wasn't feeling all that comfortable but I'm very happy to come away with a win and a couple of seconds.
"To be only five points down after how I've been feeling it's very positive so we'll see how we go for the rest of the competition. Nathan and I had a couple of good races."
Tyson will now look to the Harvey Wiltshire Memorial Trophy Race, one of the oldest road races in Australia.
"Some big names are on the trophy. I managed to get my name on the trophy a few years ago, and have come second to Jed Metcher and Chas Hern in the past two years," he said.
"Hopefully I can get back up there again this year."
Round 2 of the series takes place at the Phillip Island Grand Prix Circuit on 27-28 August.
For more information visit www.vrrc.com.au