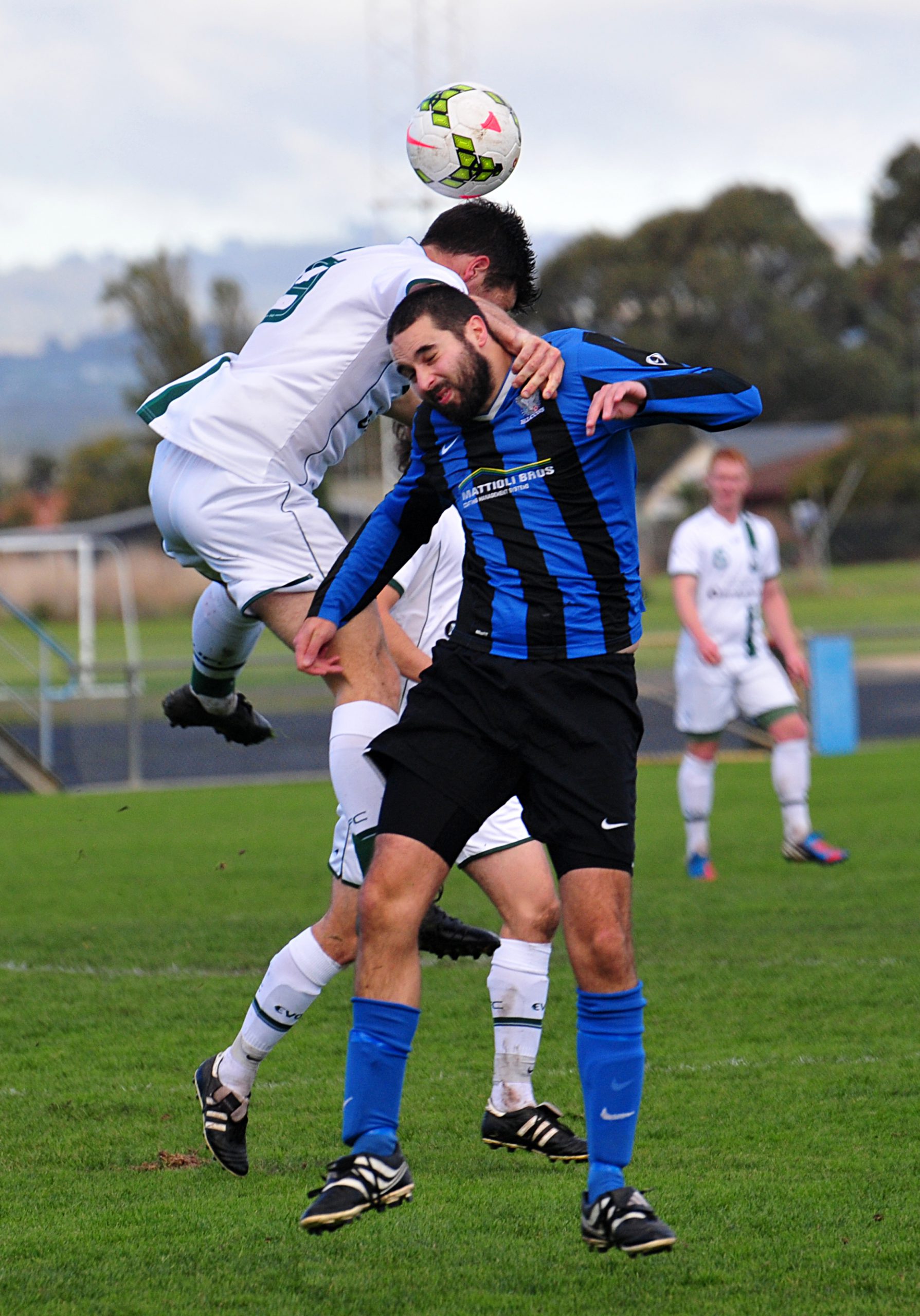 THERE was no love lost between Latrobe Valley Soccer League titans Falcons 2000 and Sale United last season and the trend continued in a classic 3-3 draw at Latrobe City Sports Stadium on Sunday.
The Birds were made to pay for defensive lapses as the Swans took full advantage of limited opportunities in front of goal to snatch a valuable point on the road.
After making his senior return against Pegasus, following several years sidelined with a knee injury, Julian Baccega sent the home side ahead 1-0 on the half hour mark as Falcons dictated the pace.
An Adam Buchanan hail mary from the halfway line remarkably found the back of the net to make scores 1-1, but Jesse Kennedy restored the advantage with a goal on the stroke of half-time.
Buchanan took full toll again after the break with a superb left foot strike to snatch a brace and draw level 2-2.
Kennedy matched the feat at the other end with his second from a goal mouth scramble with about 20 minutes to play, but the drama continued when Sale nabbed a back post header to equalise 3-3.
It was end-to-end for the final throes as both outfits threw caution to the wind but neither could find a winner.
Falcons coach Nick D'Alessandro, who returned to the line-up after serving a week suspension for a second yellow send-off, said it was a frustrating result at home.
"It was pretty frustrating from our point of view… we didn't play badly we just didn't take our chances and normally you'd think three goals is enough to win a game," he said.
"Every time we got ahead we let ourselves down and copped one to let them even it up."
A tough start to the draw for the reigning league champion has left Falcons perched 10th after four rounds with one in each column – wins, draws, losses and byes.
With another tough assignment against Fortuna this weekend D'Alessandro said the heat was on.
"We sort of expected it was going to be difficult at the start of the year – last year we had the harder run coming home – but it's no excuse for dropping points at home we were expected to take," he said.
"Frustratingly enough Churchill and Sale were probably games we played better than against Pegasus, just didn't manage to kill off the contest.
"Results wise we're certainly in a bit of a rut but I don't think the way we've been playing has really been reflective in the results at this stage."
After dropping points to Fortuna in a draw that almost proved disastrous last season Falcons will be wary of the Lions, who have roared in the early part of the fixture.
"I don't know why everyone had written them off; they've still got some quality attacking options so for us it's business as usual playing against them," D'Alessandro said.
"We certainly haven't taken them lightly the last couple of seasons and that will be the case again this weekend."
Monash claimed the three points away to Tyers with a late second half blitz.
The visitors controlled much of the possession in the first half but Tyers held firm at the back with Steve Ward largely untested in goal and it remained scoreless at the break.
It took the introduction of Monash coach Andres Nilo for the Wolves to kick into gear.
Ty Christy continued his goal scoring form with his fourth in succession when he ghosted around Ward to slot home.
Shawn Lawrence then doubled the lead, ghosting in at the back post to volley home unchallenged.
Leon Cook produced a smart stop to thwart Tyers before Braden Paulet sealed the 3-0 win, breaking free down the right before cutting in and firing into the top of the net.
Seniors
EGUFC (3) lt Traralgon Olympians (5)
Churchill United (2) def Morwell Pegasus (0)
Falcons 2000 (3) drew Sale United (3)
Moe United (1) drew NYUSC (1)
Trafalgar Victory (1) lt Fortuna '60 (6)
Tyers Lightning (0) lt Monash Wolves (3)
Traralgon City – BYE
Reserves
Churchill United (6) def Morwell Pegasus (1)
Falcons 2000 (3) def Sale United (1)
Moe United (3) def NYUSC (2)
Trafalgar Victory (0) lt Fortuna '60 (1)
Tyers Lightning (0) lt Monash Wolves (6)
Traralgon Olympians and Traralgon City – BYE
Women
EGUFC (1) d Traralgon Olympians (0)
Churchill United (1) lt Morwell Pegasus (20)
Falcons 2000 (6) def Sale United (0)
Moe United (0) lt NYUSC (1)
Trafalgar Victory (0) lt Fortuna '60 (3)
Tyers Lightning (1) def Monash Wolves (0)
Traralgon City – BYE
2nd Division
Churchill United (4) def Monash Wolves (3)
Traralgon Olympians (4) def Traralgon City (0)
Moe United and Sale United – BYE