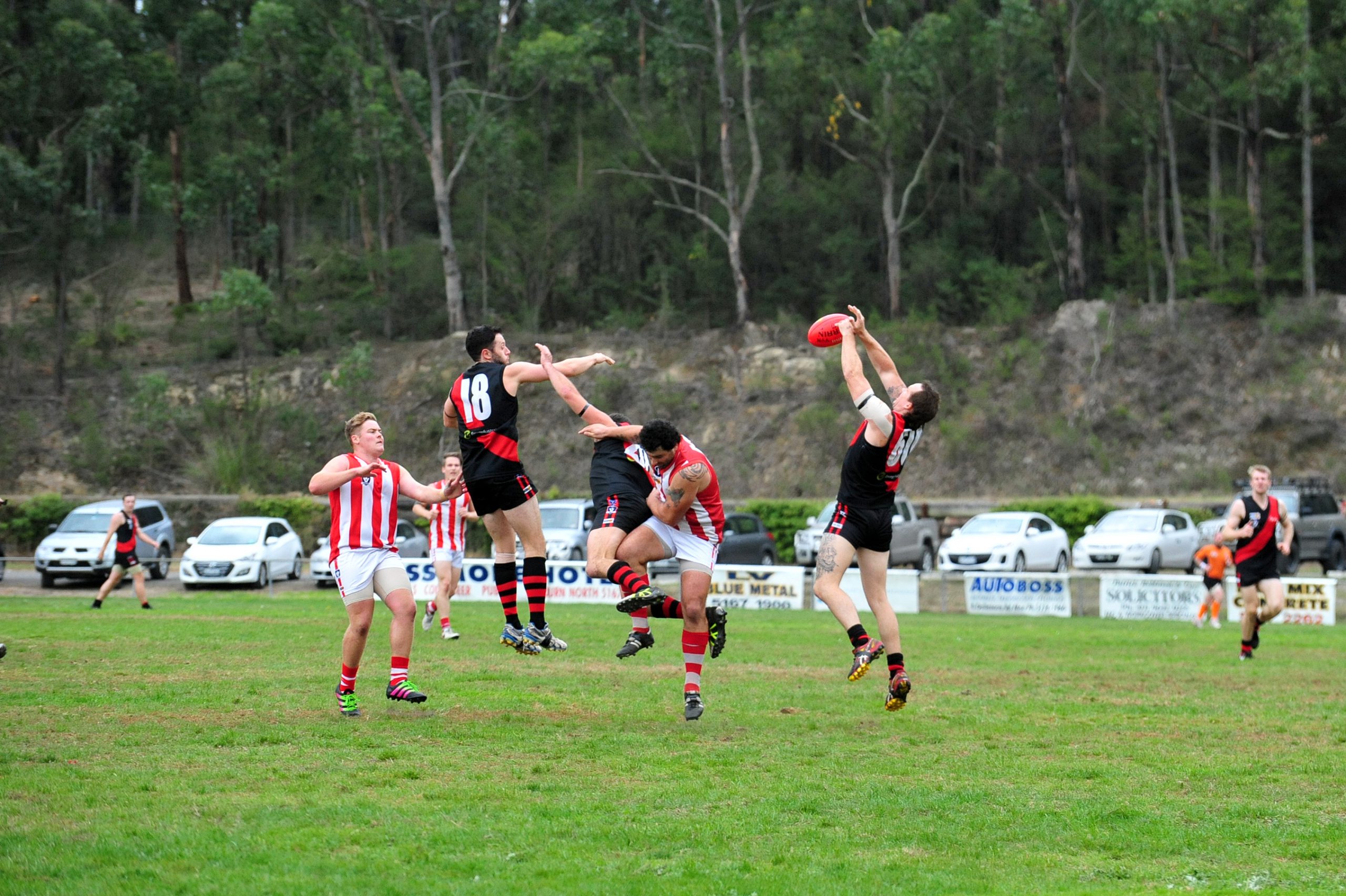 In the battle of the titans Yinnar lasted the longest to win by three points in a tense struggle against Newborough to headline round two of the Mid Gippsland Football League.

Newborough was behind the eight-ball all day with early inaccuracy at goals resulting in four behinds before Yinnar woke up.
The Magpies replied after eight minutes with a goal from Damien Yates.
Jamie Winters was playing hard for Yinnar and a free from the pocket increased his side's lead by an extra six points.
The game wasn't always skilful but it was fast and furious as both teams strived for scores in the windy conditions.
Yinnar's Nick Linton was good on his wing but it was newcomer to the league Matt Slattery (Newborough) who was in the thick of the action.
A further two goals from Yinnar by quarter-time saw the Maggies go in with a lead of 4.0 (24) to 0.5 (5).
Newborough came out of the blocks early in the second with a goal inside a minute by James Todd, but his good work was undone when the Dogs' defence broke down allowing Yinnar to come back with two more goals.
Play was fairly even but Yinnar held the edge by half-time; both teams had eight shots at goal with Yinnar's 6.2 (38) up on Newborough's 3.5 (23).
Newborough was winning in the ruck with Chris Hancock and Slattery, but it was Yinnar getting the clearances from the centre with clever play from their crumb-gatherers.
Winters was doing the heavy work in the 50 metre arc but defenders Jaime Aitken and Paul Roberts were under notice, keeping Newborough from scoring.
By three-quarter-time Yinnar clung to a 23-point lead.
Kicking with the wind in the last term Yinnar had the advantage which was extended by another six points when Kane Grinstead-Jones goaled.
Newborough started to exert pressure and with five minutes to go the difference was only 15 points.
A melee formed after a Newborough player was upended which sparked new life into the Dogs; two quick goals put the Bulldogs within three points but the siren ended the challenge.
Yinnar hung on for victory 9.8 (62) to 8.11 (59).
Magpies coach Sam McCulloch led his team well with help from Liam Maynard, Aitken and Bernard McLeod.
Newborough was best served by Evan Price, Joel Mitchell and Hancock.
Yallourn-Yallourn North handed out a thrashing to Trafalgar in a one-sided event.
The crisp new Alex McGregor Memorial scoreboard showed a massive 175 point win to the Bombers – a record score for YYN over Trafalgar, which beat the previous best of 54 points set back in 1988.
The Bombers also recorded their biggest score against Trafalgar beating their 23.14 (152) set in 1969.
A 7.7 (49) first term by YYN was a dire prediction to what an understrength Trafalgar side was in for.
The Bloods had no answer to YYN's running game and couldn't make any headway.
YYN ran in numbers and the defence was tight, making Trafalgar earn every kick.
If Trafalgar thought the first quarter was bad the second was worse; the Bombers had virtual free rein and piled on 11.4 (70) to nil to go to a half-time rest leading by 113 points.
YYN released the pressure in the third but could have scored at greater intensity as many potshots went wide of the mark.
A scoreless last term by Trafalgar showed its misery as the Bombers scored another 7.4 (46) to run out 29.22 (196) to 3.3 (21) winners.
It was a free-for-all with 12 goal kickers for the Bombers.
Tom Hutton and Barry Brooks booted five each.
MORWELL East recorded its first win of the season by seven points over Thorpdale in the Blues' second close encounter in as many weeks.
It was a locked in battle between two re-building teams and there was little between them up to half-time when scores were level in a low scoring event.
Morwell East got out of the hole and belted through seven goals to three in a good third term, with Shaun Barnes in the thick of the scoring.
Matthew Cunningham, picked at full back, put in a top game for the East and Paul Henry showed he hadn't lost any of his skills in his first game back.
Jarrod Lont also picked up many kicks for the East in a good display.
Sitting pretty at three-quarter-time Morwell East fell into sleep mode as Thorpdale came back in the last term to get within seven points.
The charge home was led by newcomer Rory Gilliatte from the centre and coach Nick Brown leading by example but Morwell East hung on for a 12.12 (84) to 12.5 (77) win.
Barnes and Henry scored five each for the Hawks while for the Blues Matt Powell bagged three.
BOOLARRA put its opening round defeat behind it and recorded a 45-point win over Hill End to atone for last season's loss.
A blistering 9.4 (58) to 3.3 (21) first half set Boolarra up for a big win.
It was a surprise to see Matt Coutts lining up against his former club, Hill End, and although not among the best, he did kick three goals for the Demons, the most for the side.
Hill End held its ground in the second half and was competitive, although the scoreboard didn't reflect its efforts, but the lack of a big man up forward was its downfall.
Boolarra won 12.10 (82) to Hill End 5.7 (37).
MIRBOO North jumped to the top of the ladder after an impressive 137-point win over Yarragon.
The Tigers took control in the first term with 11 scoring shots to two, amassing a poor score of 4.7 (31) for their efforts.
It wasn't much better in the second as they sprayed their shots in the windy conditions.
Yarragon came down to earth with a thud after a big win in the opening round and was taught a big lesson by the rampaging Tigers.
A nine goal third term and a seven goal last term stitched Yarragon up as the Tigers went on to win 23.25 (163) to 4.2 (26).
Mirboo North shared its goals around with 14 players on the scoresheet, the best being Zack Kilgower with five.
Damian Mann scored three for Yarragon.