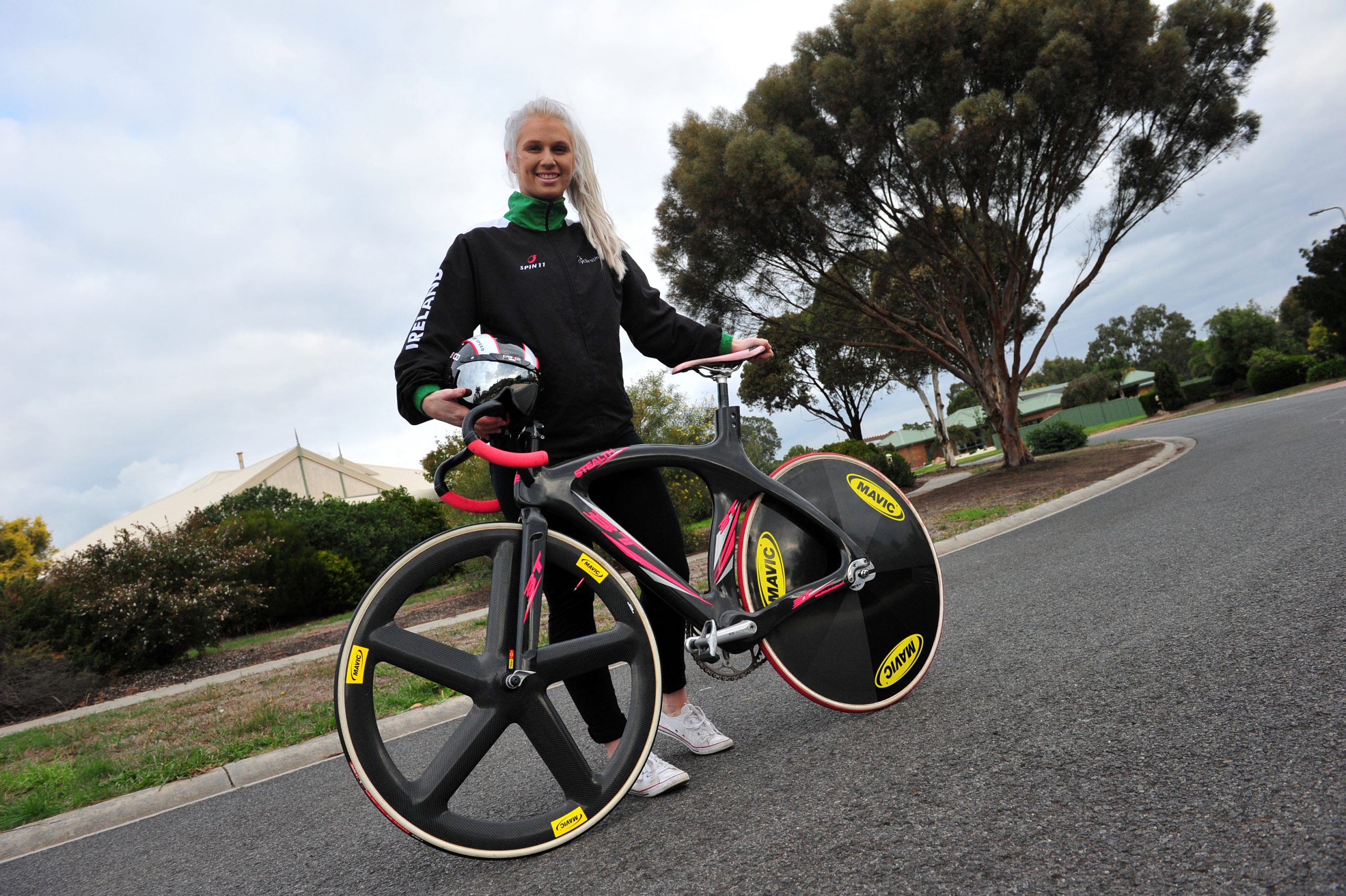 WHEN Shannon McCurley was hit by a car on a training ride earlier this year it could have been disastrous for more than just her Olympic dream.

Thrown from her bike, helmet shattered, the 24 year-old was knocked unconscious and left for dead in a hit-and-run.
Her reaction was typical of the battler spirit which has taken her all the way to the Rio de Janeiro games.
She came to, gritted her teeth and rode through the pain barrier.
"I was out for a training ride and just got cleaned up square from behind and pretty much just got left there; I went straight over, hit my head and was out for a little bit," McCurley said.
"When I came to there was no-one there and nothing around, so I had no information or anything, and I rode home in pain.
"I knew my body was alright, it was just the horrible thumping in my head. I didn't even want to go to hospital but dad made me."
Luckily she just had concussion – no broken bones – and was able to return to the bike within a week in pursuit of Olympic qualifying points at the New Zealand world cup.
It wasn't the first time she's sucked it up in the saddle either.
She competed with stitches still in at the world championships during qualification, fresh from an appendectomy after a misdiagnosed condition kept her in agony for weeks.
She rides with a permanent 'pop in her pedal stroke' after one of her quadriceps was punctured by her bike's handlebars in a crash while racing in Perth aged 15, an injury which will never fully heal. All the pain was vindicated this year when McCurley qualified for the Rio Olympics in the Keirin where she will ride for her parents' home country of Ireland.
There she will become the nation's first Olympic female track cyclist and will ride proudly for the country which offered support when Australia would not.
McCurley will contest the Keirin, a bizarre motor-paced sprint spectacle in which rider follow a moped before racing to the finish.
Harbouring hopes of making the Tokyo Olympics in 2020, McCurley's ambitions were realised sooner than expected after two long years chasing an improbable berth in Rio.
"I was a bit over-emotional with it, because I didn't expect to make these ones – Tokyo was always my goal," she said.
"Everyone's been really supportive and a bit excited. I think once I get over there and away from everyone it'll be 'alright, it's go time' even though my training's really stepped up now."
Given the injuries she's endured since stepping into cycling, there's a touch of irony about her entry into the sport in her early teens.
A promising track and field athlete at state and national level, with record-breaking feats in the 1500 metres, McCurley suffered a knee injury playing netball aged 12 and first jumped on the bike for rehabilitation.
"I got into cycling for rehab then did a few triathlons. I realised I'd never be a swimmer… I used to clean everyone up when it got to the bike and the run," she said.
"I realised I was handy on a bike so for a little while I did both athletics and cycling then just completely made the crossover."
She enjoyed immediate success and finished fourth in her maiden national competition after three months of training, a level at which she hovered around fifth on the running track.
On the bike McCurley did it all in the early days.
She began with road cycling, time trials, road racing and criteriums, the latter of which she dominated, winning the under 17 Australian championship and beating the national senior criterium champion in the same year.
Track was the next frontier as McCurley decided she was best suited to bunch events, such as scratch and point races – the longer, endurance type disciplines.
She specialised in those for years and at the 2011 Australian elite nationals finished second behind Olympic bronze medallist Annette Edmondson.
At the under 23 European championships she reached the podium with a bronze in scratch behind Laura Trott, who has twin Olympic golds to her name from London 2012.
Despite her success at endurance races, McCurley gave them away in early 2014 to start from scratch in an event which could take her to the pinnacle of competitive sport.
"Making the crossover to sprinting at the start of Olympic qualifying was a pretty hard jump but I've never looked back," McCurley said.
"We could have stuck with scratch races and focused on world championships but it's not an Olympic event, and I'm a good chance of medalling or taking out a world title in the scratch race if I'm training properly, but the ultimate dream is the Olympics so we had to go down an Olympic pathway."
It was a move akin to a marathon runner trying his luck in the 100m sprint, and as expected it was a struggle at the outset.
"It takes a bit to adapt, the sprinting is a helluva lot different to the endurance stuff I was doing," she said.
"At the start I just didn't have the explosive power the other girls had, where definitely I was coming into form right before I got sick."
But adapt she did.
With the help of Melbourne-based Malaysian national coach John Beasley, gym-work at Sky Fitness and crossfit at Next Level, McCurley set about bulking up to find that extra yard of speed.
As her international journey – which took her from Australia to Germany, Ireland, Italy, Malaysia, Poland and beyond – progressed, so too did her pedal power.
She finished 13th at the 2015 London world cup and achieved the same result this year in New Zealand.
Eventually she tallied enough points to sneak into the Keirin at Rio, where she hopes to make her mark.
"Basically I'm looking for a top 12, semi-finals, and once you get through to semis anything can happen from there," she said.
"The athletes will be the same (as those I normally compete with) but I think it will be the vibe and scale of the Olympics (that will be the big difference)."
Training hard in preparation, McCurley will head to Portugal for a final camp in June before the games begin in August.
While she's copped some punishment along the way, she's not a glutton for it; McCurley now does her recovery rides from the comfort of home with an exercise bike and a movie for company.