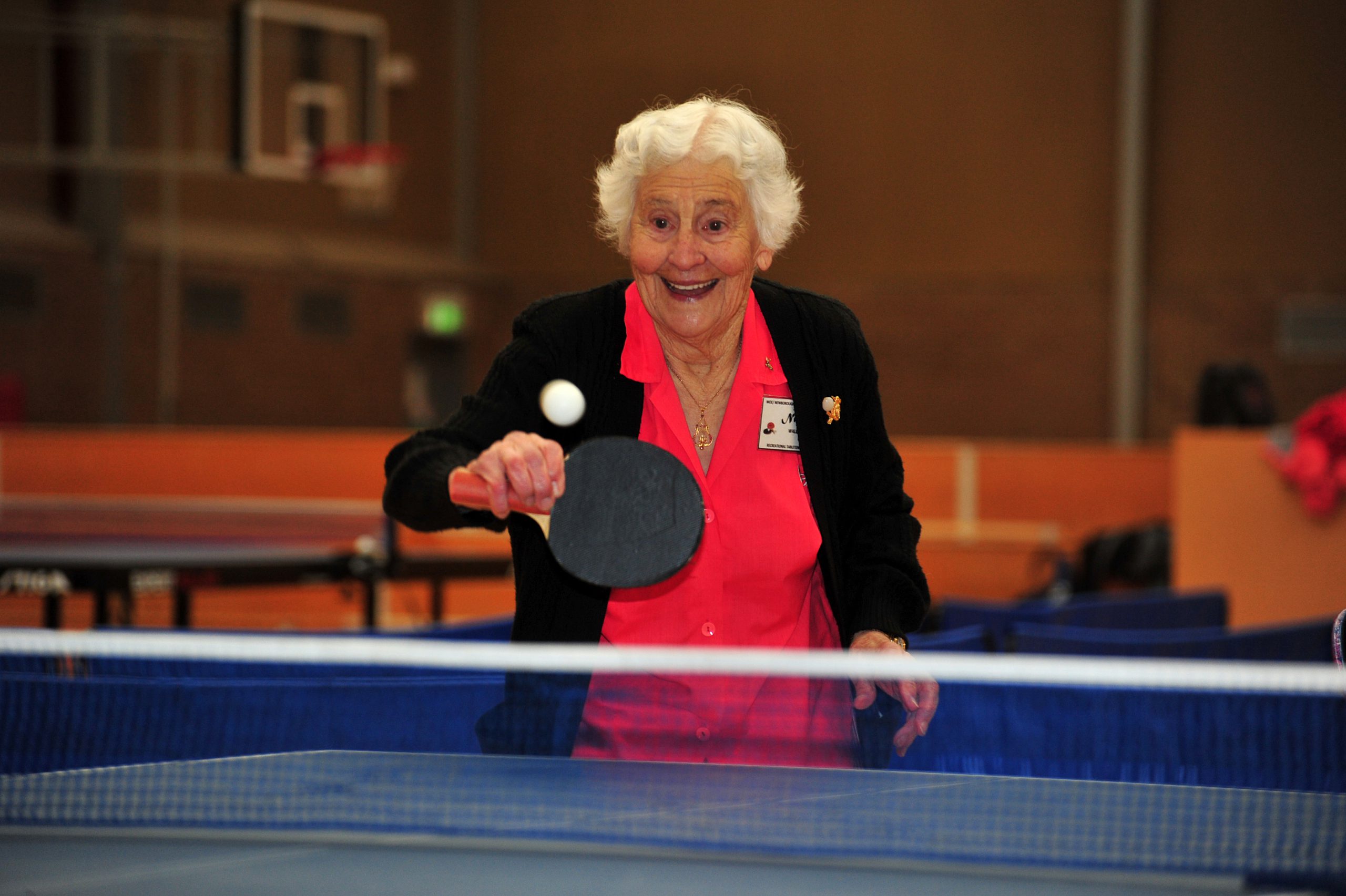 PING PONG
By SAM DARROCH
THE rhythmic rattle of plastic balls bouncing off tables echoes through the room for an hour, then is replaced by a chorus of happy birthday.
Annie 'Nancy' Wallace swaps her ping pong paddle for a piece of cake and joins the celebrations in honour of her 95th birthday.
"I love you all," she proclaims to the crowd – a group of friends cum family every Monday morning.
The avid 'Keenager' has played table tennis at Latrobe Leisure Moe Newborough for the past 10 years and is showing no signs of rust on or off the blue hard-top.
She still drives her car to play each week and is just as apt on the drive with her racquet.
A regular member of the over 55s ping pong program, which has run in Moe since the early 2000s, Nancy loves the game and the company in equal measure.
"They all make me so welcome for an old lady," she explains between hugs and offers of cake from adoring fellow members.
Nancy's relationship with the game stems back about 80 years.
Her father, who first dubbed her 'his little early Nancy' – which stuck over Annie, bought a billiards table which doubled as a ping pong surface when flipped over.
She and her siblings made a net for it and "us four nips" learned to play.
Nancy moved in and out of Gippsland in her youth, returning to Korumburra from the Goulburn Valley when she was 14 after her father bought a farm in the area.
Eventually she married a farmer from Korumburra and had four children after he came back from five years at war.
When she became a mother she returned to ping pong in her 30s while the kids were at school and dusted off her dormant talent to win a singles tournament in Wonthaggi.
Nancy was a member of the Warragul table tennis club before moving to Yarragon, then eventually Moe/Newborough where she was brought along to a Keenagers session by a friend.
"I have played table tennis on and off all my life," Nancy said.
"A lady brought me out and I've been coming for the last 10 years from the village where I live."
Now she's one of about 80 members who go along for a social hit and good company on Monday and Thursday mornings.
Keenagers Moe/Newborough president Ken Findlay said Nancy was popular among the fraternity.
"Nancy is a very loveable lady, she is always happy to greet everybody, gives everyone a cuddle; she's just a down to earth Aussie, a really nice lady," he said.
"She can play; she still gets some good shots in at 95 believe me."
With regular attendance hitting 40-60 players, Findlay said the community vibe was the key to the program's popularity.
"It's a very good social side of it. A lot of people would still be in their homes if it wasn't for Keenagers," Findlay said.
"They've made a lot of new friends and it's just a happy place to be."
Keenagers has branches in Trafalgar, Drouin, Warragul, Traralgon and Bairnsdale.
Moe/Newborough has a 9.30am start on Monday and Thursday mornings and is open to everyone with a free trial for new players.
Cost is $3 entry, which includes coffee and snacks, and membership is $10 a year.
Judging by the smiles in the room, this form of ping pong is a blast.