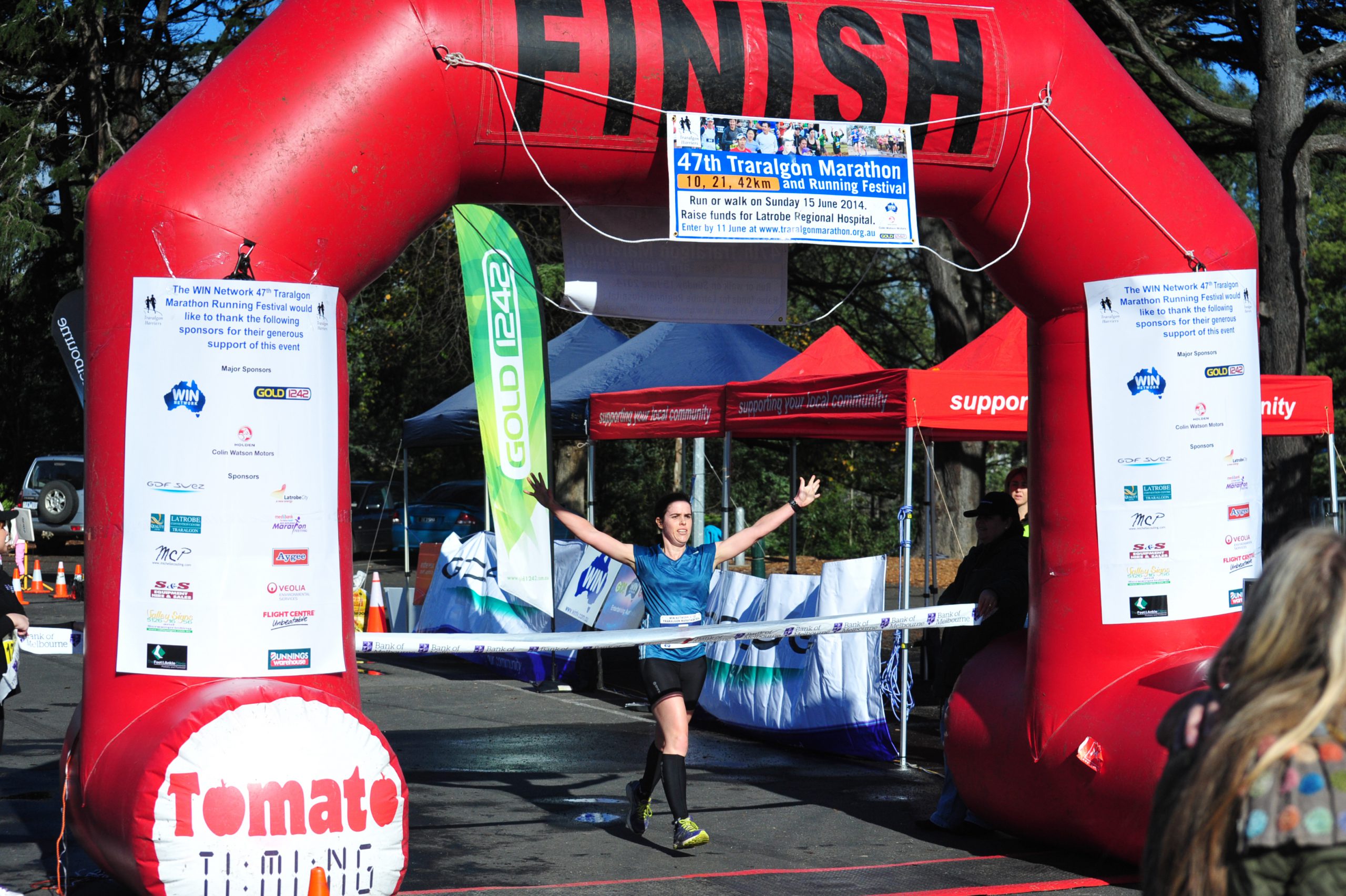 A TRARALGON Marathon hat-trick could be in the cards for Katherine McMillan this year, but there's an ace in play that could trump the dual-champion.

Winner of the 2012 and 2013 women's marathon Athene Chariot is set to return for this year's run after a two-year hiatus, and McMillan has been first female across the line in her absence.
The pair of twin winners will duke it out along the Gippsland Plains Rail Trail with each chasing a third consecutive personal title on the new-look marathon course.
For King Lake resident McMillan, who finished with remarkably consistent times of three hours, seven minutes and seven seconds last year, preceded by a 3.07.08 in 2014, it will take plenty of horsepower to keep up with Chariot.
The Wollongong runner stormed home in 3.04.48 in 2012 and 3.15.43 in 2013 before her break.
With Chariot in the field, McMillan said a third title might be just out of reach.
"It'd always be nice (to win again) but I run the course and the distance and I win if there's no-one faster that enters on the day and I don't if there is someone faster," McMillan said.
"So I'm always happy to just run a time I'm happy with; there are definitely people who can run faster than me… and Athene is one – I think she will pip me this year."
An ultra-marathon specialist, McMillan said Traralgon – and marathons in general – were more about training and preparation than victories.
Coming off a 12th place finish in the women's category at the Ultra Trail Australia ultra marathon – one of the biggest 100 kilometre events in the country – earlier this month, McMillan will focus on her time over placement in Traralgon.
"I'll be doing my own thing. I focus more on longer distance… my next goal race is a 100 mile race in July so I'm using the Traralgon Marathon as a bit of a build up for that," she said.
"I consider myself an ultra-marathoner who runs marathons as preparation."
McMillan began her marathon career at the 2007 Melbourne Marathon and has been competing in distance running ever since.
She said the decision to focus on long distances was a no-brainer.
"I'm too slow for the short distance, I take the tortoise approach to races – just one speed but keep going as long as I can," she said.
With two marathons and a half-marathon in Traralgon under her belt, McMillan said she kept coming back for more than just her fitness fix.
"It's the atmosphere to be honest; it's such a friendly run. From the home cooked food afterwards to knowing a lot of familiar faces and the volunteers being so friendly, it's just a great atmosphere," she said.
"I love the food at Traralgon, sometimes I think I'm silly entering the marathon because if I entered the half I'd be back sooner.
"The home cooked soups and slices at the end are brilliant, it definitely encourages you to run faster."
McMillan is also looking forward to the new course, which will get runners along the rail trail and away from traffic.
"I'm really looking forward to it, I guess one of the concerns with the old course was the proximity to traffic and I believe the new course is totally away from traffic but still keeping the traditional out and back, so you get to see everyone in the field which just adds to the fun," she said.
"It's a good time of year. The cool weather always helps with a fast time and you're never going to get a hot day in Traralgon in June."
The Traralgon Marathon and Running Festival will be held on Sunday, 5 June.
When: Sunday, 5 June 2016
Where: Starting from Traralgon Recreation Reserve and Showgrounds (Whitakers Road)
Course: This year's new course utilises the Gippsland Plains Rail Trail
Events: Marathon, Half Marathon, 10km and Kids' race