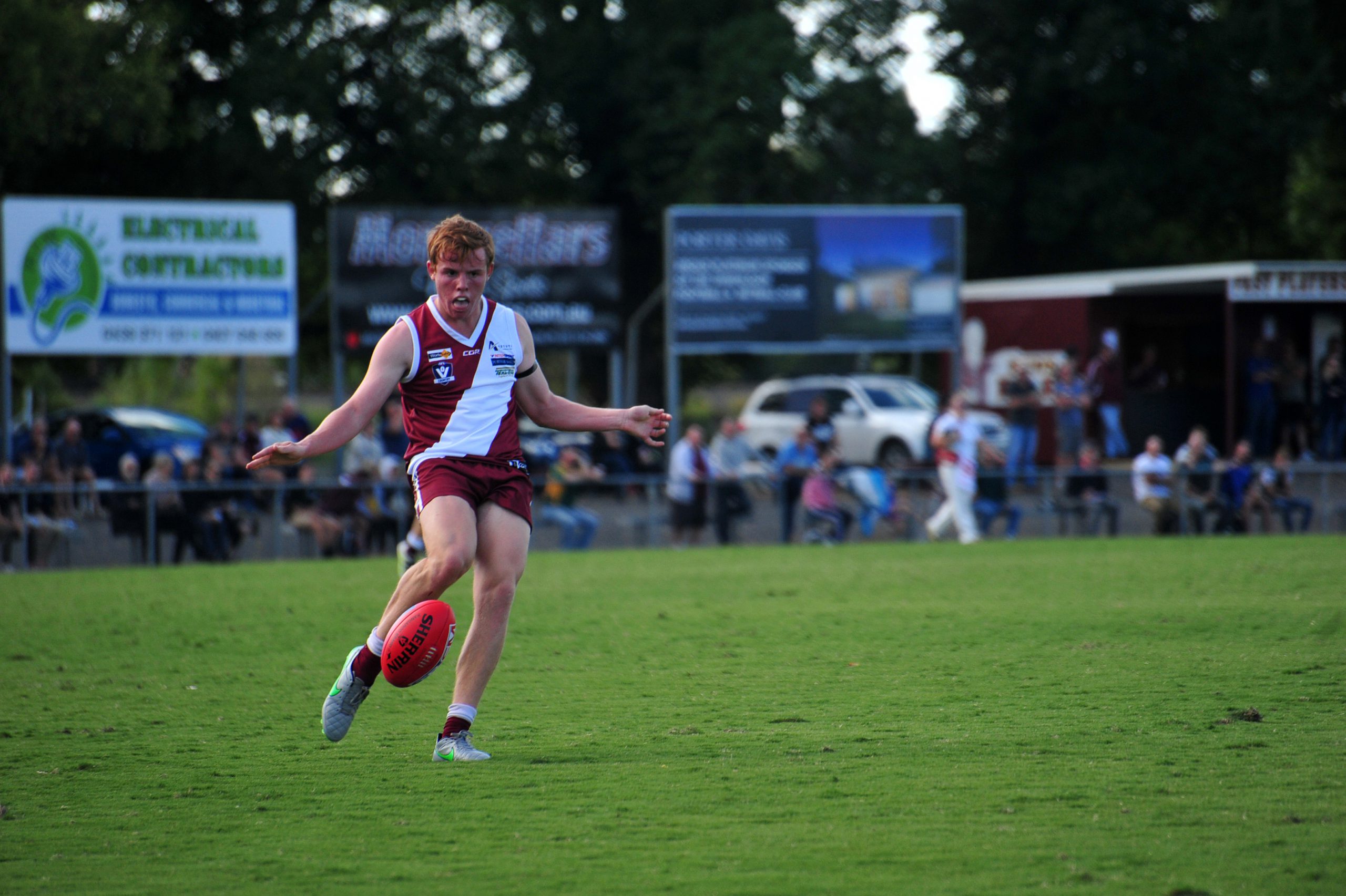 THIS time last season Warragul was dead last on the Gippsland League ladder and without a single victory.

After seven rounds the year prior, the Gulls were ninth with just one win.
It is a new chapter at Western Park in 2016 as Warragul enters round eight in fourth, with a realistic chance of toppling Traralgon to join the reigning premier on 20 competition points.
Coach Steven Kidd said the improvement came down to a number of factors, including personnel and, above all, attitude.
"We've got a couple of quality players into the lineup in Matt Rennie, Nate Paredes and Brayden Fowler, which has certainly helped a lot," Kidd said.
"We had a lot of under 18s in the side last year and, despite being on the wrong side of the scoreline a lot, they all stuck around and stayed positive, got to training and had a good pre-season, so there's been a lot of improvement in that area as well.
"Throughout the whole club the feeling is good and we think we can build the whole club with a bit of success in the senior group.
"Everyone's getting excited about what the future holds, there's a bit of resolve amongst the group to try and stay together and see what we can do."
A bit of buzz about the Gulls has bolstered troops on and off the ground.
Casey VFL players Tom Muir and Cody Wilson were on deck at the weekend and the off-field troops are pulling their weight.
"These sort of guys are keen to play with us now; guys in the district and region are looking at us with a bit more enthusiasm," Kidd said.
"It's great to see people like that (involved) and their families came down to the ground and enjoyed it.
"There's a lot more helpers around the club now, the president's finding it a lot easier… so there's a lot of things going right."
This weekend's match against Traralgon presents a big test to the most marked improver in the competition.
Warragul has lost its past 13 encounters with the Maroons by margins of 49 points or worse, dating back to 2009, but comes into Saturday's clash with its best chance at breaking the streak in recent history.
Kidd said shutting down Traralgon's agile midfield would be key.
"They're reigning premiers and a high quality side. They're a smaller side that moves the ball very fast and they're prepared to go short a lot," he said.
"We'll try and close down their space in the middle of the ground if we can and we've really been working hard on our pressure, that's been one of the big cornerstones of our improvement. We'll be focusing on those two areas this week."
Muir and Wilson will return to Casey this weekend, but the Gulls are hopeful of Leigh Sheehan being fit after missing last week with a back injury.
With another top four opponent in Maffra to follow this week's game, Kidd was gunning for an upset in the coming fortnight.
"To really push up we need to claim a big scalp and it'd be great to get one in the next two weeks against Traralgon and Maffra," he said.
"We're really setting ourselves to hopefully try and get one of those two or at least be very competitive."
The last time these teams met, Moe broke a six-game losing sequence it had endured against Bairnsdale dating back to late-2012.
It could, and perhaps it should, have beaten Bairnsdale on the road earlier in the season when it led by 17 points at the 20-minute mark of the final quarter, only to concede the last four goals of the match.
With both teams rebounding from losses last week, it will be fast-paced action from start to finish.
Maffra won its first match on Power turf since 2010 last year and will be out to repeat the dose on Saturday.
Wonthaggi knocked over Drouin at the weekend while Maffra defeated premier Traralgon, leaving both sides full of confidence.
Every week is becoming critical to Wonthaggi's chances of playing finals football and the Power will be extra keen to protect its fortress.
The last time Drouin played against Sale it lost, but managed to set a record in the process.
The Hawks recorded the most accurate score by any team in Gippsland League history with more than 10 goals in a match by booting 12.1 (73).
No team had ever kicked more than 10 goals for every behind.
That said, Hawks' supporters would have likely preferred an inaccurate victory.
Sale has won all encounters with Drouin over the past four years, however the 24-point margin in that round 18 game was the closest the Hawks have come in their eight most recent games.
Both teams are having seasons well below their pre-season expectations, and Saturday provides them with the chance of some much needed success.
MORWELL posted its first win of the season at the weekend but will have a tough time going back-to-back against the competition's in-form side, Leongatha.
Last year was the first time since 2009 that Leongatha had beaten Morwell in both home and away games, by 39 and 40 points respectively, and the streak should continue on Saturday.
Bairnsdale v Moe
(1960 – 1998, 2011 -15)
All matches: Played 90 Bairnsdale 51, Moe 38, drawn 1
At Bairnsdale: Played 44 Bairnsdale 27, Moe 17
Last 10 matches: Bairnsdale 8, Moe 2
Last win at Bairnsdale: Bairnsdale 2015, Moe 1998
Last three matches
2014 (B) Bairnsdale 13.11 (89) d Moe 13.9 (87)
2015 (B) Bairnsdale 17.10 (112) d Moe 16.10 (106)
2015 (M) Moe 9.9 (63) d Bairnsdale 7.11 (53)
Present winning sequence: Moe 1
Highest scores: Bairnsdale 36.13 (229) (1997), Moe 29.22 (196) (1994)
Lowest scores: Bairnsdale 3.1 (19) (1995), Moe 3.3 (21) (1997)
Greatest winning margin: Bairnsdale 208 (1997), Moe 162 (1998)
Most goals (match): Bairnsdale 18 B. Smith (1997): Moe 13 K. Rainsford (1994)
Warragul v Traralgon
(CGFL 1908-14, 1936-53, LVFL 1954-1999, 2005-2015)
All matches: Played 156 Warragul 51, Traralgon 101, drawn 4
At Warragul: Played 72 Warragul 27, Traralgon 43, drawn 2
Last 10 matches: Warragul 0, Traralgon 10
Last win at Warragul: Warragul 2008, Traralgon 2015
Last 5 years at Warragul: Warragul 0, Traralgon 5
Last three matches
2014 (W) Traralgon 13.24 (102) d Warragul 4.5 (29)
2015 (W) Traralgon 25.13 (163) d Warragul 4.4 (28)
2015 (T) Traralgon 25.14 (164) d Warragul 2.3 (15)
Present winning sequence: Traralgon 13
Highest scores: Warragul 24.16 (160) (1984), Traralgon 30.25 (205) (1999)
Lowest scores: Warragul 2.3 (15) (2014), Traralgon 2.5 (17) (1978)
Greatest winning margin: Warragul 96 (1950), Traralgon 182 (1999)
Most goals (match): Warragul 11 A. Noonan (1965): Traralgon 11 K. White (1970), A. Lowe (1978)
Wonthaggi v Maffra
(1995 – 2004, 2010 – 2015)
All matches: Played 44 Wonthaggi 20, Maffra 24
At Wonthaggi: Played 18 Wonthaggi 11, Maffra 7
Last 10 matches: Wonthaggi 5, Maffra 5
Last win at Wonthaggi: Wonthaggi 2014, Maffra 2015
Last 5 years at Wonthaggi: Wonthaggi 4, Maffra 1
Last three matches
2015 (M) Maffra 18.10 (118) d Wonthaggi 8.8 (56)
2015 (W) Maffra 9.9 (63) d Wonthaggi 9.6 (60)
2015 (1st Semi at Traralgon) Maffra 17.9 (111) d Wonthaggi 15.6 (96)
Present winning sequence: Maffra 3
Highest scores: Wonthaggi 20.12 (132) (2000), Maffra 29.15 (189) (2002)
Lowest scores: Wonthaggi 3.4 (22) (1998), Maffra 3.6 (24) (2001 & 2014)
Greatest winning margin: Wonthaggi 70 (2000, 2001 & 2011), Maffra 147 (2002)
Most goals (match): Wonthaggi 7 D. McCarthy (1997), D. Wheildon (1998): Maffra 9 A. Burgiel (2010)
Sale v Drouin
(1960-64, 2005-2015)
All matches: Played 30 Sale 21, Drouin 9
At Sale: Played 14 Sale 11, Drouin 3
Last 10 matches: Sale 9, Drouin 1
Last win at Sale: Sale 2015, Drouin 2011
Last 5 years at Sale: Sale 4, Drouin 1
Last three matches
2014 (S) Sale 24.25 (169) d Drouin 0.1 (1)
2015 (D) Sale 18.13 (121) d Drouin 10.10 (70)
2015 (S) Sale 14.13 (97) d Drouin 12.1 (73)
Present winning sequence: Sale 8
Highest scores: Sale 32.21 (213) (2005), Drouin 20.13 (133) (2010)
Lowest scores: Sale 7.10 (52) (2011 QF), Drouin 0.1 (1) (2014)
Greatest winning margin: Sale 183 (2005), Drouin 73 (2011 QF)
Most goals (match): Sale 10 J. Schuback (2006): Drouin 6 T. Kneebone (2010)
Leongatha v Morwell
(1934-53 (CGFL), 1969-2015)
All matches: Played 142 Leongatha 77, Morwell 65
At Leongatha: Played 63 Leongatha 40, Morwell 23
Last 10 matches: Leongatha 4, Morwell 6
Last win at Leongatha: Leongatha 2015, Morwell 2014
Last 5 years at Leongatha: Leongatha 3, Morwell 2
Last three matches
2014 (M) Morwell 14.11 (95) d Leongatha 11.13 (79)
2015 (M) Leongatha 16.13 (109) d Morwell 10.10 (70)
2015 (L) Leongatha 10.14 (74) d Morwell 5.4 (34)
Present winning sequence: Leongatha 2
Highest scores: Leongatha 28.30 (198) (2001), Morwell 26.17 (173) (2006)
Lowest scores: Leongatha 1.5 (11) (2004), Morwell 2.11 (23) (2003)
Greatest winning margin: Leongatha 157 (2001), Morwell 102 (2006)
Most goals (match): Leongatha 11 M. Cantwell (2000), P. Hudson (2003): Morwell 11 D. Webb (2006)