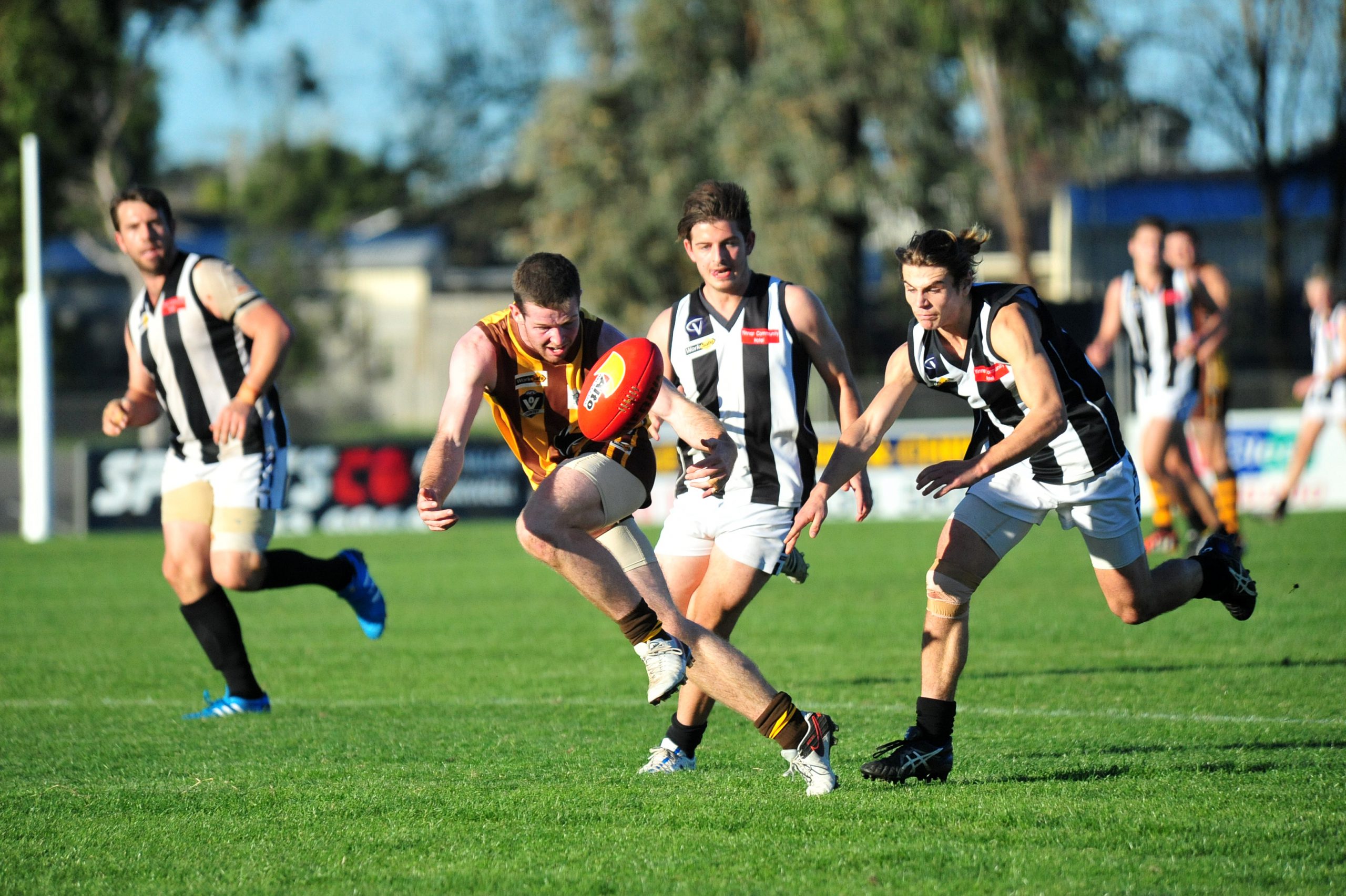 The top five teams should record wins in the eighth round of Mid Gippsland football, with the closest match expected to be between neighbours Mirboo North and Boolarra.

Played: 81 (Morwell East 41, Yarragon 40)

Last time: Morwell East 11.14 (80) d Yarragon 8.8 (64)
Morwell East and Yarragon have shared an even head-to-head contest over their 81 matches, but the Hawks' current form suggests Yarragon will have a tough time defeating them.
The East have jumped into second position after impressive wins over high profile teams in their past two matches.
With only one defeat to their name, the Hawks are showing they need to be taken seriously by the other teams.
Their form going up against Yarragon cannot be faulted and the Panthers will need to be at their top to have a realistic chance of winning.
Yarragon has played well with four wins from its opening seven matches, so it knows success can be obtained with hard work.
Morwell East on form should win, but Yarragon may provide a surprise.
Played: 146 (Yinnar 95, Hill End 50, drawn 1)
Last time: Yinnar 25.11 (161) d Hill End 6.5 (41)
Yinnar will be smarting, knowing only a fortnight ago it was sitting on top of the table but has now dropped to fifth after two unexpected losses.
However, it is all about percentage which is what the Magpies need to get back near the top.
Hill End is going through a tough stretch with no wins on the board.
The Hillmen came close last week but Trafalgar proved too good.
Yinnar slipped through for the points against Boolarra last round but could be expected to mount a percentage booster against the tailenders.
Greg Lewis Trophy
Played: 104 (Mirboo North 61, Boolarra 42, drawn 1)
Last time: Mirboo North 14.12 (96) d Boolarra 8.6 (54)
With a long injury list Mirboo North failed under pressure against Morwell East last round, but could bounce back against neighbouring rivals Boolarra.
The Tigers' drop to fourth was unexpected, but with many rounds remaining Mirboo North will find the going tough to maintain its current position.
Boolarra played better last week and although defeated there were signs a win is not too far away.
Given the right situation the Demons could prove a surprise packet against Mirboo North.
Played: 100 (Trafalgar 51, Newborough 48, drawn 1)
Last time: Newborough 13.13 (91) Trafalgar 11.3 (69)
Newborough is sitting two points clear at the top of the ladder and is being considered a 'dark horse' come finals time.
The Dogs are playing well and should continue their form at the expense of Trafalgar, which jumped up one spot on the ladder after its first win.
Newborough, with a mostly home-grown squad, is gelling together well as a team and will be a force this season.
Trafalgar's early troubles with player numbers has eased with players now returning and the Bloods' first win last week may encourage others to return.
Newborough has the form and should stay on top.
Played: 150 (YYN 84, Thorpdale 63, drawn 1)
Last time; YYN 6.9 (45) d Thorpdale 4.2 (26)
The last time Yallourn-Yallourn North and Thorpdale met, it was a slogging affair with rain and mud affecting what could have potentially been a top-notch game.
This time YYN heads into the match as favourite due to its current rating of five wins and two losses, while Thorpdale is two and five.
The Blues let themselves down last week with inaccurate kicking.
Whether Thorpdale can kick straight against the Bombers is another story, but YYN will go in as favourites.