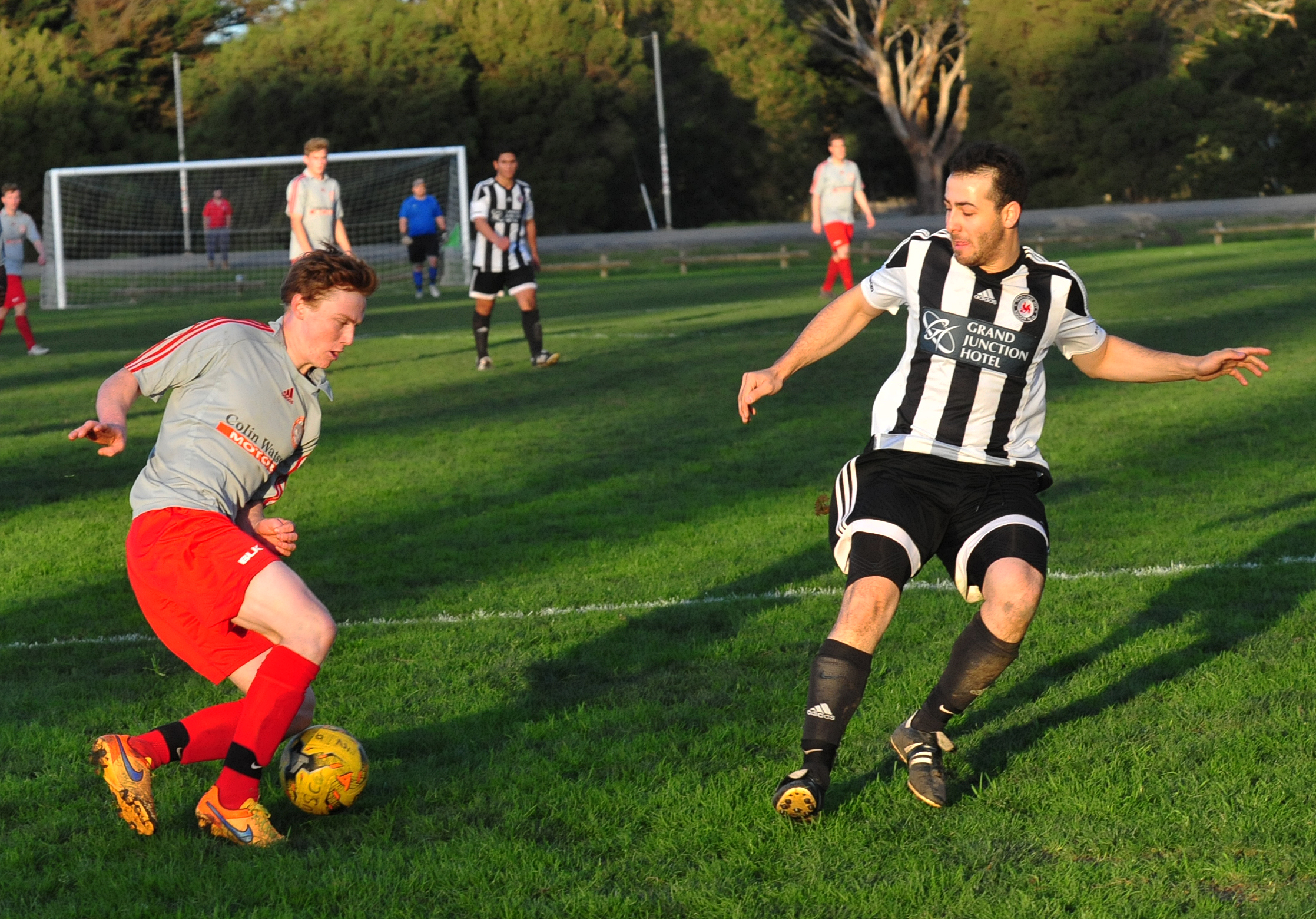 A LATE resurgence earned Churchill United a share of the points against Traralgon City in an explosive second half at Hazelwood South Reserve on Sunday.

After a scoreless first 45 minutes, Churchill went 2-0 down midway through the second half before sparking into action to draw level late in the game.
It was a bitter-sweet return to 'the paddock' for former Churchill champion cum Traralgon City coach Steve Riess, who was disappointed to blow the lead against his old club.
"I want to win every game, it's no different coming back here (to playing anyone else)," he said.
"With the way the game went we were probably a little bit lucky to be 2-0 up, didn't play the best we've played all year but credit to Churchill coming back… that's why they're a champion team but we showed character as well.
"When you're 2-0 up you don't really want to take a point, but they pushed hard at us all day and created plenty of opportunities and probably could have won the match as well.
"In the end we'll take a point… just unfortunate it seems the story of our season is we can't keep a clean sheet."
It was a back and forth affair early on as neither side managed to gain clear control.
Churchill kept the ball in their attacking half for the most part while Traralgon City played on the break which at times caused concern for the scrambling Rams' defence.
Taylor Jackson had the first half chance when he was put through on goal but he was forced wide by Max Lietzau and his cross failed to beat his marker.
At the other end a free kick in range of goal, awarded after a heavy challenge on under 16 player Anton Sbaglia, was put on target by Liam McCluskey but easily handled by Churchill custodian Ross Johnson.
While the Rams had the better of field position City was showing plenty of desire; dogged midfield duo Sbaglia and Matt Amaira lacked height but not heart and won plenty of contested ball through the corridor.
City continued to threaten on the break through the pace of Matthew Baker and touch of experienced frontman Dave O'Dowd but struggled to sneak by sweeper Paul Riess, who was nestled deep behind the backline making it difficult to penetrate.
Rams striker Ellis HayesHills was crumbing for every ball sent his way and made a half chance 30 minutes in when he sprayed a shot across the face of goal from a tight left-side angle.
City was then forced to scramble the ball off its lines twice in quick succession to keep scores level; Paul Riess latched on to a floated cross at the back post and thundered his shot into the defence, then put his header from the resultant corner into the side netting.
The Roosters almost broke the deadlock close to half-time when Alex Leckey burst through midfield and put Baker in on goal, but the last pass was too heavy and Churchill countered quickly with a long, direct clearance.
HayesHills and Ray Myers combined at the other end to earn a corner, which resulted in a goal mouth scramble until young Roosters keeper Liam Aquilina got hands on the ball to ensure no score at the half-time break.
The host came out firing in the second half with Jackson and HayesHills threatening in front of goal, while Mark Bruzzese shut down an enterprising run from Myers as the Rams pressed hard.
A set piece at the opposite end was parried away by Johnson and City was at it again soon after when O'Dowd controlled a high ball and shot just wide on the turn.
Baker looked in on goal minutes later only to have his shirt brazenly pulled back in a professional foul, which went without a sanction despite a string of yellows for less in the opening half.
Myers looked to score the opener when he got the ball to his feet from a Churchill corner, but a flying reflex save from Aquilina denied him a goal.
City finally broke the deadlock on 60 minutes when Stefan Sbaglia broke right and centred for O'Dowd to prod home the Roosters' first for the afternoon.
The visitor was lucky to keep its lead when McCluskey had his pocket picked by HayesHills in the last line of defence, but the striker pushed his shot across the face of goal.
Churchill looked to have equalised when Jackson deftly chested down a measured cross and volleyed home, only to be flagged for offside.
Closing in on 70 minutes, City had a second when a curling corner from McCluskey was redirected into the net by Stefan Sbaglia.
The second seemed to ignite Churchill's fire and it replied with a goal of its own two minutes later through Myers, who danced around his marker on the right side of the 18 yard box and centred for HayesHills who made no mistake.
City was panicking as the Rams lifted their intensity, with some wayward passing exacerbated by several scuffles off the ball.
With about 10 minutes to play City conceded a free kick on the edge of the penalty area and Paul Riess thundered the set piece into the top left corner to draw level 2-2.
Leckey looked to restore City's advantage with a cracking low drive but his strike was fended away at the near post.
The Rams continued to press and had a string of chances late in the game, the best falling to Jackson whose ranged effort was denied only by the crossbar.
Neither side could find a late winner, resulting in a deserved share of the points.
MONASH took all three points on the road to Fortuna in a high-scoring 6-3 result.
Fortuna took an early lead against the run of play when coach Luke Cheney breached a square Monash defence to lob the ball home.
The visitors took a while to get into their stride, but once they did it was an avalanche.
Returning striker Ty Christy received the ball from Ethan Lawrence to continue his streak of scoring in every appearance this season.
In the space of 10 minutes before half-time Monash went from one down to 3-1 up.
Firstly the Fortuna keeper was unable to hold Lawrence's shot and Christy was credited with the goal as he prodded it over the line.
Daniel Abela added the third when he fired home after a well worked team goal.
A half-time rev up from coach Cheney did not have the desired effect as Monash added to the tally three minutes after the break; Brendan Ruddell scored from the edge of the area after Fortuna failed to clear a Braden Paulet cross.
The Orangemen defenders were spectators as Lawrence flicked an Andres Nilo corner home for a 5-1 lead with 50 minutes gone.
The misery was compounded when a keeper slip allowed Christy to steal the ball and tap home with 30 to play.
With the game petering out Cheney added some respectability to the score with an 89th minute goal, followed by his hat-trick in the 93rd minute.
The win pushed Monash to second on the ladder.
In other results Moe trounced Pegasus 12-0 to stay top of the table, Falcons defeated Newborough Yallourn United 3-0 to jump into third on differential, Trafalgar earned a fighting 2-2 draw with Olympians and Sale United defeated East Gippsland United 9-0.
Senior men's ladder
POS TEAM PTS
1 Moe United 22
2 Monash Wolves 21
3 Falcons 2000 19
4 NYUSC 19
5 Churchill United 19
6 Fortuna '60 15
7 Olympians 14
8 Traralgon City 14
9 Sale United 11
10 Pegasus 7
11 Tyers Lightning 4
12 Trafalgar Victory 3
13 EGUFC 3
LVSL Senior Round 11 Matches
Sunday 5 June
11th Tyers Lightning v Trafalgar Victory 12th
13th EGUFC v Fortuna '60 6th
7th Traralgon Olympians v Falcons 2000 5th
1st Moe United v Sale United 9th
3rd NYUSC v Churchill United 4th
10th Morwell Pegasus v Traralgon City 8th
2nd Monash Wolves – Bye
Golden Boot
LVSL Seniors Leaders
1. Falcons 2000 Jesse Kennedy 15 Goals
2. Monash Wolves Ty Christy 12 Goals
3. Nuysc Mark Fairbrother 10 Goals
4. Fortuna '60 Luke Cheney 9 Goals
5. Nyusc Brandon Scott 8 Goals
LVSL Reserves Leader: Falcons 2000 Conor Clarke 10 Goals
LVSL Women's Leader: EGUFC Holly Mccullagh 21 Goals
LVSL 2nd Division Leader: Churchill United Ben Skinner 8 Goals
LVSL U16 Leader: Traralgon City Black Anton Sbaglia 8 Goals
LVSL U14 Leader: Sale United Green Sakhom Khamchom 18 Goals
LVSL U13 Girls Leader: Traralgon Olympians Remi Baillie 20 Goals
LVSL U12 Zone A Leader: Traralgon City White Tanatswa Betera 16 Goals
LVSL U12 Zone B Leader: Falcons 2000 Moni Eliaser 17 Goals
Round 10 results
LVSL Seniors
Sale United (9) def EGUFC (0)
Churchill United (2) drew Traralgon City (2)
Falcons 2000 (3) def NYUSC (0)
Fortuna '60 (3) def by Monash Wolves (6)
Morwell Pegasus (0) def by Moe United (12)
Trafalgar Victory (2) drew Traralgon Olympians (2)
Tyers Lightning – Bye
LVSL Reserves
Churchill United (0) def by Traralgon City (1)
Falcons 2000 (5) drew NYUSC (5)
Fortuna '60 (0) def by Monash Wolves (5)
Morwell Pegasus (1) def by Moe United (2)
Trafalgar Victory (0) def by Traralgon Olympians (7)
Sale United & Tyers Lightning – Bye
LVSL Women
Sale United (2) drew EGUFC (2)
Churchill United (0) def by Traralgon City (16)
Falcons 2000 (2) def NYUSC (1)
Fortuna '60 (0) def by Monash Wolves (2)
Morwell Pegasus (3) def by Moe United (1)
Trafalgar Victory vs. Traralgon Olympians
(women's match abandoned due to players broken leg at the 40th minute)
Tyers Lightning – Bye
LVSL 2nd Division
Churchill United (3) def Traralgon City (1)
Moe United, Sale United, Monash Wolves, Traralgon Olympians – Bye