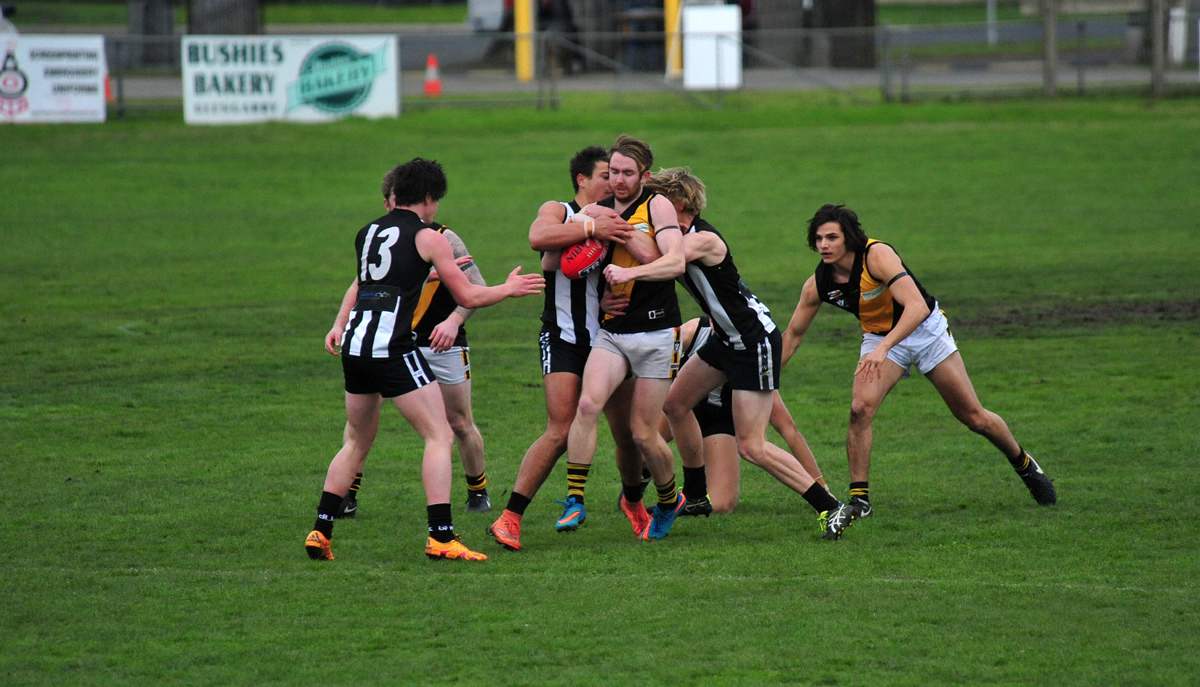 GLENGARRY jumped off the bottom of the pack and into eighth on the North Gippsland Football Netball League ladder after a 51-point victory over rival Gormandale at home on Saturday.

Buoyed by a mammoth 140-point win in the reserves to celebrate club stalwart Corey Peck's 300th match for the Magpies, the young senior side came out with intent and posted win number two for the season.
With an average age in the early 20s at Glengarry this year, coach Chris Day said progression was being made by his young outfit.
"Average age would be 21 or 22 so we're immature that way but I can see some more consistent footy coming out of them toward the end of the season," Day said.
"That's going to be our focus that we just improve and when we're in games we can have the confidence to get over the line and beat some of these better sides, and I think the guys are starting to believe that too.
"Our numbers at training are really good… they've come along every Tuesday and Thursday and put in the work, so it was good for them to have a win.
"From a club point of view it was really important we did have that win and obviously against Traralgon Tyers United next week we have another winnable game so the guys are really looking forward to that.
"If we play to the best of our ability I wouldn't be surprised if we could sneak three or four wins towards the end of the year."
The host was off to a fast start with seven majors in the first term to go 31 up at quarter-time, 7.4 (46) to 2.3 (15).
From that point on the Tigers were playing catch-up and never really got in with a sniff.
Gormandale mounted a spirited challenge after half-time but the Magpies ultimately kicked away to a solid 18.15 (123) to 10.12 (72) triumph.
Day said depth was a key factor in the comfortable result.
"We had more even contributors through the day, they're obviously struggling for numbers, so our depth got us over the line in the end," he said.
"We got five goals up at quarter-time, that gave the guys a little bit of confidence and freed them up a bit and they played really well, we were in control of the game all day.
"We played really well in the first quarter and things just really flowed on from there, it was a really good team effort."
Travis Patten and Shae Duncan kicked three goals apiece for the victor.
Traralgon premiership player Hayden Britten was best on for the Magpies in front of a crowd full of familiar faces at the nest.
"There was a big crowd there, Traralgon didn't have any footy; traditionally Gormandale and Glengarry are pretty big rivals and we've got a lot of players who have come from Traralgon and gone back there and quite a few of those guys popped out and had a look," Day said.
In other round 11 matches Heyfield held off Churchill 18.12 (120) to 12.10 (82), Sale City remained undefeated courtesy of a 50 point win over Traralgon Tyers United, Woodside held of a challenge from Cowwarr to win by 21 and Yarram knocked off reigning premier Rosedale also by 21.
NETBALL RESULTS
A grade Rosedale 59 def Yarram 42; Woodside 53 def Cowwarr 39; Glengarry 54 drew Gormandale 54; Sale City 53 def Traralgon-Tyers United 34; Heyfield 33 def by Churchill 37
B grade Rosedale 51 def Yarram 30; Woodside 54 def Cowwarr 23; Glengarry 73 def Gormandale 29; Sale City 45 def by Traralgon-Tyers United 49; Heyfield 36 def Churchill 30
C grade Rosedale 34 def Yarram 26; Woodside 34 def Cowwarr 18; Glengarry 57 def Gormandale 11; Sale City 27 def by Traralgon-Tyers United 30; Heyfield 22 def by Churchill 23
D grade Rosedale 50 def Yarram 23; Woodside 17 def by Cowwarr 41; Glengarry 46 def Gormandale 23; Sale City 48 def Traralgon-Tyers United 28; Heyfield 37 def Churchill 15
17 and under Rosedale 43 def Yarram 8; Woodside 47 def Cowwarr 22; Glengarry 40 def Gormandale 27; Sale City 25 def Traralgon-Tyers United 24; Heyfield 19 def by Churchill 23
15 and under Rosedale 7 def by Yarram 45; Woodside 22 def Cowwarr 20; Glengarry 50 def Gormandale 17; Sale City 28 def Traralgon-Tyers United 26; Heyfield 36 def Churchill 18