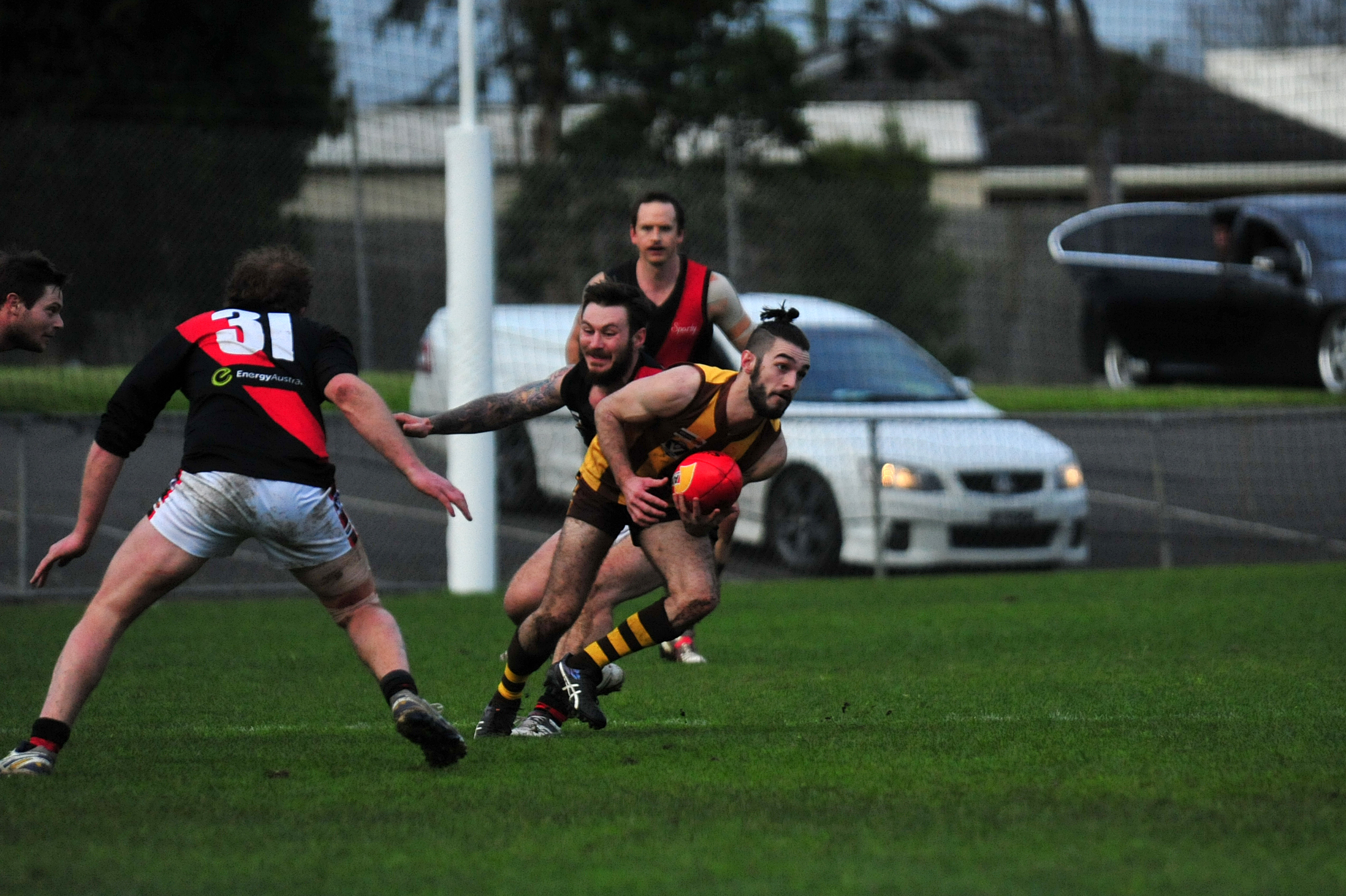 Round 10 will throw up some interesting matches with Mid Gippsland's top four facing off.

At the half-way mark of the season it looks as though the final five has taken shape, while for the teams below them there will be a lot of soul searching as they figure out how to climb up the ladder next season and beyond.
Morwell East lost to Yallourn-Yallourn North at the weekend, but there was no shame in its competitive loss.

The Hawks know, based on the results from the first half of the season, they will make a finals appearance but that position will be determined on how they perform in the second half.
Newborough has only one blemish to its name this season, and is the quiet achiever with a good mix of experience and youth.
The Dogs should feel proud of their efforts so far.
Other teams will be gunning for them over the next nine games so they will be under pressure in every match, but on current form should pull through for another win.
This match is vital for Yallourn-Yallourn North and Mirboo North.
The Tigers took the points in the opening round, but over the course of the season the Bombers have played marginally better.
Both teams have the same win/loss ratio, but YYN's percentage is 39.11 points better.
YYN's main advantage could be across the full-forward line, with the likes of Dean Macdonald, Tim Phillips, Barry Brooks and Tyler Brown all noted goal scorers.
Mirboo North has lost its strike power of Jack Robinson and Jesse Giardina through injury, but Zac Kilgower has stepped up to be a good focal point.
He will be under a lot of pressure from the strong Bomber defence.
At home YYN could reverse the first round result.
Thorpdale and Boolarra fought a close match in their first meeting, but since then neither side has fared well.
Thorpdale has won three games while Boolarra has only two on the board.
There has not been enough encouraging form from either team and there is still a long way to go.
The Blues have been marginally better at scoring during the season but there is little between the two.
It has been a sharp learning curve for both new coaches with Saturday's match a desperate effort to gain victory.
Thorpdale should take the match but Boolarra will be worthy opponents.
Yinnar has fallen dramatically since hoisting the premiership cup last season with only six wins to its name.
The Magpies have lost many players, some through injury, which has left them depleted.
However, the Magpies have a bevy of juniors playing in the seniors who are playing well.
Trafalgar is not the Bloods of old.
Too many familiar faces have left and the club has had to rebuild, but Trafalgar is beginning to return to form.
The Bloods need to improve on the one win and one draw from the first half of the season, but their fortunes won't change against Yinnar.
The Magpies will go in as favourites, but adverse weather conditions could make this a lot closer than anticipated.
It has been a hard first half for Yarragon but on form could be the potential best team out of the bottom five.
The Panthers have equalled last season's effort of four wins and, with another potential four or more wins, Yarragon could pinch fifth position.
Hill End has suffered one defeat after another, with its last win coming in round 17 last season against Yarragon.
Knowing this may be what the Hillmen need to break through for a morale-boosting victory.
Newborough (1st) v Morwell East (4th)
Played: 74 | Newborough 57, Morwell East 17
Last time: Newborough 15.11 (101) d Morwell East 4.12 (36)
Yallourn-Yallourn North (2nd) v Mirboo North (3rd)
Played 85: | YYN 43, Mirboo North 41, drawn 1
Last time: Mirboo North 13.11 (89) d YYN 11.16 (82)
Thorpdale (7th) v Boolarra (8th)
Played: 156 | Thorpdale 106, Boolarra 50
Last time: Thorpdale 11.12 (78) d Boolarra 11.9 (75)
Yinnar (5th) v Trafalgar (9th)
Played: 110 | Trafalgar 67, Yinnar 43
Last time: Yinnar 20.10 (130) d Trafalgar 7.3 (45)
Hill End (10th) v Yarragon (6th)
Played: 78 | Hill End 46, Yarragon 31, drawn 1
Last time: Yarragon 16.13 (109) d Hill End 6.6 (42)