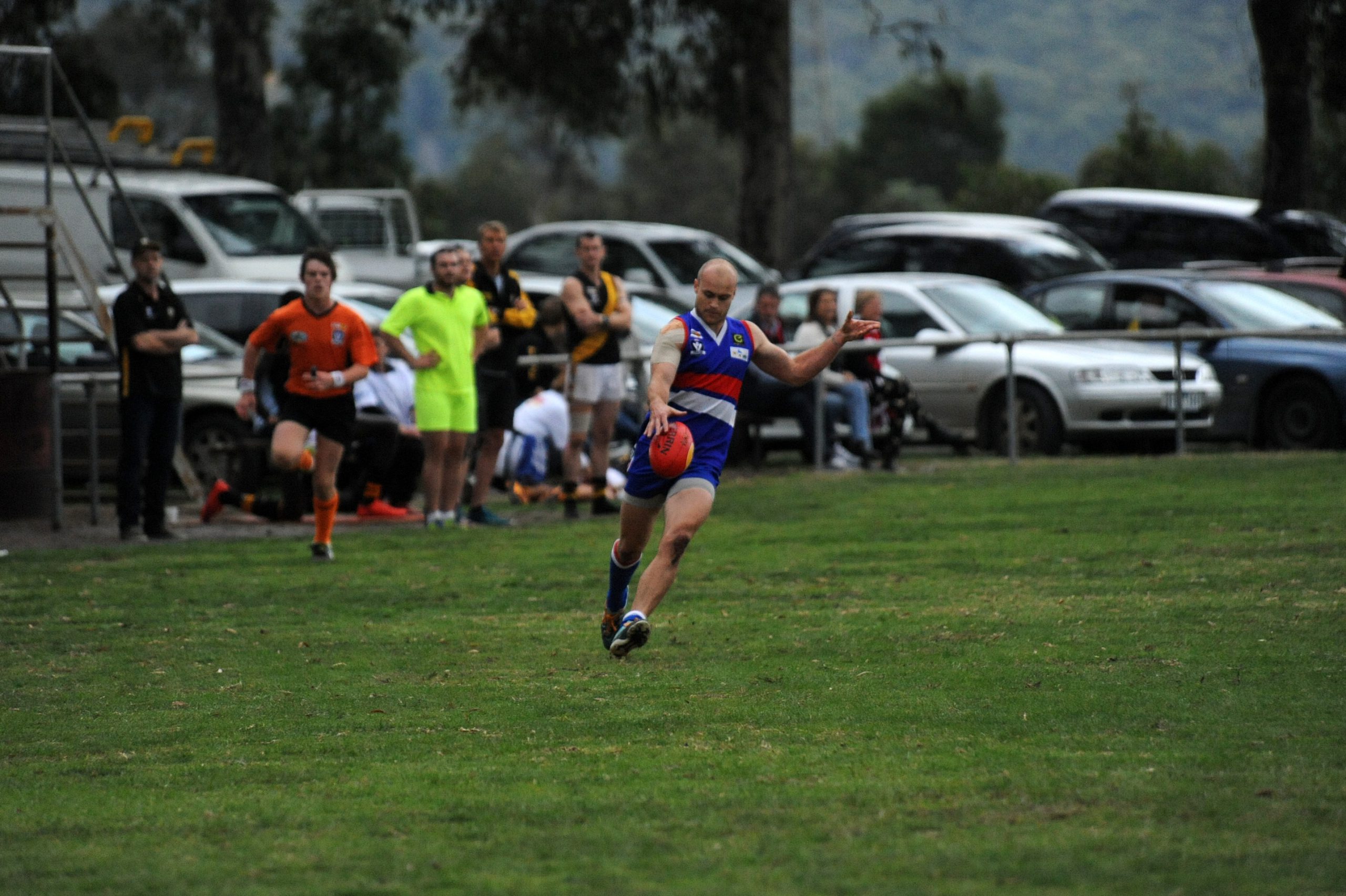 Newborough will poll plenty of votes for premiership favouritism after another impressive display against potential final five aspirant Yinnar in round 10 of the Mid Gippsland Football League.

Newborough ticked all the boxes on election day to win by 17 points.
The Bulldogs were too smart, too tall and too pacey for a struggling Magpies unit.
It was sweet revenge for Newborough, which was beaten in round one by the Magpies.
Yinnar opened up the scoring with a behind, but that was overturned when Tim Aitken was upended in the goal square and his resulting free gave the Magpies the first goal.
Newborough fought back through strong play from Liam Carolan and Ash Dugan, who both scored goals.
The Magpie defence was under pressure and fell down a third time as Joel Mitchell marked strongly and kicked straight to register the third major.
Yinnar struggled on the forward line with Chris Hancock and Aitken having a great battle.
A long range kick on the siren just beat the fingertips as Yinnar scored its second ahead of the change.
Newborough continued its good form in the second quarter and became the first team this year to keep the reigning premier to a zero score for a quarter.
The ball passed into Yinnar's 50 metre zone only three times in the term.
Matt Slattery was good in the ruck with Anthony Rosato again in good touch.
Although dominating on the ground with possessions Newborough still found it difficult to score as Yinnar's backline of Jaime Aitken and Matt Dyke made the Doggies work hard for every kick. Even the umpires had trouble functioning as a team when one of them went down with a hamstring.
By half-time Newborough would have been satisfied with a first half lead of 28 points.
After the break Yinnar changed tack and became competitive; they hassled Newborough into attacking errors and the Magpies were dead on target with goals to Kane Grinstead-Jones, Luke Van Rooy, Tim Aitken and Brayden Wilson, while Newborough almost kicked themselves out of the contest, adding only 1.6 (12) for a frustrating quarter of football.
With only 11 points the difference at three-quarter-time it was goal for goal in the last as both teams tried to gain the advantage.
Newborough lasted better to win 9.14 (68) to 8.3 (51).
Morwell East had its colours lowered by Thorpdale, which now has sights set on a finals berth.
It was back-to-back wins for the Blues who are now only six points shy of fifth.
The fifth placed Hawks are now in a dangerous position having allowed the Dales to close within six points on the competition ladder.
Thorpdale kicked away in the first term to gain a 28-point advantage at the first break, as the East managed just a sole behind for the term.
The wind changed in the second quarter giving Morwell East an advantage.
Good play from Ben Marks with two goals and singles to Brendan Evans and Paul Henry enabled the East to lead by one point at half-time in a huge reversal; this time Thorpdale was held to a behind for the quarter.
Thorpdale regained the lead in the third within eight minutes with a further two goals.
The Blues were getting on top with their playmakers Rory Gilliatte and coach Nick Brown getting plenty of possession.
They added a further four goals to make it six for the term and had a substantial lead by three-quarter-time.
Morwell East had to do something in the final term and Ben Marks almost did it single-handedly; he scored three goals in six minutes to get the East 12 points away.
A further goal from Henry brought the East to within one straight kick.
Thorpdale rallied with goals to Josh Collie and Marcus Bate to extend its fragile lead.
The Blues added another goal in time-on to finish 14.10 (94) to 10.9 (69) winners.
Boolarra stepped out of the shadows to record a third win for the year.
The Demons retained the Hambone Trophy after each club recorded four wins and a draw across the football and netball grades.
Boolarra put Hill End to the sword by 106 points in the seniors, scoring its highest tally for the season with 23.13 (163).
It was six points from the Demons' highest total of 23.19 (157) over the Hillmen set in 2004.
Matt Coutts was the top scorer for Boolarra with nine goals, equalling James Oliver's tally against Hill End in 1965.
Coutts is in his first season with the Dees after crossing from Hill End.
It was one way traffic as Boolarra took control from the first quarter with seven goals to one, with Coutts playing a big hand up forward.
Worse happened to Hill End in the second term; they couldn't do anything right and many puzzling decisions left the players confused.
Boolarra adapted better, played in front and was rewarded with another six goals to Hill End's zero.
A further nine goals by Boolarra in the third completely swamped Hill End, which managed a token three goals of its own.
There were plenty of goal kickers for Boolarra as a multitude stepped up to get their names on the list.
Hill End battled hard in the last term to outscore Boolarra 3.2 (20) to 1.4 (10), but it made little difference.
The final score was Boolarra 23.13 (151) to Hill End 7.3 (45).
League leading goal kicker Dean MacDonald kicked a dozen majors to guide Yallourn-Yallourn North to a big win over Trafalgar.
MacDonald has reached 51 for the season and with an average of seven goals per game from here on out could snag the much sought after ton.
There wasn't much that Trafalgar could do to stem the flow of goals as YYN started briskly with 13 to one in the first half then nine to one in the second half.
The Bloods were kept scoreless in the last term.
There were 10 YYN goal kickers in its tally of 24.10 (154) to Trafalgar's 2.5 (17).
It was Trafalgar's lowest score against the Bombers, with the previous being 2.6 (18) set in 1986 in the second semi-final.
Mirboo North retained second spot on the ladder with a decisive win over Yarragon.
The Tigers were slow to start and early inaccuracy could have been a disaster against a top five side but by half-time it was a competitive match.
Yarragon contested well but was outscored by a more ruthless Mirboo North.
With only five goals from 15 shots in the first half they were liberal in front of goal while Yarragon laboured at every contest.
The accuracy improved in the second half with Isaac Abas stepping up to be a controlling influence in the match; his four goals and general ground play earned him the top vote.
Luke Palmer also contributed four as Mirboo North continued to roll on and ran out winners 19.19 (133) to Yarragon's 6.9 (45).