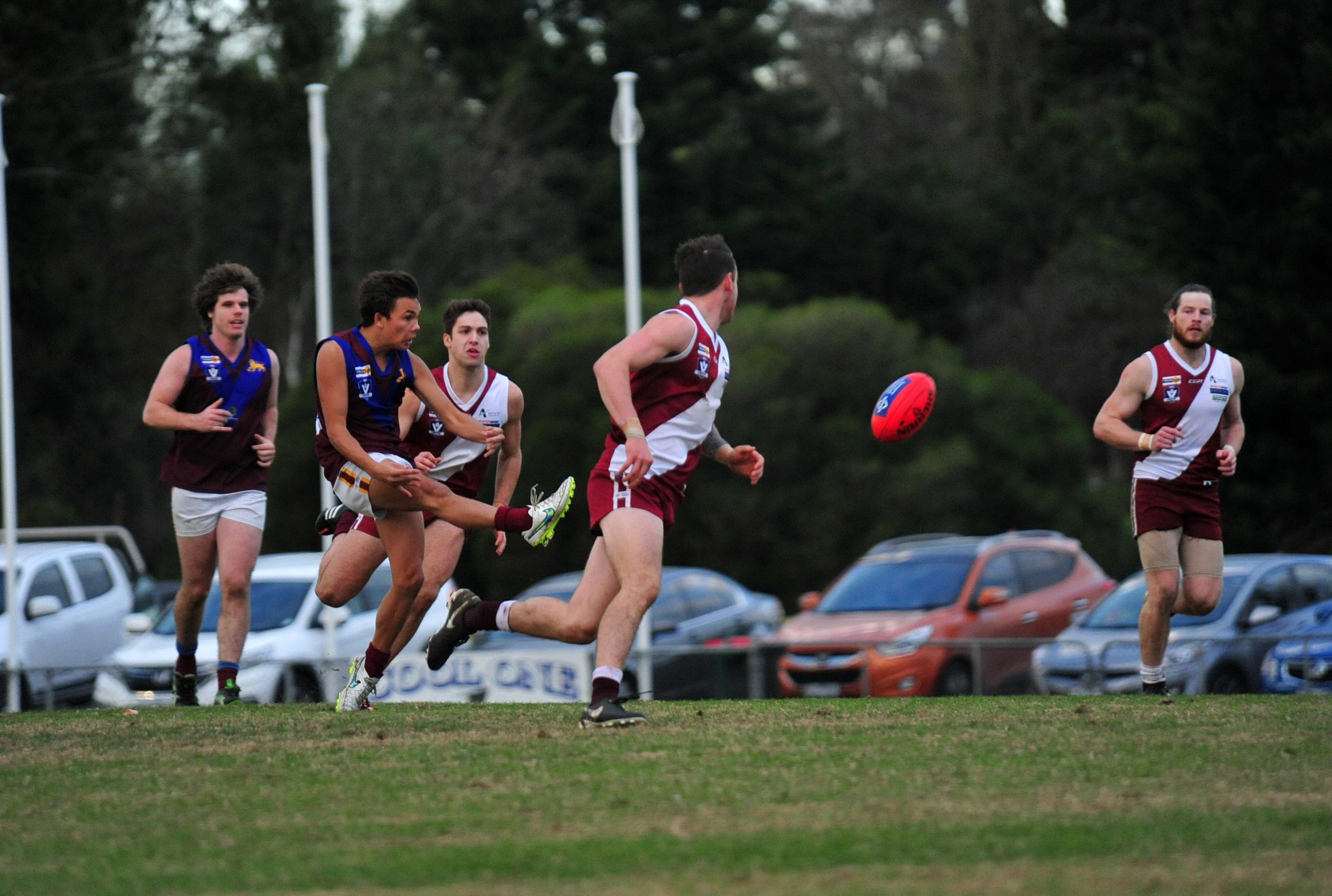 An eight-goal final term salvaged a victory for Traralgon from a sticky situation against Moe on Saturday in round 11 of the Gippsland League.

As was the case in their previous meeting, Moe held the edge for long periods of the contest and clung to a two goal advantage at the final change.
Playing at home the Maroons found a second wind in the final term led by Lee Stockdale, who kicked five for the afternoon, in front of goal to storm home 13.13 (91) to 10.7 (67) winners.
Traralgon coach Mark Collison said his side rose to the challenge under duress.
"They could have dropped the bundle but to the boys' credit they pulled it out and ended up running away and having a good win," Collison said.
"Every time they're challenged they usually step up and get the job done so I can't question them in their intent, but we've got a few areas we need to keep working on, mainly our disposal.
"Lee Stockdale was pretty awesome in the last quarter, I think he had three in the last quarter alone, he's a class act and his defensive pressure at the moment is probably why he's getting rewards on the offense."
Traralgon started slow but recouped to lead by one point at the first change before Moe took over in the second.
Mick Farrell, Anthony Young and Klay Butler were firing as the Lions booted four goals to lead 6.2 (38) to 3.7 (25) by half-time.
Two goals apiece in the third meant Moe went into the last break 12 ahead, and when the sides traded goals to started the final term it looked as though the Lions might hold on.
Suddenly the Maroons lifted; Matt Northe was strong overhead, Mick Burge was immense and Jordy Bourke and Adrian Slottje were impervious in the backline as the Lions were boxed out of the contest.
The goals began to flow at the opposite end as the Maroons fired away to a comfortable win from a desperate situation.
Collison said sloppy disposals in the opening half were rectified by the finish, which made all the difference.
"As the game went on we started to clean our disposal up which was hurting us a lot; we had a lot of direct turnovers by foot and they capitalised," he said.
"It was a bit of learning curve for us, a lot of sides this year have started against us pushing behind the footy and we've taken a while to adjust and learn to counteract that."
It was a case of dejavu for Moe, which had Traralgon on the ropes in their previous meeting this season.
Collison said Moe's ability to test the reigning premier twice was a testament to the club's newfound fortitude.
"They've really improved, they're coached really well and I think James Blaser has been excellent for them," Collison said.
"He structures them up really well and I know they had a lot of players out so he should be really proud of the job he's done there.
"For them it's good to see those clubs get a bit of improvement once they've been down the bottom for a while… I think Moe could make finals if they get their players back."
Traralgon emerged with a clean bill of health ahead of next weekend's clash against Drouin.
Both sides will be without their coaches with Collison and Bob McCallum on Victoria Country duties against Victoria Metro in the AFL Victoria Community Cup match at Preston City Oval.
In Saturday's other round 11 match Morwell fell short of its recent Herculean efforts and was thumped 16.15 (111) to 4.6 (30) by Sale.
Brad Dessent was in superb touch and kicked a bag of eight for the Magpies to relegate Morwell back to bottom spot on the competition ladder.
Three Sunday matches were completed yesterday to close out round 11.
Maffra mauled Bairnsdale 24.16 (160) to 7.9 (51), Drouin bested Warragul 12.5 (77) to 7.14 (56) and Leongatha fended off a feisty Wonthaggi by 21 points.