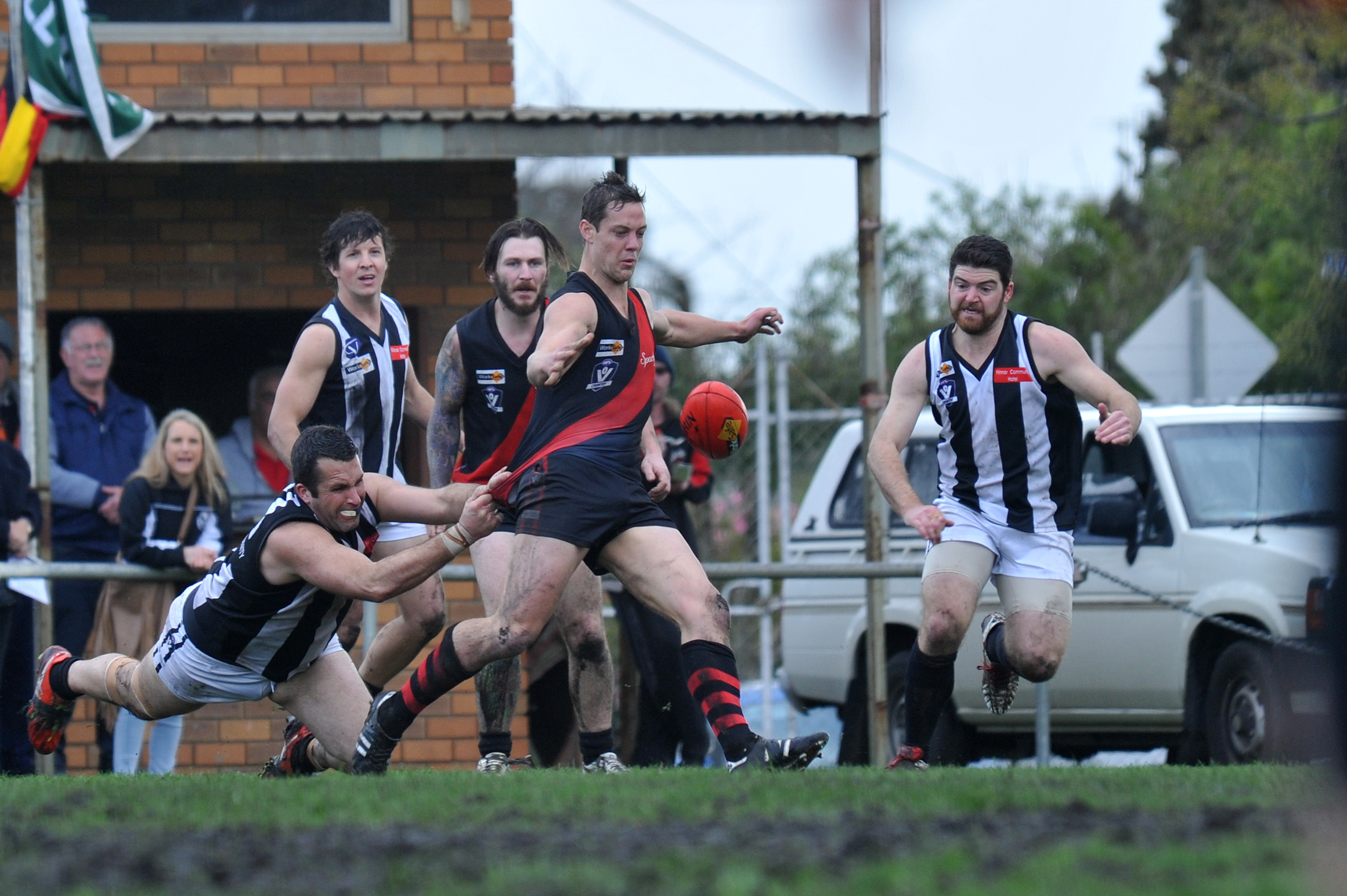 Thorpdale must win its remaining matches if it wants to play Mid Gippsland finals football.

But it will also have to rely on other teams to defeat fifth-placed Morwell East.
The Blues lag 10 points behind the Hawks in sixth position with five games to go.
The last time Thorpdale played Yarragon it was a crucial match that it lost.
However, the Blues should atone for that loss and capture the four points on Saturday.
Thorpdale has a hard task ahead playing the top three teams over the next five weeks and it looks like the Blues could miss out on fifth position.
Last year they missed the top five by two points.
Yarragon is on track to do better than last year's win tally of four games.
The match of the round between Yallourn-Yallourn North and Yinnar is an important clash.
Both teams sit on 36 points, but YYN has a healthier percentage which will be important coming up to finals season.
The Bombers got home by a goal at their last meeting, but this time the result could be similar to when they last met at George Bates Reserve where the match was drawn on the last kick of the day.
YYN has been hit hard with injuries to Campbell MacInnes and 2015 best and fairest winner Tom Hutton, but it is expecting Tim Phillips to return.
In good news for the Bombers, Adam Bailey will remain in the top coaching role next season.
Yinnar is not the same team that won the flag last season but still has a good chance of returning to September action.
Morwell East could have been in fourth position had it not drawn its previous match against Trafalgar.
This week it has another chance of slipping into fourth, providing YYN defeats Yinnar.
Morwell East's downfall is its poor percentage compared with the teams above it on the ladder, but a big win against Trafalgar could boost its meagre 110.18 percentage points.
Trafalgar has been on the end of some heavy beatings over the past few weeks with many records broken for the wrong reasons.
The Bloods could face another record attempt if Morwell East can score more than 141 points, set in 1980.
An on form Hawks should win but Trafalgar could surprise and make the East work hard for the points.
The match between Newborough and Boolarra has been dedicated as the 'Mental Health Match of the Round'.
Footballers and netballers from both clubs will don blue socks to raise awareness of mental health issues in the community.
Newborough has a good chance of climbing the ladder with a win over Boolarra.
The Bulldogs have had an exceptional season with 11 consecutive wins, while Boolarra has scratched around for four wins in what has been a disappointing season.
It will not be all one-way traffic for Newborough, but the Dogs should still record a win.
Hill End travel to Mirboo North with thoughts of beating the high profile Tigers, but in reality it will be the opposite as Mirboo North justifies its second position on the ladder.
The Tigers are eight points shy of league leaders Newborough and will be content to keep the pressure on the top team.
Hill End has been competitive without too much success, but good news for the Hillmen is that they have re-appointed coach Paul Smits for another season which gives him a chance to rebuild.
Thorpdale (6th) v Yarragon (8th)
Played 80 | Thorpdale 40, Yarragon 39, drawn 1
Last time: Yarragon 11.12 (78) d Thorpdale 9.13 (67)
Yallourn-Yallourn North (3rd) v Yinnar (4th)
Played 158 | YYN 80, Yinnar 75, drawn 3
Last time: YYN 12.10 (82) d Yinnar 11.10 (76)
Newborough (1st) v Boolarra (7th)
Played 113 | Newborough 87, Boolarra 25, drawn 1
Last time: Newborough 14.16 (100) d Boolarra 12.8 (80)
Morwell East (5th) v Trafalgar (9th)
Played 96 | Trafalgar 61, Morwell East 34, drawn 1
Last time: Morwell East 9.11 (65) dr Trafalgar 9.11 (65)
Mirboo North (2nd) v Hill End (10th)
Played 103 | Mirboo North 65, Hill End 38
Last time: Mirboo North 24.14 158 d Hill End 7.8 (50)