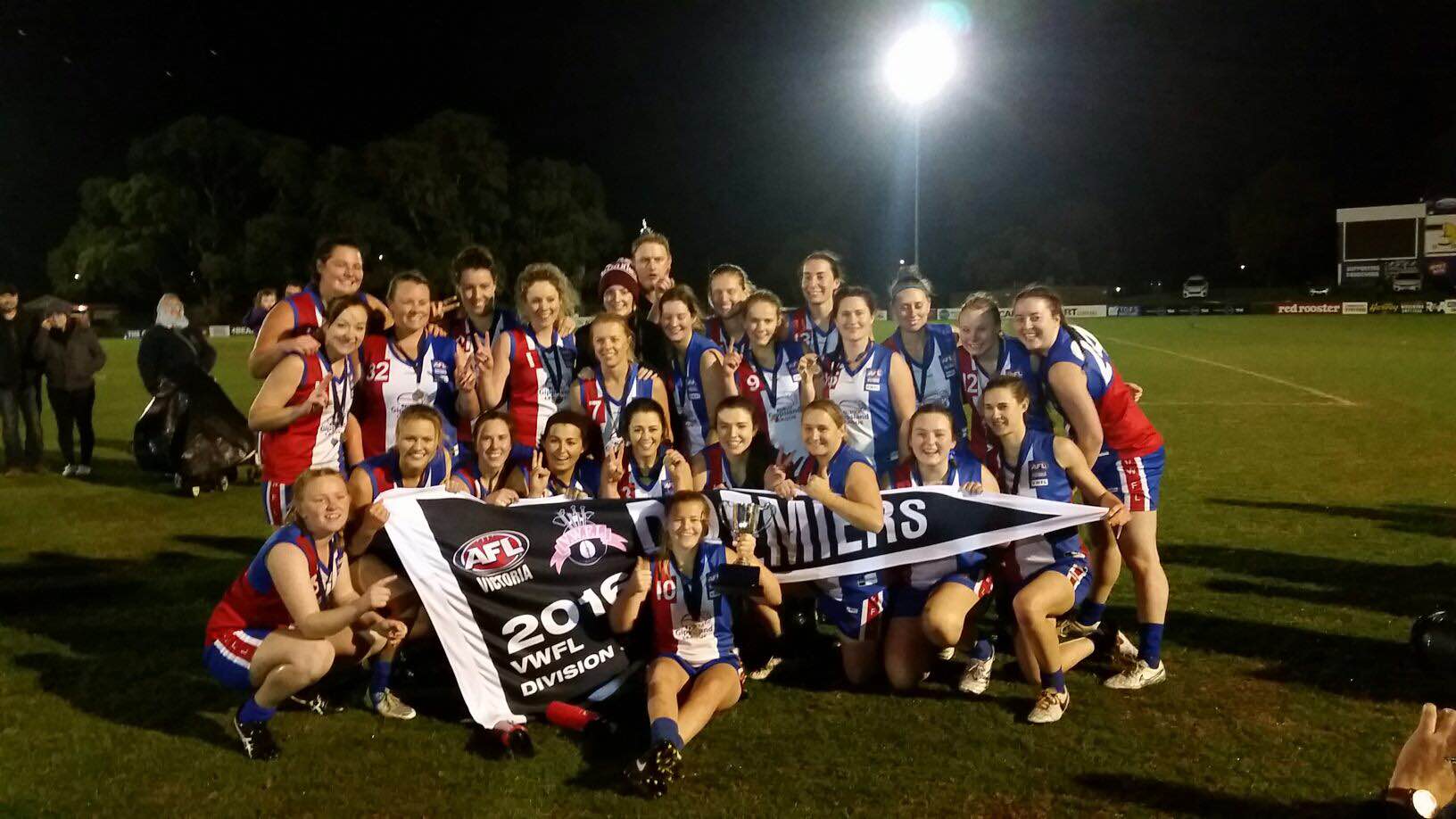 GIPPSLAND Galaxy has overcome testing conditions and a ferocious Fitzroy side to claim a nine-point victory in the Victorian Women's Football League division three grand final on Saturday night.
The 5.12 (42) to 4.9 (33) victory at Dandenong's Shepley Oval sealed a perfect season for the Galaxy girls, who remained undefeated throughout the campaign.
But the deciding game got off to a rocky start for Gippsland, which trailed 2.3 (15) to nothing at the first change.
Galaxy playing coach Nikki Schroeter said strong winds had made scoring at that end all but impossible.
It's an assessment backed up by the scoreboard, with just a solitary behind kicked by either team at that end during the entire game.
Gippsland came back in the second, kicking 3.9 (27), while the Lions were unable to add to their first quarter total.
Fitzroy used its advantage to boot two goals and five behinds in the third to lead by five points at the final change.
Schroeter said the unusual conditions put her side into the box seat going into the final quarter, and her charges made the most of it to take home another flag.
"We had a massive advantage in the final quarter with the wind behind us," she said.
"The wind was a massive factor."
It was quite the challenge for the Galaxy, which had become accustomed to handing out 100-point thrashings during the season.
Schroeter was full of praise for her opponents.
"They threw everything thing at us, they came out and played some tough football," she said.
"We went out hard as well, but it was a messy game because there were a lot of hard tackles."
Gippsland midfielder Sarah Jolly was named best-on-ground.
"She was a massive impact on the game in the midfield," Schroeter said.
In addition to the wind, the Galaxy had to overcome a fierce Fitzroy side which had no intention of going quietly.
Schroeter said Fitzroy had recruited well since the two sides last met in round eight.
In that encounter Gippsland emerged the victor by a margin of 29 points.
The Gippsland mentor said it was a new recruit for Fitzroy in the ruck which caused the most trouble for her side.
"She won every ruck, which we weren't used to," Shcroeter said.
"We were used to winning every ruck and controlling the game.
"We've been wanting football like this all season and it was a challenge for the girls and that's how we wanted to play.
"So it was good to have that challenge and come out and win."
The victory means Gippsland has achieved back-to-back flags after winning the division four premiership last year.
Schroeter said her side would now request admission to the VWFL premier division.