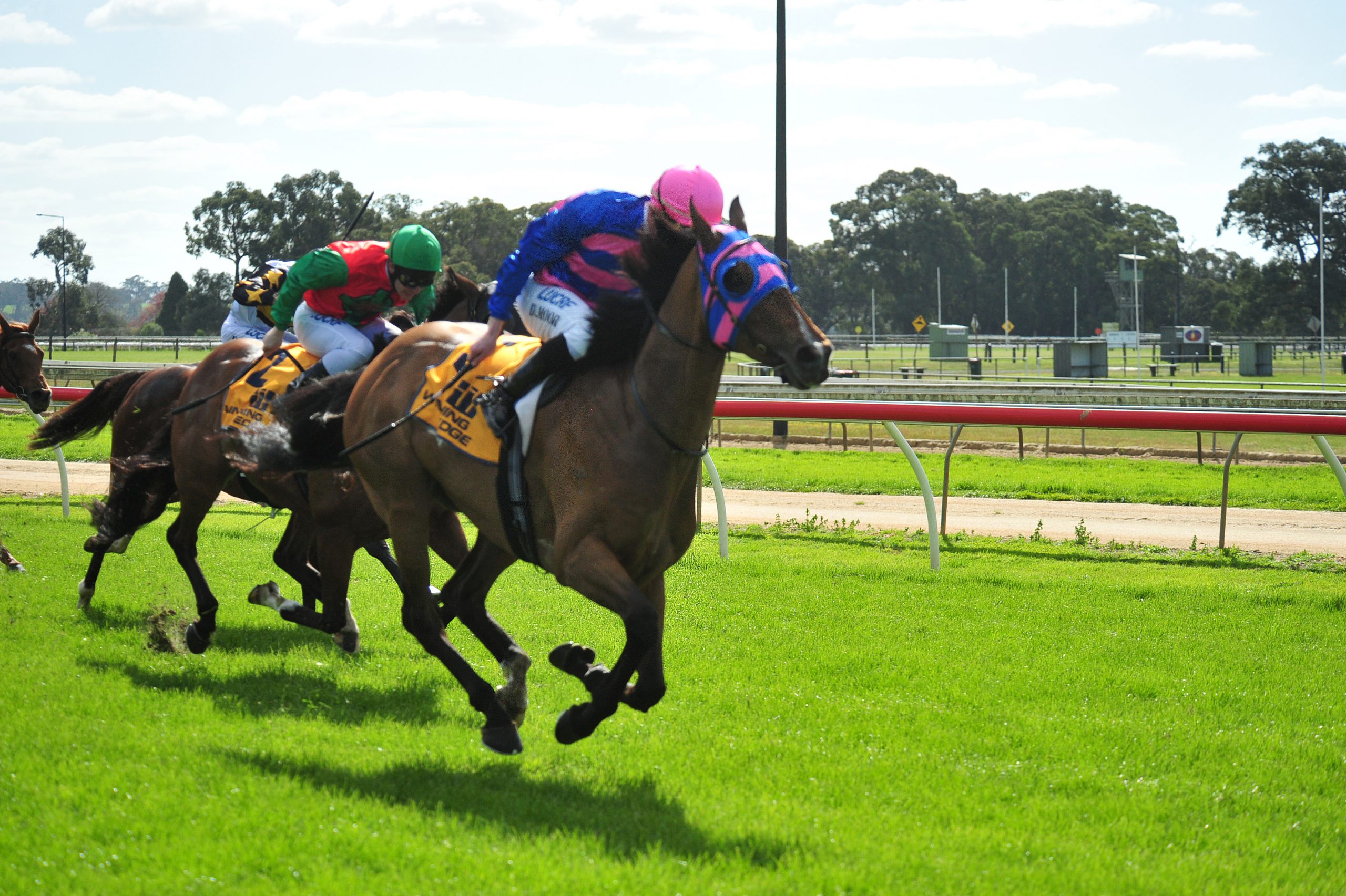 Overcast skies gave way to shining sunlight as racegoers flocked to the track on Thursday to greet the return of the Moe Cup to its position as the region's premier horse race.
About 2800 donned their sharpest suit or finest fascinator and turned out to see Lee and Anthony Freedman-trained Authoritarian win the race in its first running since 2014.
Jockey Daniel Moor took the five-year-old gelding out in front early, opening up a six-length lead over his rivals.
Despite a determined challenge from Escado and Transfer Allowance, Authoritarian displayed his staying power to claim the $150,000 prize on the soft seven track.
During the post-race presentation Moor said he had received no instructions about how to race, but had had success in previous races taking Authoritarian out in front early on.
"He won in great fashion last start in Bendigo on a wet track and the key to him is obviously the wet tracks," he said.
"He's had a lot of soundness issues so for him to come through from a good win last start and win the Moe Cup today, it's a great effort."
Despite not finding fancy with punters before the race, Authoritarian rewarded his backers handsomely – paying $23.80 for the win.
The Cleaner, trained by Moe's Peter Gelagotis, was set to run but was withdrawn ahead of the race.
Moe Racing Club chief executive David McKinnon said he had never seen a Moe Cup raced in that style before.
"Authoritarian got way out in front… I thought he'd gone out too early but it turned out he timed it exceptionally well," McKinnon said.
"A great win and a credit to the jockey."
McKinnon said it was "great to be back on track" after last year's Cup day was cancelled to allow repairs to be made to the track.
"It was a day we'd all been looking forward to and it proved that we're back in town," he said.
"(There was a) good crowd, everyone was well behaved and the weather was nice and the track performed well for a good day's racing."
Victorian law permits councils to schedule two half-day public holidays in their municipalities in lieu of the Melbourne Cup public holiday. In previous years Moe Cup has been a half-day public holiday in Moe, something McKinnon said he was interested in pursuing for next year.
"We'll go back to the council and try and once again have the half day holiday reinstated," he said.
"I think yesterday showed it's well worth the council investing in the community (by having a public holiday)."
This year 1000 patrons received half-price entry and 2500 free race books were distributed after the race day received $40,000 from the State Government's Victorian Racing Industry Fund Raceday Attraction Program.
The day started with the Moe Cup trophy falling from the heavens onto the track, attached to a skydiver before the races began.
In addition to the nine races, guests enjoyed a variety of entertainment including fashions on the field, corporate marquees and a number of competitions and promotions.
Melbourne footballer Max Gawn and Geelong's Tom Lonergan also appeared as special guests.
Gawn said he enjoyed his visit to Moe.
"I've never been to Moe, so I thought why not try the biggest day on the calendar," he said.
"I'm liking it, I was four (wins) from four to start off with, so how can you not love it?"
He said he was a fan of jockey Patrick Moloney and was intending to back horses ridden by him during the day.
"I'm a big Patty Maloney fan, so I'm going to follow him… he's already won two today," Gawn said.
New Zealand horse Blizzard, ridden by Moloney in the Cup, finished 12th.